It's official. Cable television has lost the first spot as the go-to source of home entertainment. It all began at the turn of the century when the biggest rival of cable TV was born — streaming video. As the Internet was becoming more and more mainstream, people got into the habit of watching videos online. Between 2006 and 2008, streaming services like
Amazon Video
,
Netflix
, and
Hulu
started popping up like mushrooms after rain. Soon, the "cord-cutting" movement began — people started canceling their cable subscriptions and signing up for streaming services. Today,
the MPAA reports
, streaming video has surpassed cable subscriptions worldwide. Several consumer surveys suggest that there is no reversing this trend. For example, this
global study
published by Statista indicates that the number of streaming video subscribers is only going to rise in the next few years. The question is, can
you
carve a piece out of this pie? With all the big players in the market, it may seem that there is no more space for new companies but, fortunately, that's not true. The global video streaming market is
expected
to reach $842.93 billion by 2027, and the tendency is for users to subscribe to several Internet TV services (not just one). For example, in the USA,
46%
of households that use broadband Internet, subscribe to
two or more
streaming video services. Couple these facts with the ever-increasing number of online
celebrities
, and you'll quickly see that streaming video can truly be a profitable industry. Take the YouTube channel
5-Minute Crafts
for example. Launched only three years ago, today, it has more than 64 million subscribers. In short, the demand for streaming media is only going to grow in the near future, which means that now is the best time to seize the video streaming business opportunity.
Video Streaming Business Models
If you're interested in joining the ranks of companies like Hulu, the first thing you need to do is decide on a video streaming business model. Here are the available options in a nutshell:
Transactional Video on Demand (TVOD). In this setup, viewers pay a one-time fee to watch your content live, download it, or rent it.
Subscription Video on Demand (SVOD). This is what companies like Netflix and AppleTV do. They charge a recurring fee in exchange for unlimited access to their content.
Ad-Supported Video on Demand (AVOD). Much like pay-TV, the AVOD model relies on advertising partners for funding. The most notable example in the online world is YouTube.
Hybrid. You can combine the above monetization options to create a unique business model for your brand, e.g., pay per view + subscriptions.
Let's explore each of these video streaming business models in detail.
1) Transactional Video on Demand (TVOD)
What It Is
Take what you want, leave what you don't. This is the idea behind TVOD. This model, commonly known as
pay per view
or
EST (electronic sell-through)
, allows viewers to purchase individual content (one movie/one video) at a time. Think of it like a 90s video store where you go in to buy or rent videos that pique your interest. No subscriptions or membership required. TVOD gives viewers the option to Download to Own (DTO) or Download to Rent (DTR). In a DTO situation, the viewer purchases a video to download to their device(s). Typically, they can own it forever and watch it as many times as they like. DTR, on the other hand, allows viewers to purchase a video that can only be viewed during a short amount of time, usually 1 to 2 days. Once that time elapses, the rental expires and cannot be viewed again without making a DTO or another DTR purchase.
How and Why It Works
From the consumers' standpoint, TVOD is the perfect way to access entertainment of their choice. They aren't bothered with monthly subscriptions that give them a large quantity of content they will have to filter through just to find something that matches their taste. TVOD-style platforms also tend to be more cost-effective for the viewer. They purchase only what they want and only when they want. On the business end, TVOD can be a highly profitable model for several reasons:
You can offer content to a specific market instead of mass marketing to a large group.
Zeroing in on your audience, puts the right content in front of the right viewers, maximizing your viewership and increasing your profit.
With a niche market in full view, you can maintain a smaller library than other platforms.
Viewers won't be flooded with unrelated video suggestions. Instead, they will be given content that matters to them. This is a prime reason for the viewer to stick around, browse your catalog, and make purchases.
Proof That It Works
There are a few major players in the TVOD game, with iTunes being in the starting lineup. iTunes offers music, movies, podcasts, and even apps all being delivered through electronic payments. These one-off purchases bring consumers back for more.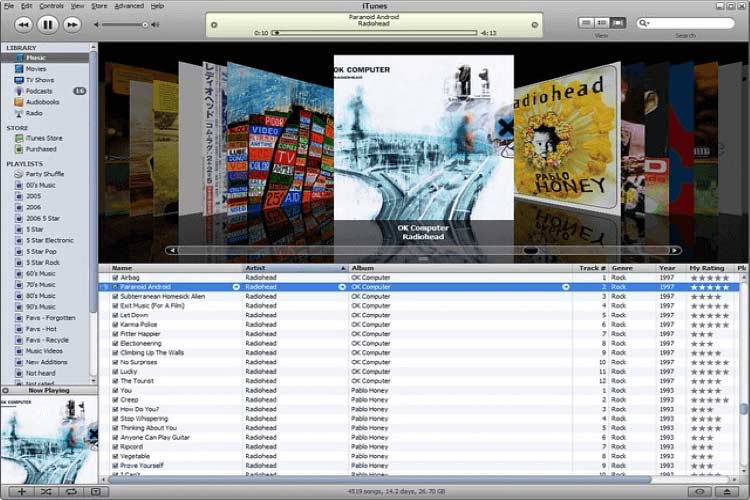 Apple iTunes is one of the most popular TVOD streaming platforms.
VUDU is another TVOD top brand, but, in this case, they focus on a particular market — movies and television series. While they have a large catalog, they only offer content specifically for video entertainment lovers.
2) Subscription Video on Demand (SVOD)
What It is
SVOD is what people are most familiar with nowadays. You know how it goes. Streaming services offer hundreds (if not thousands) of videos as a part of a flat-rate subscription plan. The content is viewed solely online and isn't open to DTO or DTR options. Viewers typically have a wide range of videos to choose from, which encompasses various genres and topics. Because of SVOD's payment model (monthly or annual subscription), viewers can access videos an unlimited number of times. Platforms like these are fully open to the viewer and offer minimal to no restrictions.
Side note:
Restrictions are typically determined by membership levels.
How and Why It Works
SVOD couldn't be any easier for viewers
and
content providers alike. For viewers, they remain in constant control of what they watch. With a large catalog, they have plenty to choose from. This model also gives them the freedom to "cut the cord," a.k.a. freedom from their cable TV operator. With SVOD, they aren't forced to watch whatever the networks decide to air. Not to mention that, even with constant commercials, cable bills are still expensive. SVOD offers viewers lower fees, easy autopay options, and membership selection to fit their budget. Providers can benefit from the familiarity of this model. Since consumers know what they're getting into, they're more inclined to subscribe and become members. The choice of autopay can also help increase profit by bringing in a continuous revenue stream. So, if viewers retain their membership, the money never stops rolling in. SVOD is also quite versatile. Its ability to be a relatively open platform in terms of media consumption (i.e., viewing without limits) allows for this particular model to be combined with various other types of video streaming business models. But we'll dive into that a bit later.
Proof That It Works
Netflix and Hulu are the two major SVOD platforms that are making light work of turning streamed content into a gigantic profit. Each of them offers various membership plans that give viewers access to different levels of content (from limited access to full access). Their huge success proves that viewers are more than comfortable with SVOD.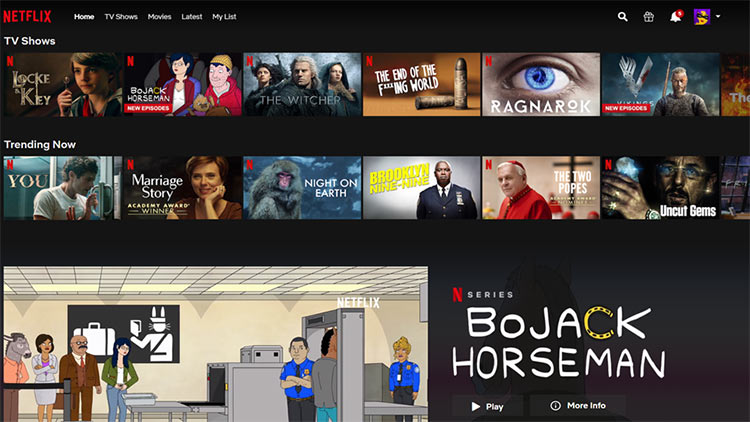 Netflix is one of the most popular SVOD streaming video services.
3) Ad-Supported Video on Demand (AVOD)
What It Is
AVOD is the way to go if you want to offer your content for free. With ad-supported videos, advertisers pay content creators for ad placement pre-roll, mid-roll, or post-roll (ads to be played at the beginning, in the middle or at the end of the video, respectively). This allows viewers to watch the content without needing to purchase individual videos or a membership/subscription. Popularity is key with AVOD. In order for advertisers to want to place their ads in your videos, they'll need a guarantee that a high number of people will view it. This proof comes from the number of followers, subscribers, or the total number of views you have.
How and Why It Works
Let's be real; people love free stuff. So AVOD will always be a popular option for online video streaming. They simply must watch a short ad that they may be able to skip, depending on the arrangement between you and the advertisers. What's even better is that most of these ads are deemed relevant to the viewer, thanks to cookies and other data analytics. For content providers, AVOD is an easy way to publish content for a large audience without needing to manage high volumes of viewer data and payment information. With this business model, you stay in control of how much you earn by negotiating rates with advertisers and continuing to grow your fanbase. That is if you run the ads on your platform. If you're using a third-party site like YouTube or Facebook, you'll get paid whatever they decide is fair.
Proof That It Works
The largest AVOD platform is YouTube. Many content creators make a killing using this model through YouTube. They simply continuously post good content, which increases their number of subscribers, and, before you know it, advertisers are begging to be placed on their channels. A sparkling example is the controversial YouTube star from Sweden — PewDiePie, who has more than 110 million subscribers.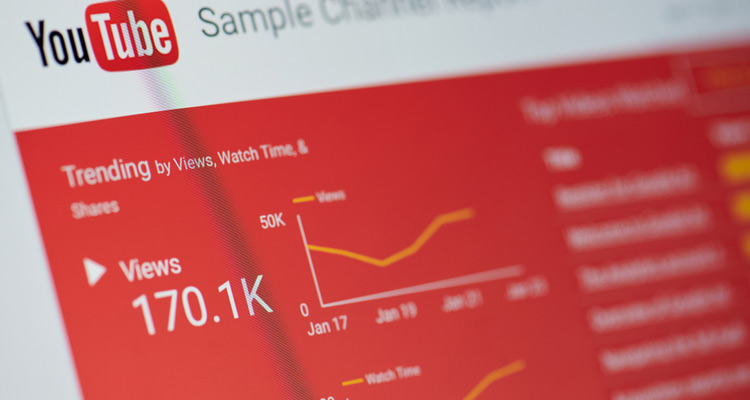 YouTube is one of the largest AVOD streaming platforms.
Back in the day, public television was using this model to offer free public programming to viewers at home. They weren't working on on-demand viewing just yet, but the ad-supported airings gave us couch potatoes, something to watch for free.
4) Hybrid
What It Is
The great thing about these business models is that they can be combined and mixed & matched to create the best video streaming business opportunity for you. Utilizing a combination of these models is typically the option of choice when your streaming service is doing remarkably well, and you want to expand your reach and increase revenue. There are two main popular hybrid models; AVOD/SVOD and TVOD/SVOD. The AVOD/SVOD model is used by platforms that offer free content with the option to upgrade to a paid membership for premium content. TVOD/SVOD, on the other hand, is used by services that sell memberships for a selection of on-demand videos while offering DTO and DTR content.
How and Why It Works
Hybrid platforms give viewers multiple options without needing to use another service to get something they're comfortable with. One platform can give them content that they like with the freedom to pay how/if they choose. If your main concern is profit, then a hybrid model maybe your greatest option for truly fattening your wallet. By offering several viewing and payment options, you open your platform up to a wider audience. People appreciate having control over their media consumption, and a hybrid platform gives them just that. Happy customers are usually returning customers, and nothing says happy like getting to make your own choices.
Proof That It Works
Amazon Prime is a great example of the TVOD/SVOD model. Amazon Prime is a monthly subscription service that gives you access to a wide selection of movies and TV shows to watch at no extra cost. However, they also have another wide selection of movies and TV shows available for rent or download.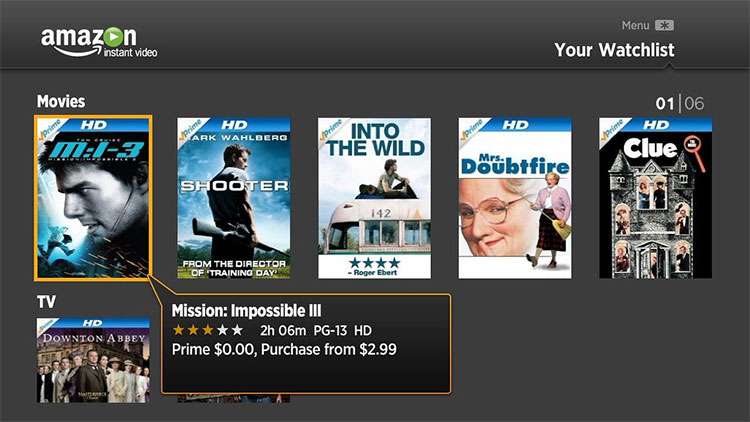 Amazon Prime is one of the most known TVOD/SVOD models.
Even though we used YouTube as an example of the AVOD model, we must name it as a great example of AVOD/SVOD, as well. You already know how YouTube works as AVOD, but they also give viewers the option to upgrade to YouTubeTV for premium content.
Video Streaming Revenue Comparison
So, what will be your video streaming revenue if you were to build this business? Let's say you want to make $5,000 in revenue. Here's how you could do this with each of the video streaming business models we described. We left the Hybrid model out because the pros and cons depend on how you implement it.
| Business Model | Viewers | Monetization | Projected Revenue | Biggest Pro | Biggest Con |
| --- | --- | --- | --- | --- | --- |
| TVOD | 500 one time | $10/view | $5,000 one time | Can be easier to sell because it's a one-time fee | No recurring revenue |
| SVOD | 500/per month | $10/month | $5,000 monthly recurring* | Recurring revenue | Need a constant supply of fresh content |
| AVOD | 500,000/month | $0.010/ad view | $5,000 monthly recurring* | You can use a free video streaming platform | Need lots of traffic to turn a profit |
* The revenue is recurring, but it is not a constant number. You should factor in churn, or customer attrition.
Conclusion
The bottom line is this:
Video streaming
is a business opportunity worth pursuing. The good news for you, as an entrepreneur, is that you are not late. The demand for streaming services is currently on the rise and will continue to grow in the next few years. People tend to subscribe to multiple services at the same time, which means that new companies will be able to attract viewers. Choosing a video streaming business model depends on your specific circumstances, goals, and budget. For example, the TVOD model is relatively easy to implement for people who have no experience or audience. They simply need to broadcast a one-time event and create buzz around it. The AVOD model may be easy for those that have a large following because it requires a lot of traffic to generate substantial revenue. Each model has its pros and cons. So, compare them and see what works best for your situation.