Returns are inevitable in any ecommerce business, and merchants regularly encounter customers who want to return or exchange items for a variety of reasons. That is why they must ensure that the return process is as smooth as possible for their customers.
The first step towards that goal is providing a clear, detailed, and easy-to-find return policy that removes confusion in customers and staff.
In this article, learn all about ecommerce return policy best practices to make returns hassle-free for you and your customers.
A return policy dictates the rules for returning items customers purchased back to merchants. Having a generous and straightforward return policy is beneficial for both parties.
If customers can easily find and understand a business's return policy, they are more likely to complete their purchase. This is because people perceive the ability to return an item as a security net if buyer's remorse sets in. As a result, merchants build stronger relationships with their customers, improve conversion rates, and decrease the chargeback rate.
Note: Customers often file for chargebacks if they are unsatisfied with their purchase and have no way of getting a refund. Learn what are valid reasons for a chargeback in our article What Is a Chargeback?
Is a Return Policy Legally Required?

Having a return policy is legally required in some countries and optional in others. However, implementing a return policy improves the shopping experience and does not in fact increase the rate of returns. While some countries allow businesses to have no-return policies, this is not a good practice in general since it alienates customers.
United States
In the United States, merchants are not legally required to have a return policy. However, some states dictate where and how the merchant should display their return policy on the storefront or the ecommerce website, if they decide to have one.
European Union
Merchants operating in the European Union are required to have a return policy and make it known to customers. Companies are obligated to comply with the EU Consumer Directive, the law that regulates returns, refunds, and guarantees. EU legislation allows customers to return goods for a full refund if they cancel the purchase within 14 days.
United Kingdom
Like in the EU, merchants in the United Kingdom must have a return policy but they are not required to issue a refund if the goods are not faulty. However, in the case of "distance selling" (online, mail, telephone order), regulation allows customers to cancel their purchase within 14 days even if they received them in functioning condition. Customers then have another 14 days to return the item to the merchant.
Australia
In Australia, all businesses are required to have a return policy. This allows customers to return purchased items even if they are not in their original packaging, but they do have to provide some proof of purchase such as a receipt, either in physical form or as a QR code.
Why Is Having a Return Policy Important in Ecommerce?
A return policy benefits merchants and their customers for many reasons.
Gives peace of mind. Whether shopping online or in-store, customers like to see a return policy enables easy returns, refunds, and exchanges. A clearly outlined return policy is often crucial for merchants to win in a representment in case of a chargeback.

Encourages repeat customers. Customers are more willing to come back to a business if it was easy to make a return.

Reduces chargeback. A return policy defines clearly which products are eligible for return and how the refund process looks like. Communicating the store's refund and return policy clearly reduces the chance of chargebacks, which hurt the merchant's bottom end much more than refunds do.

Improves brand image. Customers are more willing to place their trust in companies that allow flexible and hassle-free returns. They are also likely to recommend the business to friends and leave positive online reviews.

Manages expectations. A detailed and comprehensive return policy goes a long way toward preventing misunderstandings and disagreements. Customers who have all the necessary information about how to return something are more likely to finalize a purchase and less likely to enter into a dispute with the merchant.

Ensures regulatory compliance. Merchants must honor the state or country laws regarding return policies, including how they are displayed, time frames for returns, and payment methods for refunds.

Prevents return fraud. Occasionally, some customers perform return fraud to profit off merchants. A detailed return policy helps to prevent these attempts.

How to Write an Ecommerce Return Policy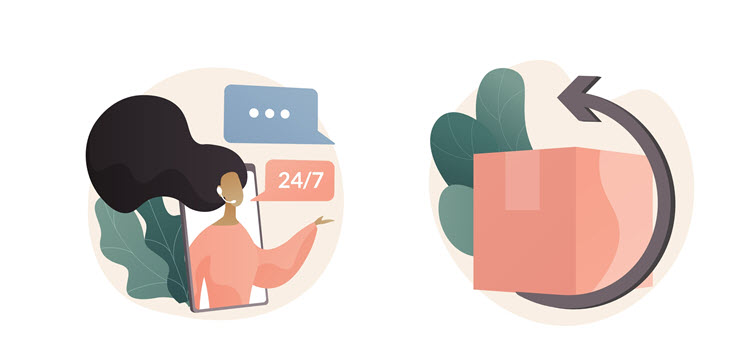 Here are the steps for writing an ecommerce return policy.
1. Establish Return Conditions
This part of the return policy specifies the conditions under which customers can return products. This includes explanations on:
Time frames for returns.

The state of the returned items (unopened, unused, with tags, etc.).

Additional documentation (physical or QR code receipts).

Return methods (in person, by mail, etc.).

Exceptions and additional costs (items not included in the return policy, items that come with return fees, etc.).

How the refund will be made and when the customer can expect it to be settled.

2. DIY or Hire a Third-Party
There are several ways to write a return policy, and each merchant should choose the most suitable one for their business needs.
Online return policy generators. This solution is great for merchants who want a custom return policy done quickly. All they need to do is input the basic information about their business.

Downloading and completing an online template. Like the previous one, this solution is smart for new merchants who are not sure how or where to start with their return policy.

Hiring a third-party legal professional. Many merchants prefer an outside perspective for writing a return policy. Professionals in this area will make sure that the policy is up to market and regulatory standards.

Using a third-party portal. Returns platforms are gaining traction as an out-of-the box solution. Ecommerce stores use return platforms to outsource the entire process, including drafting the return policy.

Employing an in-house legal professional. Having an in-house legal professional is more expensive than the previous options, but for large ecommerce businesses it's worth it. This person will also provide advice on individual cases when an issue regarding returns occurs and implement new updates to the return policy when necessary.

3. Use Plain, Easy-to-Read, On-Brand Language
Whichever method you use to write your policy, make sure you avoid legal jargon and use simple language. To avoid customer alienation, merchants should steer clear from overly threatening language and assume their share of the responsibility. Customers do not want to feel guilty for changing their mind or not being happy with their purchase.
The text of the return policy presents another opportunity to create a vibe around the brand. Companies that use a friendly, accessible voice can and should maintain that same tone in their return policy.
Another point to consider is the formatting and readability of the returns policy. Many companies still use small fonts, long sentences, and large blocks of text. This is sure to confuse and irritate customers, who might end up giving up on the return and becoming disillusioned with your brand.
4. Make the Policy Easy to Find
The return policy should be easily accessible and visible on all ecommerce pages, including:
Product pages

Category pages

Sitemap

Help and FAQ pages

Cart preview

Checkout page

Website footer

Terms and Conditions Agreement

10 Tips to Make the Most of an Ecommerce Return Policy
Here are the some of the ways merchants can use their ecommerce return policy to improve the customer experience:
Accept store and courier returns. Merchants ensure hassle-free returns by allowing customers to make them both in person in a physical store or via courier, sending the item directly to the warehouse.

Provide return labels. Merchants speed up the return process for customers by providing them with return labels in each package. Customers can simply stick the return label on the package they want to return and wait for the courier to pick it up.

Make shipping returns free. When possible, merchants should cover shipping costs for returned packages.

Offer incentives to avoid losing sales. Merchants should go the extra mile to make customers feel appreciated. In the case of returns, they often give discount codes, store credit, or free shipping on the next order to ensure customer retention.

Provide different options. When possible, merchants should offer customers an exchange or store credit instead of a return. You can further incentivize exchanges or store credit by making the return shipping free in such cases.

Provide several return time frames. Customers will feel at ease if they know they have many choices for making a return. Merchants can vary these conditions by allowing returns for a certain time, while offering exchanges during a longer time frame, for example.

Honor exceptions. Merchants should keep in mind that, despite their best efforts, sometimes customers are not able to satisfy the return requirement. That is why they should fine-tune their return policies to honor these returns and avoid alienating the customer.

Educate your staff. The staff contributes greatly to the customer experience. If your staff knows the return policy inside-out, they can assist customers efficiently, and prevent abuses.

Continuously update the return policy. Merchants should make sure that their return policy is up to date with local laws. Sometimes regulation changes or includes new rules, so the return policy should reflect that.

Mirror the competition. Merchants should take note of return policies their competitors are displaying to learn how to improve their own.

6 Great Ecommerce Return Policy Examples
Here are some examples of return policies that stand out.
1. Ikea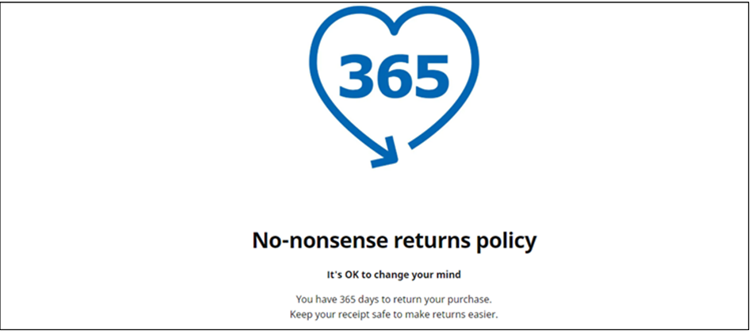 Ikea's "no-nonsense" return policy allows customers to return any item they purchased within 365 days, no matter the cost or size. From cutlery to couches, customers can rest assured their returns will be honored. Ikea only adds one condition - that customers keep their receipt and include it when making a return. This return policy gives shoppers a peace of mind and gently nudges them towards making a purchase, even if it is particularly expensive one.
2. Gymshark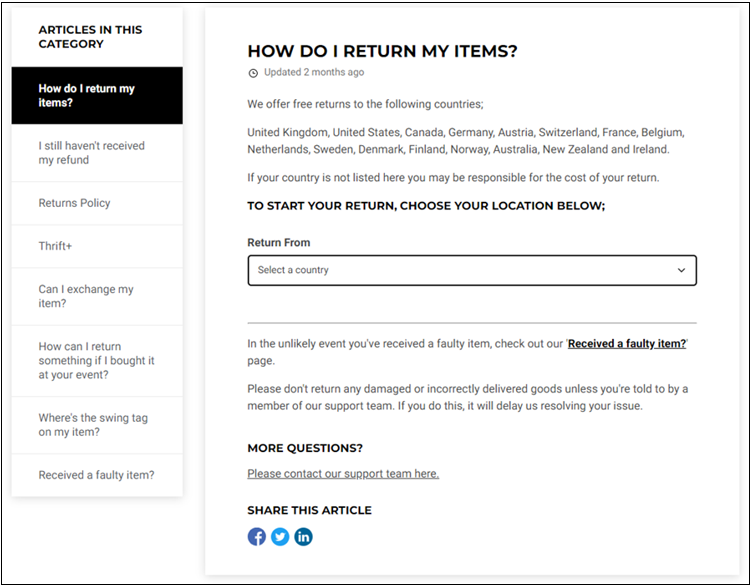 As a brand with a global reach, Gymshark has made sure all its global customers can enjoy a hassle-free return process. On its return policy page, the company provides a Return From dropdown option. When they choose their country, customers get information on how to complete the return process in the form of an easy-to-read, step-by-step explanation. Below the explanation is a useful instructional video on how to use the services of the third-party return portal that Gymshark has partnered with.
3. Casper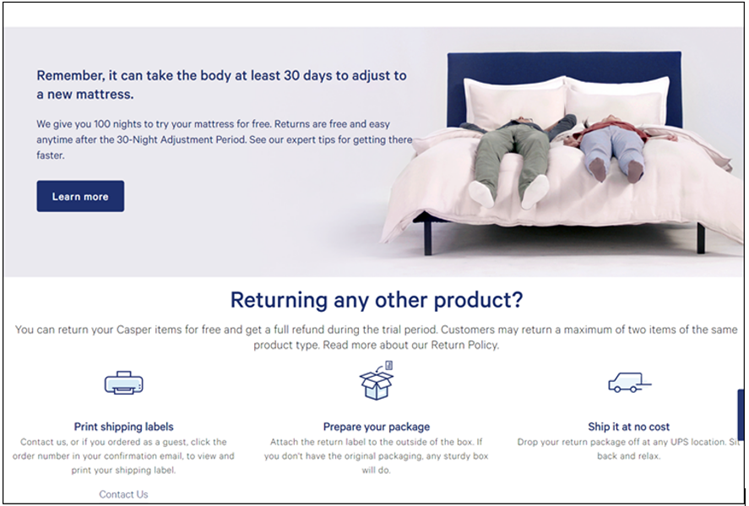 Casper's return policy allows customers to try out mattresses for 100 days to decide if they want to keep or return the item. The company's has enhanced this generous policy with an informative and easy-to-understand returns explanation of the process through clever use of simple graphics. There is very little text on Casper's return pages, and they opt for an FAQ page to explain how to start the return process.
4. Everlane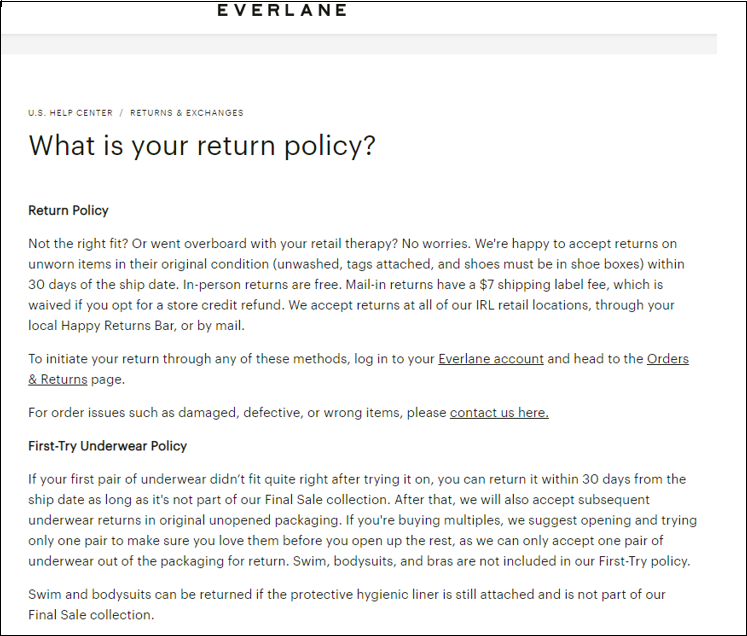 Everlane's return policy is a good example of how to make the process user-friendly with simple and on-brand language. Unlike most clothing companies, Everlane will accept returns of underwear under certain conditions. They also make it clear when it is not possible to return items for reasons of hygiene. The brand does a good job at encouraging customers to opt for store credit rather than an outright return by waiving the shipping fee in such cases.
5. Nordstrom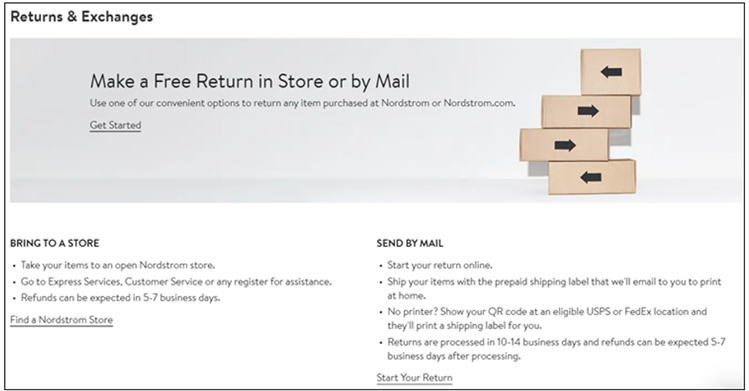 Nordstrom's return policy gives precise information on how to make a return via each of the two return options – in a store and by mail. While in-store returns are easy and result in a full refund after 5-7 days, mail returns are also made simple and explained in detail. Nordstrom promises to email the shipping label but also makes it easy for people without access to a printer. Customers can simply show the QR code to the shipping company and they will provide a return label for their package on the spot.
6. Patagonia

Patagonia does an excellent job offering customers alternatives to outright returns. Easy-to-spot CTA buttons with clear directions take customers to forms that they can fill out to initiate either a return, an exchange, or a repair. When users click the Questions? link, they are directed to pages where the company explains in plain language the steps customers need to take to complete the desired process. Patagonia also makes sure to address all potential questions customers might have in dedicated articles.
Conclusion
Having an ecommerce return policy makes the shopping experience more enjoyable for consumers and improves the merchant's bottom line. While regulation governing returns depends on the country and region where a business is operating, it is a sound business practice to have a generous and customer-centric return policy.
It is also important to remember that by detailing the terms and conditions of returns ahead of the purchase merchants avoid confusion, possible disputes, and customers going to the competition.