Online shopping is not only provided by 
ecommerce
 websites. It can now be done over various platforms and apps, even using social media channels. This expansion means that different support channels can help customers needing product or service assistance while shopping. This is where chatbot ecommerce comes in. In the past, buyers would visit the official website for the online store to contact the merchant by email or telephone. However, with the introduction of social media platforms, there is now a shift towards consumers performing their product information and review searches directly from the social platform, and ultimately wanting the ability to make their purchase directly from the brand's profile page, as well. Consumers also realize that it is more convenient to message a company on their Facebook Page or on Instagram to get information about a product. Companies that fail to respond to this new-found requirement are finding that their customers are not as satisfied. The need to quickly respond to customer queries on social media now gives way to the rise and introduction of chatbots, which are quickly making their way onto the official websites themselves. If you don't know about chatbots, you are missing an opportunity to connect with your shoppers.  This blog should help you catch up with this type of chat technology and give you an idea of how you can use your very own chatbot as an advantage for your business.
What Is a Chatbot
A chatbot is a piece of software designed to provide customer support or assistance through audio or textual answers. These are predetermined and anticipated during the development of the software. They mimic or simulate human conversation and behavior. As this is still a new and developing software, it requires more discovery in the future; however, it has proved useful even now for many companies. Chatbots provide various practical purposes in dialog systems, including customer support or collection of information. Many chatbots use advanced natural language processing tools, and much simpler functionality to search for keywords within the text, then pull an answer from a database with the most appropriate keywords or the most related wording template. In the ecommerce industry, chatbots can:
Provide consumer support
Help buyers complete their purchase
Offer product recommendations for buyers
Rule-Based Chatbots vs. AI Chatbots
When we talk about chatbots, there are two types we can single out, including Rule-Based Chatbots and AI Chatbots.
What is a Rule-Based Chatbot? ‍
Rule-Based Chatbots follow a set of pre-defined rules (as the name suggests). These rules set the foundation for the problems that a chatbot is programmed to solve. They are programmed to follow a decision-tree method by anticipating the customers' questions and providing a pre-defined answer to their query. These chatbots can be designed to follow simple or quite complicated rules but are only limited to the defined ones. They cannot develop overtime on their own or through interaction until the developer adds additional rules or scenarios.
What Is an AI Chatbot? ‍
On the other hand, an AI Chatbot is the opposite of a Rule-Based one. It uses machine learning to develop and further understand the context of a question or the intent of the user before it provides an answer. They use natural-language to respond and generate answers, rather than following set rules. The more these bots run the more scenarios they go through, they can develop a more comprehensive and efficient database to provide the best service to customers. Each type of these chatbots have their advantages.  Placed side by side, they look something like this:
How to Use a Chatbot in Ecommerce
Chatbots can efficiently react to multiple numbers of user inquiries. They offer 24/7 service and are a cheaper option than live support. The response time in any time zone is immediate. Without the need for human oversight, they are also capable of replying for hours. Chatbots, however, are software. They are only as good as the way there were developed. Ordinary chatbots, therefore, may not always understand a misspelled word or respond to an incomplete human inquiry. They're not going to be able to think outside the box. The only knowledge they provide, except for AI chatbots, are pre-programmed details.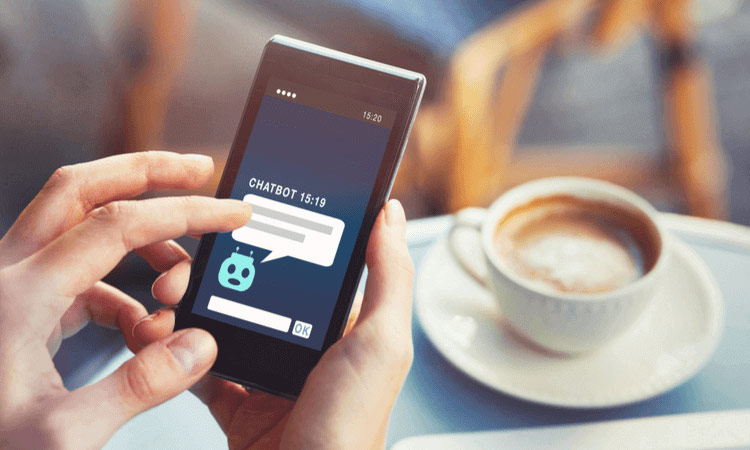 To get a better understanding of chatbot ecommerce, we have listed some of their uses below:
Several companies have started providing 24/7
ecommerce customer service
through chatbots on Social Media. Such customer service chatbots aim to offer quick responses by answering customer complaints or addressing order status inquiries.
For example, pizza. With the help of chatbots, it is now ridiculously easy to order and track the delivery status of a pizza. Users can do this either by text, tweeting, voice, or even from their car. Domino's was one of the early chatbot ecommerce adopters. Domino's allows you to quickly build a new pizza (or reorder a favorite pizza) all via Facebook Messenger.
Offer Product Suggestions
Most consumers know that they want to buy a particular product, but they may not have a specific color or design in mind. Based on what they want, a chatbot can offer product recommendations. These can be anything from shoes to a movie or video. Essentially, nearly any type of product imaginable.
There are many weather bots. Most are basic, though some are a little bit more fun. You can use these to inquire about your area's current climate conditions to figure out if you should carry an umbrella with you to work. Some bots even allow you to set reminders for travel or commute purposes.
You can also use chatbots to help with booking your holiday or business travel. Some chatbots will let you check and compare flight prices. Others even allow you to book your flights and hotels from your social media channels. Finally, they will also allow you to monitor current flights, waiting times, delays, and more.
Personal Finance Assistance
Chatbots make it easy to do business, get stock market price updates, and manage your finances. Banks have developed chatbots to check statuses, such as your current balance and most recent transactions. There are even tax bots that are available to help you chart your company's deductible expenses.
Setting up appointments can be a hassle. But not if you let a chatbot do the job for you. One example of this is "Meekan." Request a new meeting, and this Slack chatbot checks the schedules of all teammates to find times when everyone is available. Other chatbot options include news, dating, and money transfer.
Best Chatbot Ecommerce Examples
Even with this list of features, it may be hard to imagine how online sellers use chatbots as the platform is relatively new. Here are some examples of how ecommerce chatbots may help 
ecommerce business
 communicate with their buyers:
Sephora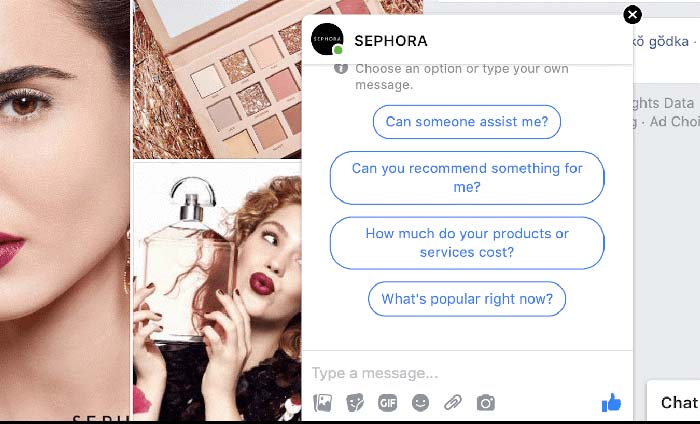 Sephora
 offers not one, but two different ecommerce chatbots. Their main chatbot is active on Kik and provides makeup tips and product suggestions to users based on a test about their makeup rituals. Once a recommendation is made, the user is taken directly to Sephora's website, where they can purchase the recommended products. The other Sephora chatbot is devoted to their Facebook Page and has a couple of different options. It offers users consumer support, product recommendations, product and service pricing and even has the option of telling users what's popular right now. Nothing tops the tips you get when visiting a Sephora store, but the Sephora chatbot on Kik comes pretty close. Once a user starts talking to the bot, they receive numerous questions. The answers to those questions help the chatbot with understanding the needs of the user, to advise them and give them beauty tips.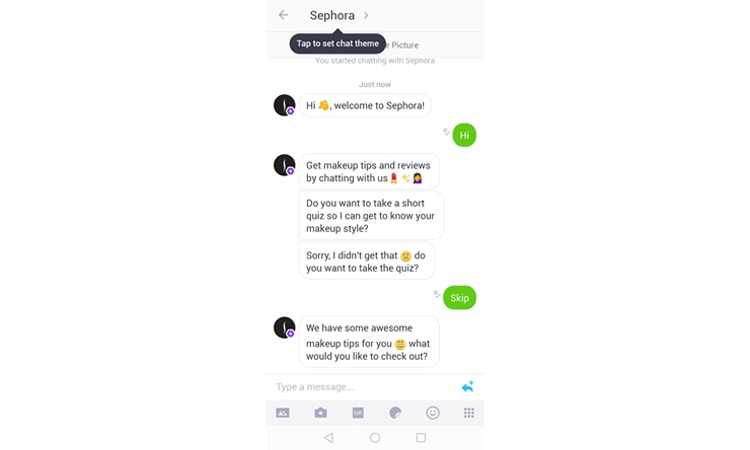 You can then move on to shopping items, get customized advice on makeup, and more. The Sephora bot will even pose specific questions about your preferences to provide the best product recommendations, just like a real salesperson. The Kik chatbot is a clear illustration of how Sephora utilizes AI to better connect and sell online to consumers. Their Chatbots not only help consumers find deals and make purchases but help customers find makeup that suits their unique style and preferences. That's something that is not provided by any plain ecommerce website.
Levis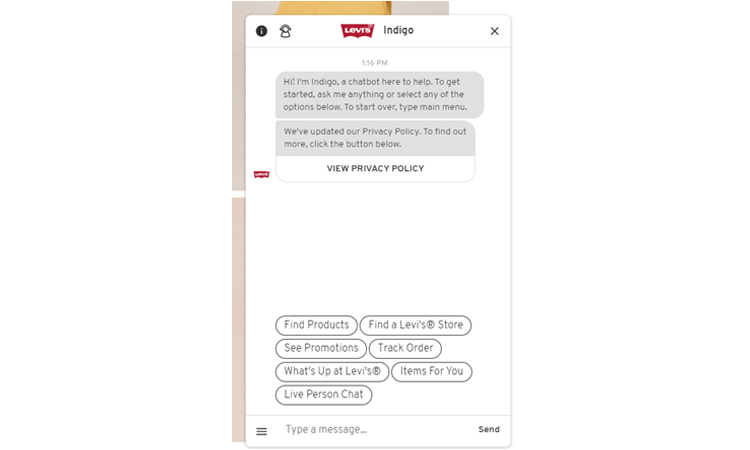 An artistic representation of chatbots is on 
Levi's
 website. First, it provides customer support. Next, there's an option called "Find Product" — replacing a seller in the shop almost wholly. The chatbot will help address what kind of product you want to reduce the search for our clothes and determine what we need. It offers assistance in various other forms, from helping users find the nearest Levi's store, taking a look at the latest promotions, order tracking, news from the brand, product recommendations, and finally, a live chat.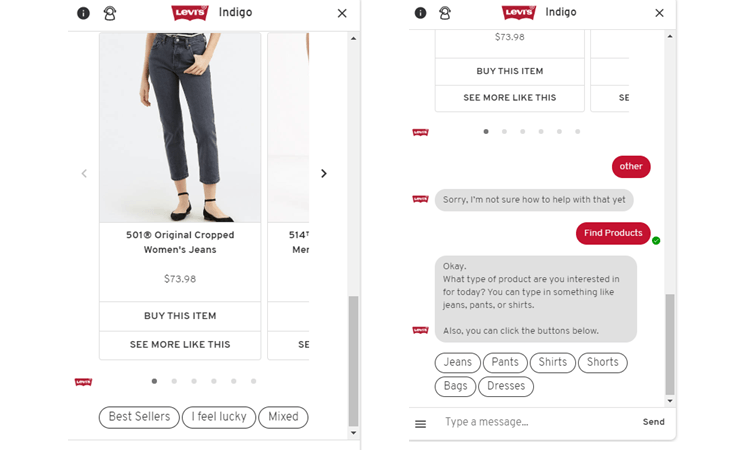 Users can search through the brand's entire catalog, get inspired by seeing the items worn by others in a section called "See it Styled," then opt to either view more items like those they're looking at, or even click through to the product page. Realtime results and inventory data together show return only the products that are in stock. This simplifies the shopping experience for shoppers and the selling process for Levi's.
MVMT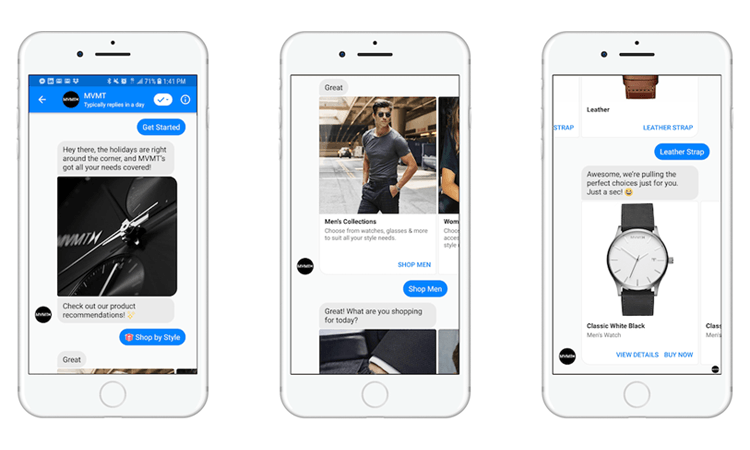 Another brilliant chatbot use case is 
MVMT
, a fashion brand that designs watches and sunglasses with a target audience of millennials. The MVMT chatbot helps users identify their ideal products with a series of questions and clickable responses, combined with stunning product images. They will get a list of product suggestions, providing a great sales tactic. Instead of having users search through your website, they can be guises with the help of a chatbot. It's like providing users with their own personal fashion consultant. A buyer may tell the chatbot he or she is searching for sunglasses or watches, and even provide the design they want. In addition to helping the shopper pick a product, the chatbot will also provide an opportunity to buy the product. A chatbot can also allow for upselling and cross-selling products.
Domino's Pizza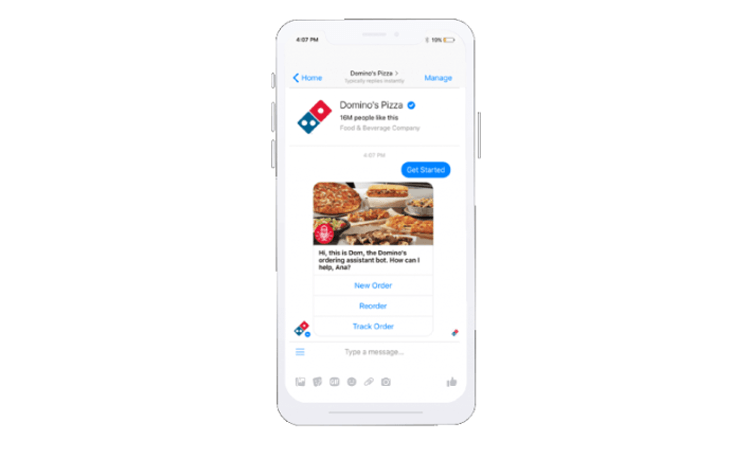 One indication of an innovative chatbot for customer service is in the food industry. Who would have imagined a couple of years ago that you could order a pizza, or any food for that matter, without even saying a phrase to another human being? Just a few clicks of a button, and you have a steaming hot pizza on the way to your home.   By clicking "Get Started" on the Facebook Messenger conversation with 
Dominos Pizza
, you get options for placing a new order, reordering a pizza you ordered before, or tracking the order you just made. If you pick a new order, you are asked some simple questions like:
What kind of pizza do you want?
If you say "Vegetarian," they give you options to choose from
How large do you want your pizza to be?
Customize your pizza
Choose the crust type and toppings
Choose how many pizzas you want to order
Add something to your order, like toppings or a beverage
Finally, they ask for your name and address, phone number
If you still feel that the chatbot has not met your needs, it will connect you with Domino's live customer support.
Shopify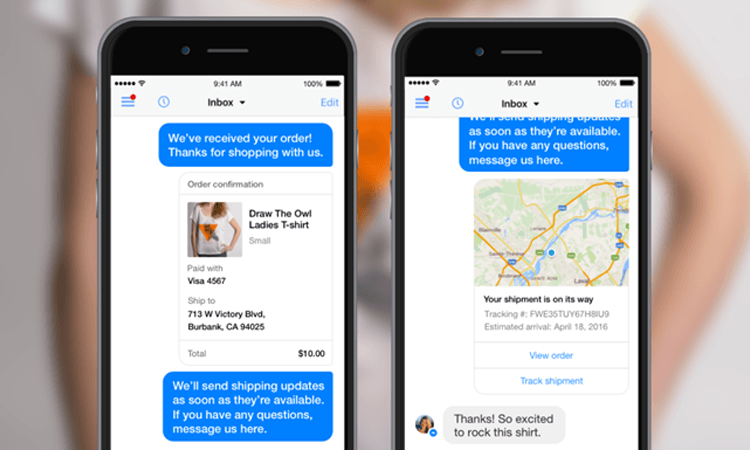 Through supporting customers, 
Shopify
 Messenger also supports merchants. Their bot on Facebook Messenger provides a total shopping experience. Consumers can search for a product list, read product recommendations, pay for their purchases, receive confirmation of order and shipment, and make requests for customer service. Shopify Messenger incorporates the merchant's backend and serves as a sales channel to pull product descriptions, images, and sizes. There are many ways you can use a Shopify Bot:
Upselling
Abandoned Cart Recovery
Auto Reply to your FB Page's Comments
Top of Funnel Marketing
Content Marketing
Capturing New Leads and Sales
Shipping Updates & Order Tracking
Customer Service
Scalable Personalization
Building consumer loyalty
KLM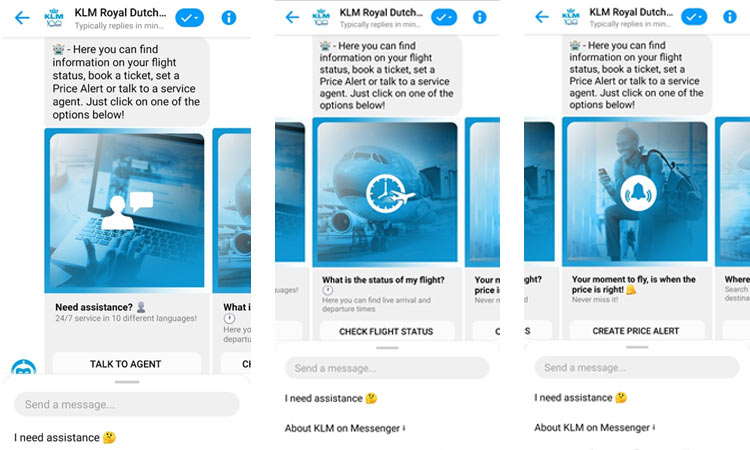 KLM
 is one of the most well-known airlines in the world. It is a European airline industry leader known for its dependable, practical, and ground-breaking service. KLM has a   goal of providing the ultimate in customer service and improving customer loyalty.  They chose to do this by allowing their users to contact KLM agents through social media, while at the same time expanding their social media networks. KLM knows that its users spend most of their time on social media, so they use Facebook Messenger as a means of contact with their customers. This move resulted in an immediate 40% rise in consumer Facebook messages, and KLM partnered with Digital Genius to introduce artificial intelligence (AI) to their social media channels to react to that number of messages. Once agents obtain a question from a client, an AI (trained to address more than 60,000 questions) offers them a suggested response. The agent determines if the answer is correct, makes the necessary adjustments, and responds via the appropriate social media channel. Depending on the behavior of the user, the program develops over time. KLM also shares flight tracking, ticket booking, and flight information through their Facebook Messenger. Finally, they ask their users to rate their experience with the chatbot for further improvements. 
Resulting in
:
40% increase in customer interactions with Messenger
15% of online boarding passes sent via Messenger
LEGO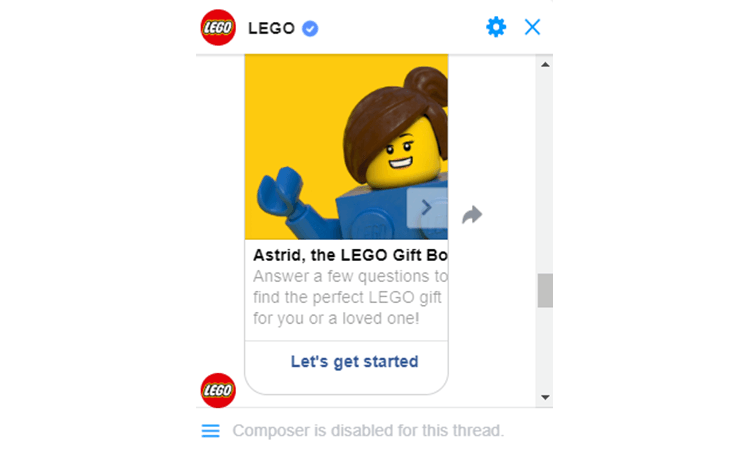 LEGO
's chatbot lets shoppers solve a challenging problem – picking the right gift. Lego's Gift Bot will provide all users with personalized gift suggestions directly inside Messenger. It chooses gift recommendations based on how a person reacts to chat conversation queries. The conversation starts with simple questions. Questions include the location of the user, the recipient's age, and the gift budget. Once the bot has this information, users choose the product they want to buy (movies, adventure, travel, puzzle, etc.). After the consumer identifies a product, they get a connection that immediately links the product on the Lego's website to their shopping cart, so they can purchase it. LEGO's chatbot is available in the US, UK, France, Poland, and Germany. While most chatbots get 3 seconds of engagement time, Lego's chatbot gets up to 60 seconds. 
Over the holidays in 2017
, it drove 25% of social media sales, drove 2x the revenue of other Facebook ads, and had a conversion rate of 8.4x higher than other ads. It hasn't been an easy task to get customers used to talking to a chatbot; after all, talking to a machine can seem very odd and detached. As of late, though, users are quickly becoming more familiar with this trend, and the movement has made certain brands more personal and approachable. Just to see how popular they've become in recent years we can refer to the worldwide search for "chatbots" on 
Google Trends
: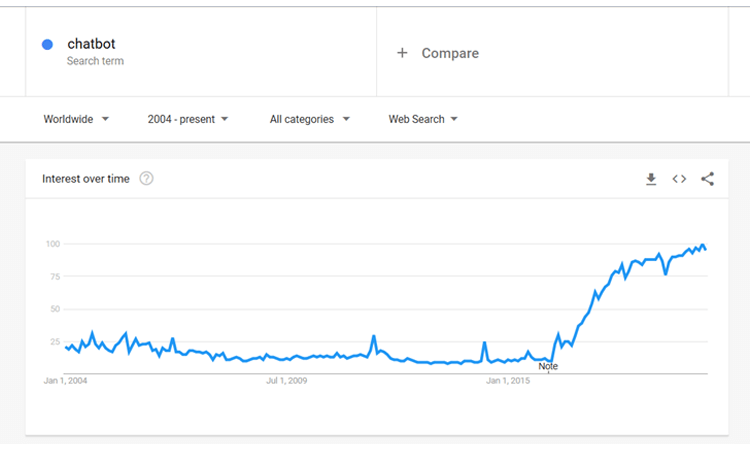 For one, they usually remember the customers' preferences, they are available 24/7, and if a company invests in it, the chatbots can provide support in different languages. Most importantly, users understand that their function is limited and are not disappointed if not all their questions go unanswered through this channel. There are no clearly defined best practices when it comes to chatbot ecommerce considering that the technology is still new. It is up to you as a merchant to work out how the chatbot of your business would meet your consumers' needs quickly and satisfy them. Determine which chat channels your clients use most often and watch the bot metrics to learn how the app will help your customers more efficiently. The more you study your customers' behavior, the better you can adjust and develop your chatbot to provide the best service to your customers. Keep up to date with technological improvements when it comes to chatbots or any other software that can help automate your 
ecommerce business
 tasks.