While shopping online has been around for a long time, a new hybrid model of ecommerce has recently gained traction. It is known as Buy Online, Pick Up in Store (BOPUS).
This model enables customers to shop from the comfort of their homes with the option of picking up the order in a physical store.
In this article, learn about the BOPUS shopping model, its advantages for ecommerce merchants and their customers, and the best implementation practices.
What is Buy Online, Pick Up in Store (BOPUS)?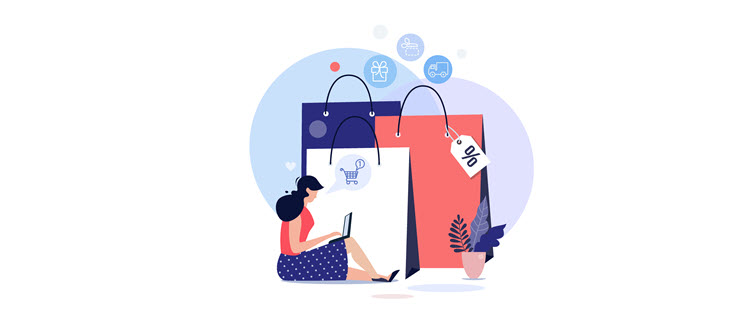 Buy Online, Pick Up in Store, or BOPUS (sometimes abbreviated to BOPIS) is when customers shop online for products and collect them in a brick-and-mortar store. After making the purchase, customers choose the most convenient location to pick up their order rather than pay and wait for it to be delivered. This shopping model is also referred to as "click-and-collect".
BOPUS helps customers avoid shipping costs and delivery times that come with traditional online shopping.
How Does BOPUS Work?
BOPUS involves three simple steps:
The customer places the order. The order is placed online, and the customer chooses the most convenient pickup location.

The store prepares the order. The store receives the order and packs the item(s). They then notify the customer via email or text message that their order is ready for pickup.

The customer picks up the order. The customer goes to the store to get the item(s). Some stores offer a curbside pickup, meaning customers can drive to the store to collect their purchases without leaving their vehicle.
Benefits of Buy Online Pick Up in Store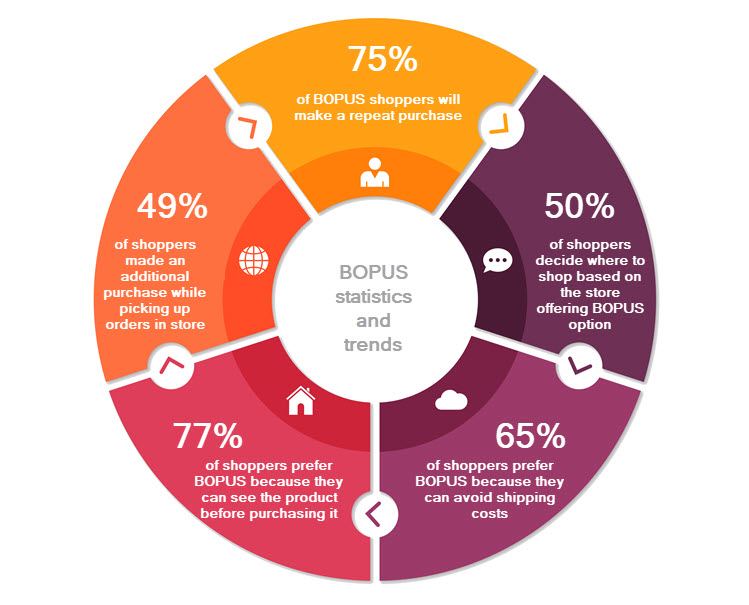 BOPUS is beneficial for both merchants and their consumers for many reasons.
Customers love BOPUS because it offers the following:
Convenience. Customers can browse from the comfort of their homes and avoid having to travel to a store or fight through crowds of shoppers only to find that the item they are looking for is not in stock.

Easy returns. Customers can see, touch, and try on the items when they come to pick them up and make returns immediately if necessary.

No shipping costs. One of the most obvious and best-loved benefits for shoppers is not having to pay for shipping.

Shorter waiting times. With BOPUS, customers can pick up their order as soon as the store prepares it and do not have to wait for delivery.

Merchants that offer this option enjoy these benefits:
Increased sales. When customers come to pick up their orders, as many as 50% make an additional purchase in-store, significantly boosting sales. Additionally, statistics show that as many as 50% of customers will specifically choose to shop from stores that offer BOPUS.

A true omnichannel experience. By its very nature, BOPUS creates more customer touchpoints than online or in-store shopping. This allows merchants to engage their customers through a variety of channels and on a more personal level.

Detailed customer insights. When customers shop online, merchants gain insights into their browsing and shopping preferences, even if their cart is abandoned. Any information about a customer helps businesses provide a more satisfying customer experience.

Better personalization. Depending on the product they sell, merchants can offer a variation of BOPUS – Customize Online, Pick Up in Store (COPUS). By allowing their customers to tweak and personalize their purchases, merchants ensure greater satisfaction and engagement.

Competitive edge. Owners of brick-and-mortar stores that offer BOPUS have a competitive advantage over online-only retailers. This is because customers will instinctively place greater trust in merchants and products they can inspect and easily return, if necessary.

Promotional opportunities. Merchants can create special online offers not available at the brick-and-mortar store. This boosts traffic on the website and increases sales.

Efficient inventory management. BOPUS forces ecommerce stores to integrate better their in-store inventory databases and their websites. Greater efficiency in this area means customer disappointment is minimized.

Buy Online Pick Up in Store Best Practices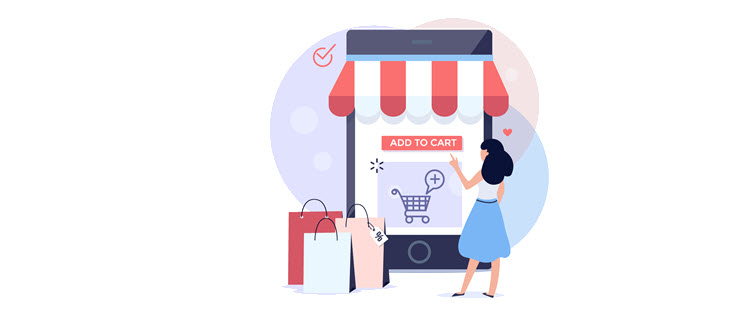 These are the best BOPUS practices for an enjoyable shopping experience:
1. Build and Regularly Update Your App or Website
While giving your customers a shopping app is convenient and attractive, they often cost a lot of money to build, so having a website is the next best thing.
Both the app and website should be appealing and easy to navigate, with a shopping button visible on every page. Also, it is essential to allow customers to browse freely and switch between pages without losing progress in their carts. Lastly, the inventory should be regularly updated and reflected in the stock information on the product pages.
2. Establish a Pickup Location
Ideally, there should be more than one pickup location available. The store does not have to be the only place customers can collect their purchases, and many merchants also offer a curbside pickup location. In either case, enabling easy access and marking it clearly is essential, especially if the location is somewhere with heavy traffic or limited parking options.
3. Provide Helpful and Efficient Customer Support
Staff should be trained to assist customers even after the pickup is finalized. This includes making efficient returns and providing additional shopping information to ensure a seamless shopping experience.
4. Market Your BOPUS
Merchants need to inform and regularly update customers about the benefits of BOPUS. Make sure to market this option to boost awareness online and in the physical store itself. As mentioned before, customers will often choose to shop with retailers just because they offer this possibility.
5. Personalize the Shopping Experience
Provide a personalized experience online and in-store. If you offer customizable products, make sure that customers can personalize the product online and have it ready for them for in-store pick-up. For example, if you print T-shirts, enable customers to upload their images, select which T-shirt they want, and see a preview of how it will look like.
Another great way of encouraging users to shop online is using augmented reality apps. The app should show customers what the products would look like on them or fit in their homes. By enabling customers to try out different color options, shapes, and sizes virtually, merchants give them the confidence to finalize their purchase.
6. Utilize Location Data
Based on location data from previous visits to a store, retailers can target the right audience and nudge them into purchasing an item online.
Conclusion
BOPUS is a convenient shopping model for both merchants and consumers. It provides customers with flexibility that encourages them to make repeat purchases, which boosts sales. BOPUS is suitable for big brands and smaller merchants that want to strengthen customer relationships and make shopping more efficient and enjoyable.