Introduction
On average, 70 out of 100 customers abandon online shopping carts, incurring massive losses to the ecommerce industry.
Reasons for cart abandonment are often individual, and no merchant can cater to every single customer's needs. However, learning about what makes customers abandon a purchase and resolving those issues significantly improves the overall customer experience and increases sales.
Learn about the 13 most common reasons for cart abandonment and what to do to eliminate them.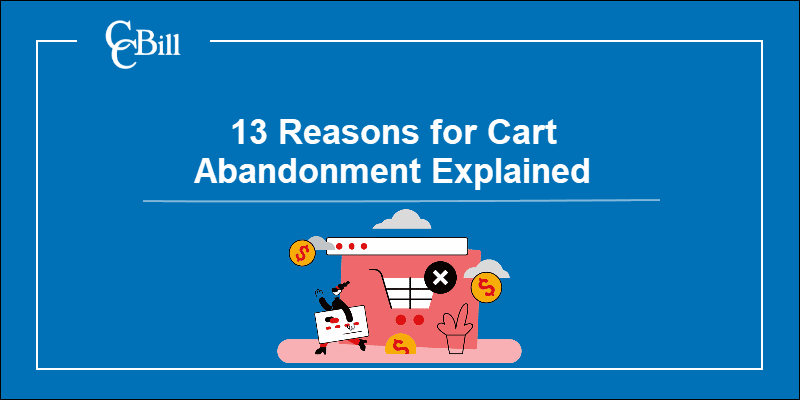 What Is Shopping Cart Abandonment?
Shopping cart abandonment happens when an online shopper adds items to their cart but, instead of completing the purchase, leaves the website.
Shopping cart abandonment is a burning issue for ecommerce merchants because of the revenue loss it incurs to the industry, which is estimated to reach $4 trillion by the end of 2022.
To successfully minimize cart abandonment and increase sales and revenue, ecommerce merchants must first determine the severity of the issue and address its underlying causes.
Shopping cart abandonment is expressed via the cart abandonment rate – a metric used to establish the relationship between total initiated and completed purchases. The cart abandonment rate is calculated by dividing the total number of completed purchases by the number of initiated carts and subtracting the result from 1.
If a company has 500 initiated carts but 100 completed purchases, their cart abandonment rate is 1-100/500=0.8 or 80%.
13 Reasons for Cart Abandonment in 2022
Customers abandon carts for numerous reasons, the most common ones being the following.
1. Return Policy is Strict or Unclear
A well-written return policy assures customers that they are covered if they are unsatisfied with their purchase. Imposing a strict or no-return policy, raises suspicions in customers and causes them to switch to a competitor. Customer caution is even greater if the business is online only.
Solutions:
Provide reasonable conditions for returns, exchanges, and refunds.
Make the return process easy by creating a simple returns form and generating shipping labels.
Charge for shipping only if necessary.
Avoid charging restocking fees if possible.
2. Inability to Determine Cart Total in Advance
Before researching products, customers decide on a spending budget. Sometimes, customers add products to the cart to get an idea of the final choice of products and see the cart total.
The way customers determine purchase value is individual. However, encountering unexpected fees during checkout often makes customers give up on the purchase and look for better offers.
Stating all fees upfront eliminates ambiguities and makes it easier for customers to decide on a purchase right away.
Solutions:
Notify customers about all fees that will be applied during checkout by placing notes on your product, cart review, FAQ, and help pages. A good way to do this is by using tax and shipping calculators.
Keep the fees as reasonably priced as possible.
Customers are more likely to spend more on a product with free shipping than buying a cheaper product and paying for shipping.
3. Prices in Foreign Currency
Research shows that 1 out of 4 consumers will abandon their cart if the prices are not converted into their local currency.
Customers don't want to deal with currency conversion rates and be forced to do math while shopping. Not only does that hurt the overall customer experience, but it also ruins the checkout UX and confuses buyers. And when shoppers are confused, they abandon their carts.
Solutions:
Partner with a payment processor that offers global billing support, including multi-currency payment processing.
Use geo-targeting to determine the buyers' location and based on that display prices in the customers' local currency.
Provide customers the option of choosing their preferred currency.
4. The Shopper is Required to Create an Account
Online shopping is popular because of its speed, simplicity, and convenience. Requiring customers to create an account before proceeding to checkout negatively affects the speed and simplicity of the shopping experience.
Solutions:
Allow customers to shop without an account (guest checkout).
If a company insists on data collection, it can always offer the customer the option to create an account automatically based on the data provided during checkout. The account password is then either randomly generated and sent to the customer or provided by the customer the first time they log in.
5. Complicated Checkout Process
Another common cause of cart abandonment and lost sales are long and complicated checkout forms. Customers faced with excessive form fields and too many steps are more likely to give up on their purchase.
Solutions:
Implement a one-page checkout or divide the form into no more than 3-4 cohesive sections with related steps (cart review, shipping data form, payment method selection and data entry, purchase confirmation).
Allow customers to create an account. The information provided during account setup can then be used to autocomplete all future checkout forms.
If customers partially completed the form to check shipping costs, save that information along with the cart's contents for when they return.
---
Note: CCBill's FlexForms allows merchants to simplify the checkout process to fit their customers' preferences. Whether large or small, local or global, ecommerce merchants can find a payment processing solution for their business with CCBill.
---
6. Limited and Costly Shipping Options
When it comes to shipping, customers have different needs and preferences. Some do not mind waiting longer for a product if it will cost less, while others require delivery as soon as possible. Providing limited shipping options that do not accommodate these different needs may cause customers to seek a competitor with more options.
Solutions:
Partner with several delivery providers so customers can choose their preferred one.
Offer different delivery times with prices adjusted accordingly.
Whenever possible, add shipping costs to product prices and offer free shipping instead of charging for the product and shipping separately.
7. Slow Delivery
Ecommerce stores lose customers if they fail to fulfill their expectations regarding delivery times. Delivery does not just depend on the shipping company but also involves processes on the merchant's side, such as order and inventory management, warehousing, and packaging.
Solutions:
International ecommerce stores should rent or buy storage units and partner with reliable delivery providers on every continent to ensure timely deliveries across the globe. 
If timely deliveries are not possible in a territory, reconsider whether it is even worth the effort to market and sell there. 
Optimize order processing, so orders spend the least time possible in their starting point (manufacturer or merchant warehouse). 
---
Note: For more on how to streamline product delivery, read our article on Ecommerce Fulfillment.
---
8. Website or Payment Gateway Errors
When a page of a website, the shopping cart, or a payment form break, customers are left stranded and without an idea when the issue will be resolved. Customers not determined to buy from that specific brand will proceed to look for alternatives.
The main problem with website, shopping cart, and payment gateway errors is that it is easier for a customer to seek another merchant than to contact customer support and wait for the problem to be solved.
Solutions:
Conduct regular quality assurance tests.
Offer multiple payment gateways so customers have alternative ways to pay.
Check regularly for broken pages and malfunctioning forms.
Monitor key performance indicators (KPIs) such as average page load time, shopping cart sessions, and shopping cart conversions.
9. Data and Payment Security Concerns
One of the reasons behind the popularity of online shopping is data security improvements. However, online shoppers still seek proof that their data will be handled according to the highest security standards, and that they will receive what they paid for.
Solutions:
Follow PCI compliance guidelines.
Follow all relevant compliance regulations for the region in which you operate.
Implement fraud prevention and management systems.
Include trust seals throughout the shopping process.
---
Note: For a full list of PCI compliance requirements, consult our article PCI Compliance Checklist for Merchants.
---
10. Limited Payment Methods
There have never been more online payment methods available to buyers. In fact, this variety means that accommodating every customer's needs is difficult, if not impossible. And yet, ecommerce merchants who fail to provide a selection of the most popular payment methods may lose sales over time.
Solutions:
Perform market research to determine the preferred payment methods of your target audience. Use these insights to prioritize payment methods.
Strive to provide more payment methods as the business grows.
11. Website is Not Mobile-Friendly
45% of consumers use mobile devices to shop online. An ecommerce store that is not designed to be mobile-friendly makes it difficult to browse products and complete checkout forms.
Solutions:
Emphasize the importance of mobile-friendly design before opening a store.
Follow and implement ecommerce UX trends and best practices.
Monitor performance metrics and conduct regular quality assurance tests.
12. Customers Are Not Ready to Buy
Online shoppers often add products to their carts on numerous websites to compare prices, estimate cart totals, and determine the value of a purchase based on their set of criteria. In some cases, a customer will do research but, in the end, not buy from any merchant.
Solutions:
Add value to the purchase with freebies, special offers, and loyalty rewards.
Offer upsells and cross-sells, but do so with moderation.
Offer first-purchase incentives.
Provide social proof in the form of reviews, user-generated content, and product labels.
---
Note: Read our article on How to Increase Ecommerce Sales for a rundown on tactics to boost your revenues in the highly competitive online environment.
---
13. Payment Failure
Sometimes, even when a customer decides to complete their purchase, the payment does not process successfully. There are many reasons for payment failure, some of them being:
Poor internet connection
Incorrect payment details
Payment method not supported
Expired card
Insufficient funds
Limitations imposed by the card issuer
Suspected fraud
Solutions:
Recommend that the customer use another card or payment method.
Partner with a reputable and reliable payment processor.
Send cart abandonment emails to remind customers to return to their cart when they are ready.
---
Note: Learn more in-depth about different cart abandonment solutions.
---
Conclusion
Cart abandonment can happen for many reasons, not all of which are under the control of the merchant. Use the information provided in this guide to perform due diligence and prevent lost sales from cart abandonment.
About the author