Introduction
Ever since Google Chrome introduced support for web push notifications in 2015, the popularity of this feature has been on the rise. Web push notifications are one of the most versatile ecommerce marketing tools thanks to their customizability, infinite use cases, and the fact that they can reach over 80% of all internet users.
Find out how to use web push notifications for ecommerce to increase user engagement and boost conversions with minimal investment.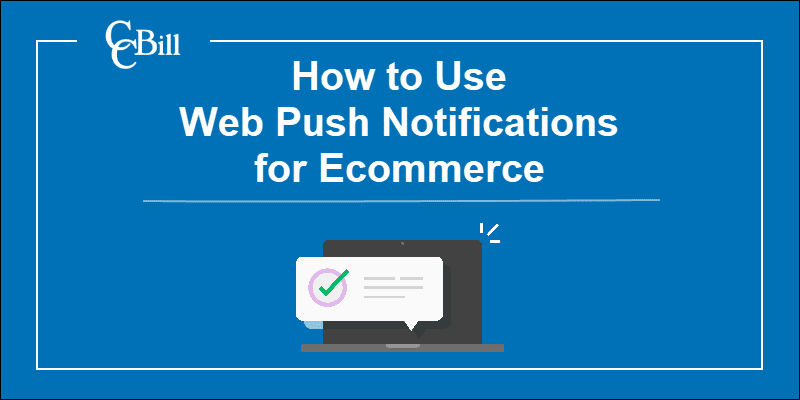 What is a Web Push Notification?
A web push notification (also known as a browser push notification) is a message that appears on a desktop or mobile screen with the purpose of engaging customers and increasing conversions. Once a user gives consent, these notifications pop-up on their device to provide real-time alerts, regardless of whether the browser is open.
Businesses send generic bulk web push notifications to notify users of new products, special offers, and time-limited events. The sending of these notifications is time-based and set up manually.
Users can also receive individualized, behavior-based notifications. These are automatically triggered when customers perform a certain action on the website, such as subscribing to a newsletter, placing an item in the cart, finalizing a purchase, etc.
What is the Difference Between a Web and Mobile (App) Push Notification?
A web push notification appears on both desktop and mobile web browsers. All that is necessary to receive them is the user's prior consent.
On the other hand, mobile (app) push notifications are sent via mobile apps to smartphones and tablets only. To receive this kind of notification, the user needs to have the app installed on their device.

How do Web Push Notifications Work?
Any business can send web push notifications via their website by:
Choosing a web push service provider.
Configuring the notifications (the design, time of appearance, target audience, etc.).
Integrating their website with the service provider's software development kit (SDK).
The integration process typically consists of two steps:
Uploading SDK files to the root directory of the desired website.
Inserting code into the website.
---
Note: The exact integration process may vary between web push service providers.
---
Elements of Web Push Notifications
Most web push notifications consist of the following elements:
Title – typically the brand's name or a phrase.
Description (content) – the message the brand is sending.
Icon – typically the brand's logo.
Website URL – the URL of the website sending the push notification.
Image (also known as the "big image" or "large image") – an image related to the message it is attached to.
Call to Action (CTA) – the action the user is invited to take (completing a purchase, browsing through the product offerings, subscribing to a newsletter, etc.).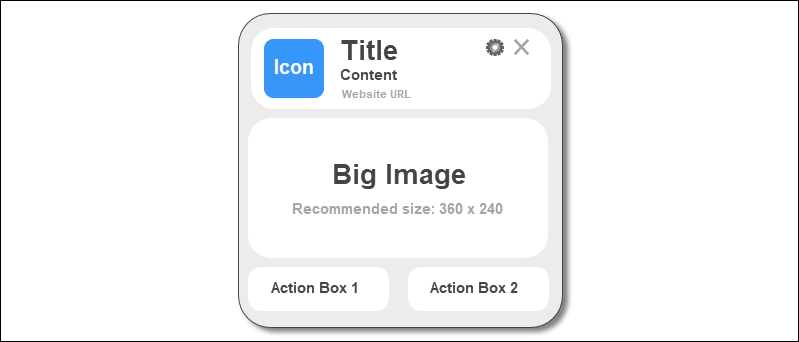 ---
Note: At the moment of writing this article, only Google Chrome, Microsoft Edge, and Opera browsers support big images in push notifications. Because of this, big images should not contain crucial information but serve only to boost engagement and improve the visual appeal of the notifications.
---
How to Use Web Push Notifications for Ecommerce
The success of web push notifications for ecommerce relies on a combination of two elements:
The notification. The notifications' design and copy are essential to its success. The restrictions in size and number of characters demand creative, concise, and actionable solutions.
The plan (campaign). Setting up the notification campaign requires businesses to establish the notification triggers, delivery times, and perform customer segmentation.
Web Push Notifications for Ecommerce Use Cases
The most common use cases for web push notifications are as follows.
Cart Abandonment
Cart abandonment notifications are notifications users receive after adding products to their cart but failing to checkout. Combined with extra perks, such as a discount code or free shipping, these notifications effectively reduce cart abandonment rates.
Examples of cart abandonment notification messages are:
"We are holding this for you. If you're still interested, here is a discount code for 10% off your purchase."
"Forgot something? Complete your purchase while supplies last!"
"We noticed you left something in your cart. Complete your purchase by tomorrow for an extra 5% off!"
Price Drops
According to Oberlo, the main reason people shop online is free shipping, followed by discounts. It is in every ecommerce retailer's best interest to inform customers about upcoming price drops and other promotional activities.
An easy way to do this is by automating web push notifications to inform customers when items they are interested in go on sale. If the preferences of a new customer are unknown, the business can send messages about offers that apply to all products or different product categories.
Product Suggestions
31% of ecommerce revenue comes from product recommendations and web push notifications serve as an elegant way to send suggestions to buyers. In fact, the practice is so well-loved by ecommerce that more than one fifth of all push notifications can be attributed to the industry.
Customers typically see product recommendations while they are shopping and via ads. Web push notifications allow businesses to send product recommendations to customers even when they are not shopping or exposed to ads.
Examples of product recommendation messages include:
"We've noticed you are looking for a washing machine. Here are our best sellers."
"More lifestyle sneakers are waiting for you. Shop the new collection now!"
"Have you found your new sunglasses yet? Explore our spring/summer collection!"
"Welcome" and "Welcome Back" Messages
Web push notifications are an effortless way to welcome new and re-engage old customers.
Web push notifications for new customers typically contain:
A tempting first-purchase offer:
"Hi [insert name]! Enjoy 5$ off your first order!"
An overview of the brand's main selling point:
"Discover affordable and eco-friendly loungewear. Enter discount code LOUNGE for 10% off your first purchase."
Incentives to complete the onboarding process:
"Hi [insert name]! Complete your member profile and receive 15% off your next purchase!"
Re-engaging an old customer with a web push notification is similar but more personalized. Examples of web push notification messages written to re-engage old customers are:
"It's nice to see you again. Here is 10% off your next purchase."
"Good to have you back. Enter the following code during checkout for a free gift."
Low Stock, Out of Stock, and Back to Stock Messages
Online shoppers have two reasons they place items on their wish list:
They are not ready to buy the item yet but might buy it in the future.
The item is out of stock, but they want to check on it later.
These two occasions create space for three types of web push notifications:
Low stock –The notification alerts the user that the item will be sold out quickly and urges them to buy it. The message often includes limited-time deals.
Out of stock – The notification informs the user that the item is not available because it sold out. The message is often accompanied by recommendations of similar products.
Back to stock – The notification informs the user that the item is available again.
Product Offering Updates
Most online shoppers eagerly await new product collections so they can hop on current trends.
An effortless way to inform customers about product offering updates is by sending web push notifications.
Order and Delivery Status Updates
Most web push notification service providers feature an option allowing businesses to send notifications for order updates automatically. That way, customers find out in real-time when their purchase is:
Being prepared for shipping.
Being shipped.
Received by a carrier or the post office.
On its way to the delivery address.
Upsells and Cross-sells
Web push notifications can be used to offer upsells and cross-sells when a customer adds something to their cart or during checkout.
Suppose a customer is buying a smartphone and reviewing their cart before checkout. A web push notification could inform them about an upgraded version of the phone or offer accessories such as screen protectors, earphones, phone cases, etc.
Loyalty Rewards
Businesses featuring a loyalty program can make the most of it by utilizing web push notifications. Such notifications would inform customers about:
Program progress – the number of points or purchases they need to become eligible for loyalty rewards.
Products that would help them achieve loyalty program milestones – products with many reward points.
Exclusive offers for loyalty program members – special discounts, coupons, promotional codes, etc.
Content Suggestions
Web push notifications, combined with ecommerce personalization, can deliver the right content to the right user every time.
Suppose a user is searching for skincare products, cleansers, in particular. If skincare products are part of your business's product offerings, your website's blog should cover skincare topics. Post an article about the top five cleansers on the market and use web push notifications to deliver it to the right users.
Event Notifications
Use web push notifications to inform users about incoming promotional events. These notifications should provide information on:
The type of promotional event or activity.
How users can participate in the event.
When the event starts.
How long it lasts.
Newsletter Promotion
A recent trend in marketing is to use discounts to encourage users to subscribe to newsletters. This can be done with a special section on the website or using web push notifications.
Examples of newsletter promotion notifications are:
"Subscribe to our newsletter to stay updated on the latest trends and enjoy 10% off your first purchase!"
"Get 5% off your next purchase by subscribing to our newsletter."
"Looking for gift ideas? Subscribe to our newsletter for inspiration and 10% off your purchase."
---
Note: Read our article Ecommerce Email Marketing - 10 Tips You Need to Know to find out how to optimize your business's email campaigns.
---
Feedback Encouragement
Customer feedback is one of the most valuable assets of any business. A simple way to collect it is through short surveys sent via web push notifications. Action boxes make it easy for users to provide their opinion in seconds.
Examples of occasions when to send feedback encouragement notifications include the following:
While looking at product recommendations ("Do you want to see more products like these?").
After checkout ("Are you satisfied with your shopping experience?").
After confirming product delivery ("Leave a product review for 5 loyalty points.").
As with every other type of notification, feedback notifications should be used sparingly. Excessive notifications may encourage the user to disable them or switch to a competitor.
Web Push Notifications Tips
You are now familiar with different types of notifications and use cases. Use the following tips to ensure you make the most of web push notifications.
Ensure the Website Meets Technical Requirements
Before a web push notification service can be integrated with a website, the website must use SSL/HTTPS on at least one page – the one that will be integrated with the service. This is because most browsers require websites to be secure to display push notifications. The only exception to this rule is Safari, meaning that brands that do not use HTTPS can only send web push notifications to Safari users.
---
Note: Read our article HTTP vs. HTTPS: What Are the Differences? to find out why it is important to switch to HTTPS.
---
Less is More
According to MoEngage, 30% of mobile app users delete an app when it sends too many ads and push notifications. Likewise, website visitors may feel overwhelmed when a website bombards them with push notifications, pop-up windows, a chatbot, and a cookie question at the same time.
MoEngage also claims that five notifications per day is the maximum, but niches such as ecommerce and media should limit web push notifications to two a day.
Use Soft Asks
When users are asked to accept notifications, they do not know what the notifications will contain and often block them to avoid unnecessary spam.
A workaround to this issue is to design a section that asks users whether they would like to receive notifications, but also explains their purpose. Such a section should contain a button, which will open the standard notification dialogue in the browser when clicked.
Choose the Right Timing
Sending a notification with the perfect limited-time deal is of no use if a person is busy or asleep. They may delete all their notifications or read them later after the offer has expired. So how does an ecommerce business know when to send web push notifications for the best results?
The best way to determine the ideal time to send web push notifications is to analyze your buyer personas.
---
Note: Check our article What Is a Buyer Persona & How Is It Used? to learn about the importance of customer segmentation and how to do it.
---
Suppose you have a baby apparel business and are targeting new mothers. The ideal time to send web push notifications would be around 11 AM – after the morning routine, and around 8 PM – after the bedtime routine.
Establishing the right times to send your notifications takes time, and constant testing will bring the best results. Taking your buyer persona's daily schedule into account makes all the difference in notification subscriptions, user engagement, and sales.
Check whether your web notification service provider has a "send in user's time zone" option. Enabling this option ensures every user receives notifications at the planned time.
Consider Emojis
According to Leanplum's research, including emojis in push notifications can increase their open rate by 85%. However, this is only true in cases where emojis are used sparingly and with intent.
These are the best practices for including emojis in web push notifications:
Use emojis that relate to the notification message. For example, a notification recommending suits can contain the shirt, pants, tie, and bowtie emoji.
Ensure that the emojis invoke the right feelings. Some emojis create a sense of urgency, particularly useful for limited-time offers. Such would be the flame, hourglass, running, and clock emoji.
Ensure the emoji has a single meaning. For example, the "praying hands" emoji represents a high-five in western countries, prayer in India, and gratitude in Indonesia.
Check how emojis display on different devices and in different browsers. The difference between Android and iOS emojis is the most prominent, but even Android emojis do not display uniformly across devices.
Use Action (Power) Words
Action words emphasize the meaning of a sentence and trigger an emotional response. According to OptinMonster, including a few power words in marketing copy leads to a 12.7% increase in conversions. In terms of web push notifications, this means more subscribers.
The following are examples of action words that inspire the feelings a brand wants to invoke in its customer base:
Urgency – tick-tock, reminder, alert, today, fast, now, immediately, last-minute.
Exclusivity – limited-edition, member/membership, invitation, for you.
Simplicity and speed – simply, easily, hassle-free, in a minute/seconds/clicks.
Promise – pledge, guarantee, risk-free, unconditional.
Value – offer, sale, deal, discount, extra, free.
Shoppers appreciate the convenience, speed, and special offers associated with online shopping. Because of this, the action words that resonate with online shoppers the most relate to feelings of urgency, value, simplicity, and speed.
Like emojis, power words should be used sparingly. Excessive use of power words could cause the opposite effect.
Benefits of Web Push Notifications
Ever since they first appeared, web push notifications have consistently brought tangible benefits to merchants. Here are the reasons why marketers love this way of reaching their audiences:
Increased customer engagement – Web push notifications have on average twice as many subscribers as newsletters and double the clickthrough rate.
Reduced costs – Web push service pricing varies between providers. However, the cost of web push notification campaigns is significantly lower than the cost of app development.
Ad-blocker agnostic – Web push notifications are always delivered to users, regardless of whether they use an ad blocker.
Conclusion
You now know what web push notifications are, how they work, and how to exploit them for ecommerce marketing purposes.
Use the information and examples provided in this guide to create an engaging web push campaign and cost-efficiently increase your revenue.
About the author