Starting an ecommerce business means a lot of investment in two key areas – the ecommerce website and inventory.
These two elements, on their own, cannot bring success to an ecommerce business, especially not an emerging one. The missing piece of the puzzle is a marketing strategy. But how to market an ecommerce business?
This guide explores the different marketing channels you can use to raise brand awareness, and gives examples of real-life strategies that will grow your business.
What Is Ecommerce Marketing and Why Is It So Important?
Ecommerce marketing is any effort invested in the promotion of ecommerce products to a target audience with the purpose of driving online sales.
Successful ecommerce marketing practices and strategies:
Raise brand awareness
Build brand loyalty
Help online businesses reach their target audience
Attract new and re-engage old customers
Spark interest in customers by showing them the right deals at the right time
Most emerging ecommerce businesses adopt an omnichannel or multichannel approach, which open up numerous marketing opportunities. These opportunities come in the form of various marketing tools and channels, but there is a drawback to having so many options — it is difficult to keep track of them all. Hence, it's essential to develop an ecommerce marketing strategy that takes into account all types of ecommerce marketing channels.
Types of Ecommerce Marketing
Ecommerce marketing is typically associated with digital means, but contrary to popular belief, online businesses can be marketed using traditional methods as well.
Traditional Marketing Channels
Traditional ecommerce marketing means promoting an online business through non-digital means. The most popular non-digital marketing mediums are as follows.
Print

Marketing via print means printing physical assets to market an ecommerce website. Due to low distribution costs, print marketing collateral is the best way to reach a small local audience.
Despite being considered an outdated medium, print is still holding on thanks to the rising popularity of QR codes. Potential buyers do not have to manually enter a web address to visit an ecommerce website because they can just scan the code.
The designer and merchant are in command of where the visitor lands, which directly impacts the customer journey. The landing page can contain special limited-time offers, encouraging the visitor to shop from the brand.
Print materials that are typically used for ecommerce marketing are:
Flyers
Brochures
Billboards
Product catalogs
Newspaper advertisements
Avon uses catalogs to promote products and current deals, while Avon beauty advisers use catalogs to collect customer orders and forward them to the company. Customers then receive products within a few days.
But what does this have to do with marketing? Besides product promotion, Avon uses catalogs and printed QR codes to direct customers to their website, which contains more products and informative content.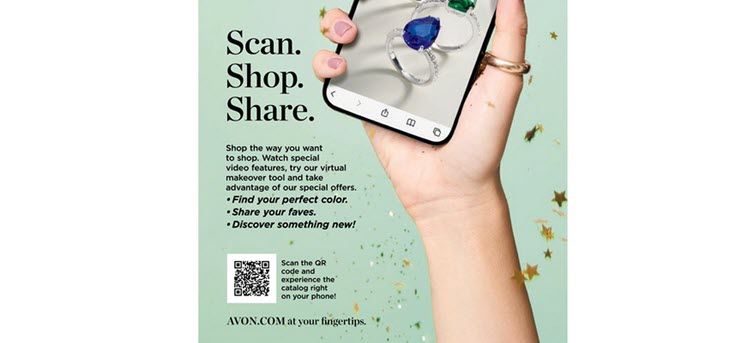 Broadcast
Marketing via broadcast means running ads on radio or television.
Broadcasting suits businesses that sell commonly used products (e.g., household goods) because of the medium's ability to target a broad audience. Radio and television broadcasts can also help small ecommerce businesses target local audiences.
The reach and cost of broadcasting depend on the media house's authority and the medium you choose. Filming and editing a television commercial is far more expensive than recording a radio advertisement.
Direct Mail

Direct mail marketing involves sending physical promotional materials to a select local audience or subscription members.
Like print, ecommerce businesses can use direct mail to send the best current deals and provide an effortless way to navigate to them (through QR codes).
Traditional mail invokes sentimental feelings in customers. In addition, holding physical promotional materials keeps customers more focused on its contents.
Word of Mouth

Word of mouth marketing happens whenever customers share opinions with their peers.
Word of mouth is an evergreen marketing method and one of the few over which brands have no control. The unpredictability of this marketing medium makes it difficult for emergent ecommerce businesses to establish and maintain brand image.
Bad word of mouth is harmful for any business, but ecommerce suffers the most. Prospective customers have no way of judging products and services themselves, so they rely on existing customers' opinions. On the other hand, positive word of mouth acts as social proof and encourages hesitant shoppers to buy from a brand.
Merchants can impact their word-of-mouth reputation by ensuring excellent product performance and quality, reasonable prices, and superior customer service.
Digital Marketing Channels
Digital ecommerce marketing is the promotion of an online business via any method visible on a screen. Considering that the essence of ecommerce is its online environment, digital marketing methods are prevalent.
Typical digital marketing mediums are as follows.
Social Media Marketing (SMM)

Social media marketing refers to content marketing and advertising through social media platforms.
Ecommerce merchants use social media advertising to connect products to clickable ads, which lead customers directly to product pages. The imperative here is the creation of eye-catching content with which the target audience will resonate and engage.
Influencer Marketing
Influencer marketing refers to the practice of sponsoring an influential person to share positive reviews of your products with their social media audience.
The main benefit of influencer marketing is that it allows business owners to have their products exposed to a target audience. The downside to influencer marketing is that the more followers a person has, the more a sponsored post costs.
Fast-fashion ecommerce giant, Shein, invests substantial funds in influencer marketing because it is the only way their audience can keep up with their ever-changing stock and fashion trends. The brand offers several blogger, affiliate, and influencer programs.

Content Marketing
Content marketing is the creation of engaging multimedia content, which is posted on various online platforms.
Content marketing collateral can be in the form of:
Ebooks
Images
Videos
Podcasts
Audiobooks
Infographics
Newsletters
White papers
Case studies
Short-form articles
Long-form articles
Social media posts
Platforms typically used for content marketing are blogs and social media platforms, such as TikTok, Instagram, Facebook, Twitter, YouTube, LinkedIn, etc.
The topics covered in the posted content depend on a brand's business model and its target audience's interests.
IAMS, a pet food manufacturer, uses content marketing to respond to their audience's concerns. The brand features separate pages for cat and dog-related articles, which answer frequently asked questions regarding health and nutrition.

Email Marketing
Email marketing refers to promotional materials delivered via email. Emails are a versatile ecommerce marketing tool because they can be used to:
Promote products
Upsell or cross-sell
Offer exclusive discounts, freebies, free shipping, promotional codes, and other rewards
Reduce cart abandonment
Share important announcements and updates
Share informational content
Re-engage old customers
Offer post-sales support
Emails are also an indispensable ecommerce marketing tool because of their cost-effectiveness and automatization capabilities.
User-Generated Content (UGC)
What word of mouth is to traditional marketing, user-generated content is for digital. UGC is a customer's expression of satisfaction or dissatisfaction with a brand's product or service, posted online.
Like word of mouth, user-generated content is out of the brand owners' control. However, brands can repost user-generated content to promote products and make their customers feel special. Reposting UGC also saves money a brand would otherwise spend on the design of digital marketing collateral.
Bath & Body Works applies this principle to their social media marketing strategy. The brand reposts images and videos posted by their customers to promote new products.

Mobile Marketing
Mobile marketing refers to promotional activities designed and carried out on cell phones, smartphones, tablets, and other handheld devices.
These promotional activities appear in the form of:
Ads
Text messages
Push notifications
Mobile applications
A typical example of mobile marketing is when a person signs up for a loyalty program. The person is asked to fill in an application form and provide information, which often includes their phone number. Whenever the brand has an exclusive offer, the person receives a notification in the form of a text message.
Mobile marketing can be used for various purposes, such as:
Promoting a new collection of products or a new service.

Informing customers about limited-time offers.
Offering rewards (motivators are customer birthdays, total money spent on the brand, making an order that is a milestone for the brand, for example, the 10.000th order the brand received, etc.).

IKEA went a step further by using augmented reality in their marketing campaign. The brand developed a mobile app called IKEA Place, which lets users pick a piece of furniture and see what it would look like in their home.

Pay-per-Click (PPC) Advertising
Pay-per-Click advertising is not as much of a marketing method as it is a payment model.
A brand hires an advertising agency to serve its ads to its target audience but pays advertising costs only for ads that generate clicks. In PPC, advertising costs equal to the number of clicks generated times the advertising agency's rate.
The target audience for PPC ads is typically determined by a person's online activity. Suppose a person visited an online shop of a shoe brand. The person will be shown ads from that brand, and any other in the same niche if they accepted marketing cookies.
Search engines also use search history information to target the right audience.
9 Ecommerce Marketing Strategies That Will Help You Sell More
Marketing mediums are useless on their own. Their effectiveness relies on marketing strategies and campaigns tailored to a brand's business model and needs.
The following part of this article explores successful ecommerce marketing strategies and provide actionable advice for their implementation.
1. Optimize Your Website for All Devices
Website optimization is not directly related to marketing, but when an ecommerce website does not look good and functional across all mediums, all marketing efforts are in vain.
Ensure your website is built with these best practices in mind.
2. Personalize Everything

Modern marketing shifts the focus from brands to buyers.
Traditional commerce provides personalized service thanks to the in-person interaction between a buyer and a salesclerk. Online shopping lacks that personal touch and must compensate.
Personalization in ecommerce entails a lot of data collection and automatization. By collecting cookies, ecommerce systems gather information about buyers' preferences and shopping habits. Company departments can then use this information to:
Provide tailored product recommendations.
Design better email campaigns.
Engage new customers and re-engage old ones.
Reduce cart abandonment with witty reminders via email or mobile push notifications.
Even ecommerce chatbots, which are used to provide 24/7 personal service and mimic human contact, use cookies to provide better customer service and support. In some cases, brands benefit more from customer service representatives, but even human agents need a reliable database to maximize service personalization.
Invest in a centralized data system and an omnichannel or unified commerce solution. Employ a chatbot or implement live chat.
3. Integrate Social Media

Social media integration allows ecommerce shops to advertise their products on popular social platforms. The benefits of social media advertising are its cost-effectiveness and immense audience targeting capabilities.
Research which social media platform your target audience uses the most. Optimize metadata for social media ads and create a campaign, which you will keep adjusting based on ROI.
4. Upsell and Cross-Sell

Upselling and cross-selling attract new customers, help retain existing ones, and convince both groups to spend more than they initially intended to.
Although separate sales techniques, upselling and cross-selling are often combined to drive sales and increase overall online revenue and customer lifetime value.
Brush up on the differences between cross-selling and upselling and learn how to upsell successfully.
5. Use Cart Recovery Emails

According to Barilliance, the average cart abandonment rate is around 77%.
Cart recovery emails remind customers about products they abandoned and often include a special deal for them. Considering the average conversion rate for cart recovery emails varies anywhere from 10% to 20%, their success is not impressive. On the other hand, every successful cart recovery email is one more sale for your business, and one less abandoned cart.
Design an email that will convince the customer to reconsider their decision but doesn't feel pushy.
6. Design a Newsletter Campaign

Newsletters are a versatile marketing tool with numerous use cases.
Your newsletter campaign can include:
Exclusive deals.
Promotional codes and coupons.
Catalog updates.
Informative content related to your brand's niche (gift guides and how-tos).
Social proof (case studies, testimonials, user-generated content).
Use newsletters to inform customers about your brand's activities and offer a reward to new subscribers. However, do not bombard users with emails. Ask users whether they wish to be removed from your recipient list if they haven't responded in a while and remove users from your recipient list if they have never opened your emails.
7. Send Wishlist Reminder Notifications

Wishlists were invented to save product pages for later revisiting. Reminder notifications bring wishlists to the next level because they notify customers whenever their saved products are on sale.
To send reminder notifications, you need the customer's contact details, which means they must be website members. Motivate customers to create a member account and ensure technical capabilities are in place to send notifications for every wishlist item price change.
8. Develop a Content Marketing Strategy

A successful content marketing strategy improves customer acquisition and builds trust with existing customers. Whether you choose to promote your expertise or entertain your audience, content marketing provides extra value to your customers and helps the brand stand out from competitors.
Create your buyer persona and identify their pain points. Next, create content that addresses those pain points and promotes one (or several) of your products as the perfect solution. Share that content on your buyer persona's favorite social platforms.
9. Embrace UGC

User-generated content is free promotion. The best part about UGC is that people are motivated to create content for a brand when they see that the company sees, values, and shares it.
One way to encourage UGC is through sweepstakes. Request photos or videos of your brand's products and choose your favorites or set up a poll. You get free content, and the user gets a reward.
Another creative way to get UGC is to create relatable and "photogenic" products, such as Coke cans with names and personality traits.
Design a creative way to drive UGC based on your brand's business model and budget. Browse through UGC, pick your favorites, and schedule posting. Always credit the owner of the content in question.
Conclusion
You now know what ecommerce marketing is and what tools are at your disposal. Use the information and examples in this guide to market your online business and drive sales.