This comprehensive guide will help entrepreneurs create revenue-boosting membership features without any technical knowledge.
How to Create a Successful Membership Site

Building a membership site is a process that requires covering numerous bases.
Consider the following strategies and features to create a successful membership site.
Decide on a Niche
When launching a membership site or section, finding the right niche is crucial.
However, take the niching-down process with a grain of salt – if a membership site aims at too narrow an audience, it misses the target.
On the other hand, business owners who aim at a very broad audience are highly likely to fail.
If users don't immediately see value in a website, they won't convert into subscribers or recurring customers. Committed professionals and knowledgeable enthusiasts choose the niche they're proficient in. If you don't belong to either of these groups, find a hole in the market that a membership site will fill.
Offering a unique solution to a common problem attracts users and is the shortest path to conversions on a membership website. Business owners active on social media should analyze their followers to identify their everyday problems.
Decide on the Type of Content

Not all types of content work well on all membership sites. The type of content depends on the website owners' goals and their members.
Here are some common types of content for membership sites:
Blog posts. Articles, guides, infographics, and analyses of current affairs in the niche are only some of the many forms that blog posts can take. Reading blog posts keeps members on a site for longer, which increases the chance that they'll be exposed to (and subscribe) to more features.
Downloads. Making downloadable materials available exclusively to subscribed members give them a sense that they are getting additional value from a membership site.
Courses. Practical in all niches, courses are among the most popular content forms on membership sites. Organize courses into logical sections and make it easy for members to navigate and use different segments.
Note: Unless this membership site specializes in providing various courses, avoid offering courses in too many niches. It will water down the entire business strategy. Instead, identify a few common problems that members face within a niche and offer solutions to those issues in the courses on this membership site.
Podcasts. Record members' or clients' success stories and release them as podcasts. Make and publish interviews with niche-relevant experts.
Video tutorials. Shoot video tutorials that show members how to deal with specific issues. Tutorials are also a great way of presenting the features of a membership site.
Worksheets and exercises. Share educational materials and checklists that will help members solve their problems and improve business results.
Content library. Give members a pass to the site's content library. Decide whether all members can access all content or if there should be several tiers of members and content.
Live sessions. Organize regular live conversations and consultations between fellow members of the membership site. Invite influential experts from the niche and hold a Q&A session between them and website members.
PDF-booklets. Publish collections of related content as PDF booklets. Offer them in two versions: integral long forms and summaries with key takeaways. Think about including these different versions in different membership tiers.
Forums. Enable members to discuss relevant matters and exchange their experiences on community forums within the membership site.
Analyze types of members on the website and implement their feedback about what kinds of content they would like to use.
Decide on a Membership Model

There are various membership models that website owners can use, including:
Full website access. Members are granted access to the entire membership site once they've paid a subscription. This model is suitable for websites selling digital products and tutors/instructors offering online courses.
Product memberships. Websites selling tangible goods or digital products let members use them once they pay a membership fee. For example, a membership site that publishes videos charges its members a monthly fee to let them watch exclusive videos.
Content library pass. Content published on a membership site is stored in a content library. Members that pay a subscription fee get a library pass and get permission to access the entire library.
Digital subscription with tangible gifts. When members pay the required subscription, they receive one or more tangible gifts related to the membership site's content.
Content drip membership. In this membership model, website owners make the content available to members in installments. They create a publishing schedule and announce when they'll post new content. Newly registered members can access recently published content once they get through the older content features.
Coaching membership sites. These membership sites gather influential or renowned professionals in a specific niche to serve as tutors and coaches to website members.
Time-limited access membership. Members get access to website features for a limited amount of time. A membership site offering a 30-day workout challenge is an example of this membership model. A membership fee is collected in line with the membership duration. Members have enough time to see if their membership brings value and decide whether they'll renew it, while the website owner can ensure steady monthly recurring revenue.
Online community. This membership model functions like a niche-specific social network. Members of similar interests or skills gather to learn something new from one another and exchange their experiences.
Discount-based membership. Members pay a membership fee that brings them discounts on different digital or tangible goods available on that membership site.
Create Pricing Plans
When you've decided on the type of content and membership models for the membership website, it's time to set the pricing plans. The number of pricing tiers will depend on the niche and the type of the membership site.
Check out how competitors value their membership services and features, as well. Their prices will be valuable reference points for your packages.
Consider offering a free trial to let potential subscribers see if the membership site is of value to them.
Build a Membership Website/Landing Page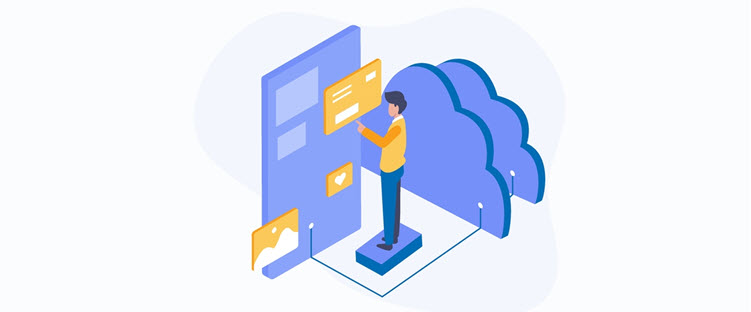 When building a membership website, make sure to include all the necessary components and landing pages to boost conversions and revenue.
Most Important Membership Website Components
Here are the most important components that every membership site needs to have:
Homepage. The showpiece of every website, the homepage gives its members critical information about the membership site. Include general data about the membership website and current niche-related news.
Join Us. This section highlights the major benefits of membership.
About Us. This section tells the story of the business, including its mission, vision, and main values.
Members-restricted section. Restricted content gives potential members a sense of exclusivity. Business owners can keep confidential reports and data gated for members only.
Donations section. This website section contains all the relevant information for donors. If properly presented, it boosts recurring donations and new memberships.
Events. All of the business's upcoming events are presented in this section. Add a calendar showing the events schedule for a particular period.
Resources (applicable to nonprofits). This section contains a list of resources used on a membership site.
Contact Us. Include the email address, physical address, and other relevant contact information in this section (email address, Skype contact, social media pages, etc.).
Use Membership Management Software
Business owners don't need to learn how to code to manage their website's memberships. Instead, they can use membership management software tools.
These ready-made solutions accelerate the site-launching process because you don't have to enter data manually.
Thankfully, most of them are niche-specific tools, like the examples given below. There are membership management software options for gyms, events, clubs, nonprofits, and many other niches.
MindBody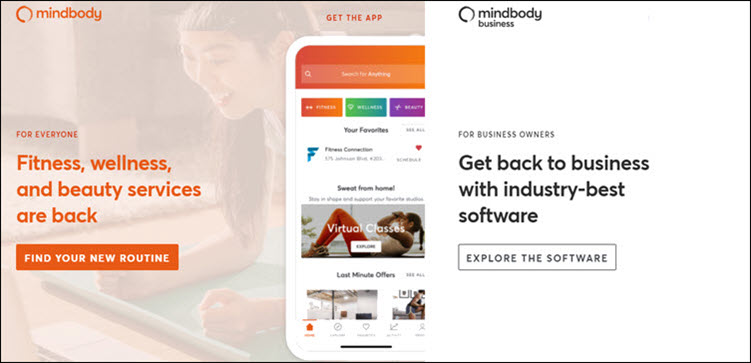 MindBody is a specialized tool for wellness and gym membership sites.
It provides dozens of options, from attendance management and activities notifications to billing and member profiles. It comes with a custom-made app that members can use to update their activities and share experiences with the MindBody community on the go.
Hivebrite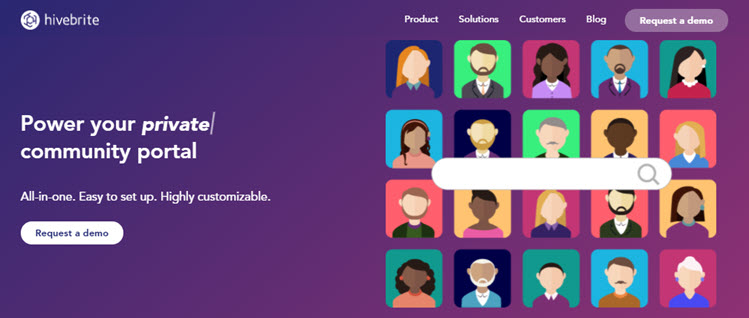 Hiverbrite is a great membership management software tool for building member communities.
Its strongest features are the powerful filters and targeting tools for member database management. Business owners can set other vital elements, from content and event management to online payments and detailed analytical data.
BrilliantDirectories

BrilliantDirectories is an all-in-one membership management tool for business owners who want to launch and run membership sites and communities with ready-made features.
It's suitable for membership-based businesses in different niches, from business directories and property listings to home services and financial directories.
Use Interaction and Engagement with Existing Members
Acquiring new customers is beneficial for potential business growth.
However, it's important to retain existing members on a membership site, as well, because client retention costs less than client acquisition. Neglecting old customers also results in increased churn rate and potential declining revenue.
Here are some practical features to include for stronger interaction with existing members:
Customer satisfaction survey. Ask existing members what they like/dislike about their membership services. Invite them to share their suggestions for service improvement.
Customer support features. Ensure timely and committed customer support. It keeps existing members by your side.
Content teasers. Share teasers before launching new content. Use written excerpts or short videos. Think about sharing other teaser forms, like infographics from forthcoming content. Send out emails to all members announcing the upcoming features.
Time-limited early access. Offer members early access to forthcoming services or content features, but with limited duration. It will spark their interest and increase engagement with the website.
Discounts. Depending on the type of products or services, offer discounts to existing members. Consider launching various kinds of discounts for different groups of members based on their tier, website activity, or contributions to the community.
Quizzes and contests. Launch quizzes and contests to activate idle users and include relevant rewards (access to exclusive areas protected with paywalls, service packages, etc.).
Use Your Email Base

Emails are crucial in membership businesses. From sending a generic newsletter to all website members to delivering a personalized message to a VIP member, email is the most practical communication channel.
Business owners that have a website probably already have an email base. Those that don't have a website must first launch one and then add a membership section to populate their email list.
Either way, the following tips will help both types of business owners increase and use their email base:
Onboarding through email. Greet new members with a welcome email. Add practical tips that will help them use the perks of the membership site to the fullest. If there are sections of the website reserved for different groups of members, create a separate onboarding email for each group. Failing to provide adequate information during onboarding is one of the most common subscription cancellation reasons, so use email to prevent such an outcome.
Promotional emails. Send promotional and informative emails before adding new services to the membership site or changing tier pricing.
Valuable free content. Create and share valuable free content via email in different forms – booklets, actionable tips for current affairs in the niche in question, tutorials – anything that solves members' common problems.
Reminder emails. Set automated emails that will be sent to members a few days before their renewal date.
Follow-up emails. Send emails to members that cancel their subscriptions or don't complete a purchase on the website.
Create Events
Membership sites profit from intensive interaction with their members. Creating different events that give members an additional value is an effective strategy in strengthening the connection between a membership site and its members.
Events vary in their type and size, depending on the business goals and preferences. Consider organizing online and offline events. For instance, a membership site focused on coaching can arrange live sessions in which its members could communicate with their coaches and advisors. A site based on a network of niche-specific business professionals will profit more from throwing a business conference or trade show.
Note: Are you mindful of your business's goals, financials and timelines? You might need to learn how to write a business plan to develop appropriate strategies.
Use Feedback to Improve Your Membership Model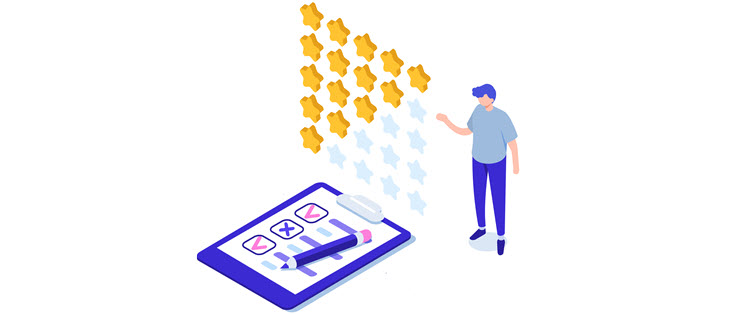 Owners of membership sites can learn a lot from their existing members. Encouraging customer feedback is a wise thing to do for two main reasons.
First, customers provide valuable insights. They have paid for services and membership features. They'll tell what's good about the membership site and what needs improvement.
Second, this feedback is potentially valuable content for new customers. Let other users read members' comments. When they see that you have made improvements suggested by current members, they'll see you as a proactive website owner who cares about their customers.
Use Digital Marketing to Promote Your Membership Site
There are numerous digital marketing channels and strategies for membership site promotion.
For starters, consider periodically opening and closing the membership site enrollment. If you keep the membership enrollment open all the time, there won't be any hype around the website. if you limit the registration period for new members or launch special offers for first subscribers, there will be a sense of urgency. Such strategies are more likely to attract new members.
Opening an additional enrollment window and promoting it on Facebook also brings more members to your website. Don't apply this trick after every enrollment period because it might look dishonest.
Think about nudging undecisive leads towards becoming registered website members. Wait a couple of days after the enrollment period has finished, then send out emails to people who have registered to the membership site but didn't pay the subscriptions within until the enrollment expiry date. Offer a fixed trial period – 7 days, 14 days, depending on your preferences – after they leave their payment information.
Promote the membership site on Facebook using lead magnets and special discounts to attract new members. Once users register and collect their lead magnet, offer them the opportunity to become members.
Conclusion
If you already have a business website, consider adding a membership element to it. It increases the number of recurring customers and boosts business earnings.
If you're building a business website from scratch, think about integrating a membership section into it.
Use the tips and strategies above to build and run a successful membership site.