The Internet has been modifying consumer behavior for years, allowing more convenience and faster service than ever before. For any ecommerce shop, ensuring a smooth experience is key to retaining online customers.
One crucial factor is whether online shoppers' preferred payment method is offered at checkout. If they don't see it among payment options, about 50% of them abandon the cart.
What Are the Preferred Payment Options for Online Shoppers?
According to Statista, over 2 billion people will shop online this year. To cater to as many consumers as possible in this vast pool, vendors should study the shopping behavior of different demographics.

The preferred payment method differs according to the consumers' living area, age, gender, and income level, so those are all factors to consider.
Credit and debit cards.
Digital and mobile wallets.
Prepaid cards.
Credit and Debit Cards
Debit and credit cards carry the name of the card owner, a unique 16-digit number, and an expiration date. When you use a debit card, you are immediately drawing from funds on your bank account. Credit cards draw from funds borrowed from the bank, and you can spend any amount up to a predefined limit. You pay the bank later. If you don't pay the bank on time, interest rates will add up to your outstanding balance.

Credit cards are the payment method of choice for people who make less than $100,000 annually, while those who make over $100,000 prefer debit cards, according to a TSYS report on US consumers' habits.
Credit and debit cards have strong security and payment authentication methods that instill trust in users. That is one of the key reasons for their continual reign over other payment systems, though digital wallets may take the lead soon.
Providing credit and debit card payment options on an ecommerce platform is a must for attracting and keeping customers.
Digital and Mobile Wallets
Digital and mobile wallets are software-based payment methods. To use e-wallets, you need to create an account and include relevant personal and banking information.

To make a purchase with a digital wallet, users type in their login information and verify the payment. For example, some mobile wallets use biometric verification like face recognition or a fingerprint scanner to verify a payment.
Digital or e-wallets are gaining popularity because they are more convenient to use than credit and debit cards. The highest market share of e-wallets is in Asia Pacific, while millennials are the quickest age group to embrace e-wallet use.
Digital or e-wallets are gaining popularity because they are more convenient to use than credit and debit cards. The highest market share of e-wallets is in Asia Pacific, while millennials are the quickest age group to embrace e-wallets as their preferred payment method.
Prepaid Cards
Prepaid cards are a good option for people who don't want to get a credit card or any bank account. Prepaid cards have a pre-loaded amount of money and are not linked to any bank account. Since prepaid cards draw funds from an account with existing money, they are very similar to debit cards.
Gift cards are a type of prepaid cards.
Preferred Payment Options for Online Shoppers by Region
Most online shoppers in Europe, for example, prefer digital wallets to credit and debit cards.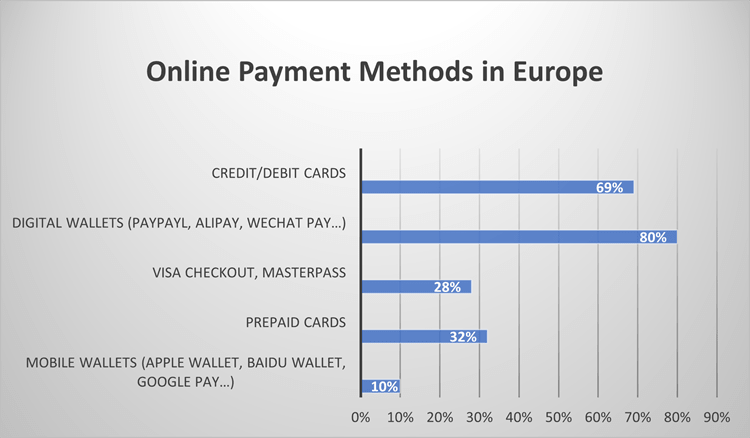 Credit and debit cards are still the best payment option for online shoppers in the Americas, with 82% preferring them to other payment methods.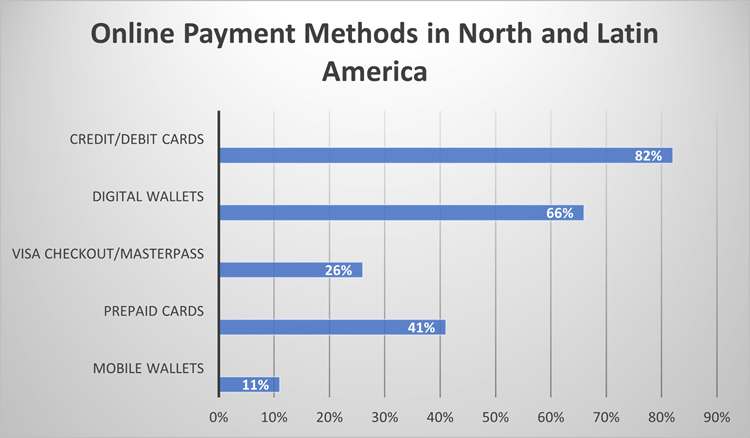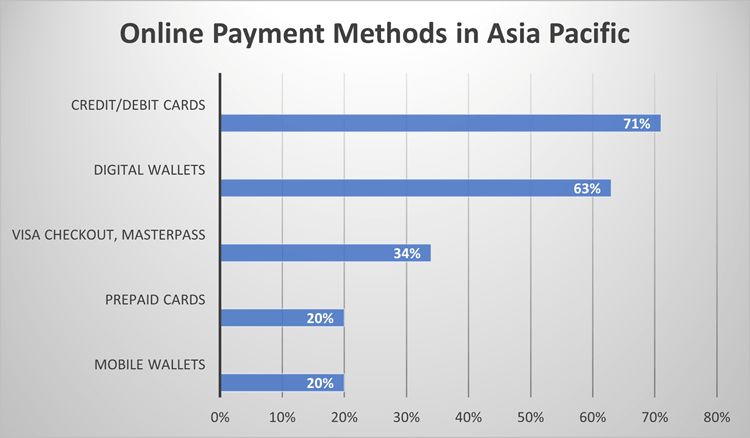 Merchants should carefully study preferred payment options for online shoppers in their target regions to make sure they don't lose buyers.
For example, Latin America prefers credit cards, just like North America. However, most Latin Americans use popular local credit cards with installment options. Cards with installments are also popular in Turkey and gaining popularity in other countries in Europe and Asia.
People in less developed regions, such as the Middle East, Eastern Europe, and Africa, prefer to pay by cash-on-delivery.
Preferred Payment Options for Online Shoppers by Age
Each generation has its unique online shopping and payment preferences. It is not difficult to see how technology and the preferred payment method by age are linked. The more tech-savvy a generation is, the more readily they'll embrace the convenience and ease of technologically advanced payment solutions.
Gen Z (born 1996-2010) prefer mobile and peer-to-peer payment options.
Gen X (the millennials) prefer debit cards, believing they provide better management of finances than other payment types, not allowing them to spend what they don't have.
Gen Y mostly use credit and debit cards.
F- Baby Boomers mostly use credit and debit cards, but a third of consumers over 65 use cash-on-delivery for their purchases.
Online Shoppers' Concerns Regarding Online Payment Options
Consumers value the following aspects of their preferred payment method:
Security and fraud/theft protection.

Convenience and ease of use.

Payment speed.
These three factors guide their decision about choosing their online payment option.
In the same vein, 56% of consumers consider that replacing passwords with biometric authentication would result in more fraudulent activity with digital payments.
Younger consumers are concerned about security, but care more for convenience and ease of use. Hence, they are ready to choose mobile payments as their preferred payment method. Attractive rewards and loyalty programs additionally motivate consumers to use mobile payments.
Check out our article about secure online payment methods for online shoppers to learn how secure are specific payment methods and how to stay safe when paying online.
Emerging Online Payment Methods
What can we expect in the future of online payment options?
Mobile payments continue to grow, especially with the Baby Boomer generation making way for Generation Z. Payment providers' continual security and protection enhancements have made digital payment methods more attractive than credit and debit cards worldwide.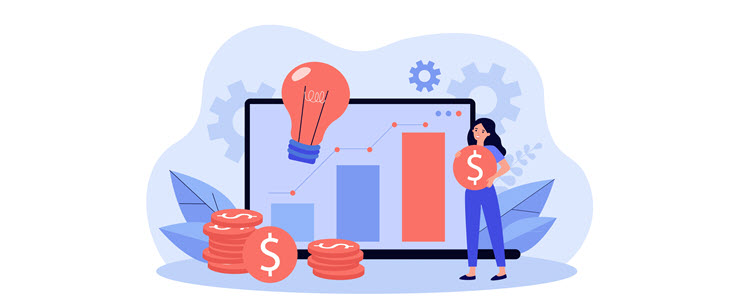 Cryptocurrency.
Direct debit or e-Checks through ACH payment processing.
Buy now, pay later.
Peer-to-peer.
QR code payments.
Direct Debit or Electronic Checks
Electronic checks or direct debit is a quick and easy online money transfer solution. This type of payment is cost-effective and involves very little paperwork, making it attractive to both companies and individuals. It is commonly used for car payments, mortgage, student loans, and other high-cost transactions.
Buy Now, Pay Later
Buy now, pay later is a payment solution that works like a credit card. It is offered to a consumer at the point of sale, allowing them to pay for the product or service in installments within a specified period in the future. If they repay the loan on time, there are no interest fees added to the borrowed sum.
Peer-to-Peer (P2P) Payments
Peer-to-peer is a popular payment trend with the youngest generation. It's an online or mobile app linked to a payment method such as a credit or debit card and allows users to quickly transfer funds to another app user. Over 50% of users use peer-to-peer to send money to family or friends. It can be used for all sorts of payments, such as paying rent, splitting a bill, reimbursing a friend, collecting money for a gift, etc.
QR Code Payments
QR code as a form of payment is growing in popularity and it is integrated with all major mobile wallets. To make payments, you just scan the QR code on your bill or a product you want to buy and tap on a push notification that appears after scanning the code. This form of payment is very secure, easy, and very importantly – contactless.
Conclusion
Stats show that credit cards, debit cards, and digital wallets will continue to be the dominant online payment methods in the foreseeable future. However, there are alternative methods of payment that allow users to avoid going through banks, and some of the most popular are cryptocurrency payments and prepaid cards.
Merchants need to be crystal clear about the preferred online payment options of online shoppers who visit their store if they want to retain customers. That is the only way to succeed in the era of the ecommerce boom.