Introduction
Electronic checks, or eChecks, arose in response to the spread of ecommerce. Secure online payment methods have become an imperative for both consumers and merchants. eChecks provide the same advantages as paper checks, with the addition of speed, efficiency, and extra safety.
eChecks offer a set of benefits to both merchants and their customers. For this reason, ecommerce businesses should consider adding this payment option to their ecommerce website.
In this article, learn more about eChecks, how to start accepting them, and what benefits you can expect as a merchant.
What Is an eCheck?
An eCheck, or electronic check, is a digital version of a paper check. The main difference between the two is that eChecks are processed electronically.
With an eCheck, the payer's checking account is directly debited through the ACH (Automated Clearing House) network. The withdrawn amount is then deposited into the merchant's account.
Electronic checks are a popular alternative payment option because they are secure, fast, and come with lower processing fees. Additionally, unlike credit cards, they do not come with limits on the transaction amount.
---
Note: eChecks are sometimes confused with ACH payments. For a rundown on the differences between these two payment options, refer to our article eCheck vs. ACH: Definitions, Similarities, and Differences.
---
---
What Are eChecks Used for?
eChecks are widely used in ecommerce but they are particularly beneficial for these two types of transactions:
Larger payments. eChecks are used as a form of payment in ecommerce, especially for large money transfers that cannot be processed via credit cards.
Subscription-based and recurring payments. This payment option is suited to businesses based on a subscription model because they streamline the process of collecting recurring payments. They are typically used for subscriptions, recurring payments made to suppliers, mortgage installments, and paying rent.
How Does an eCheck Work?

Processing a payment with an eCheck involves several steps:
Payment information. The consumer first provides their payment information, usually by filling out an online payment form. They provide their routing number, which is a nine-digit code written at the bottom of the check that identifies the financial institution that released the check. The payer also enters the number of the checking account that will be debited.
Authorization. The consumer authorizes the transaction by agreeing to the terms and conditions, signing a contract, or by providing verbal confirmation.
Payment Information Configuration. In this step, the consumer's information is sent to the merchant's payment processor.
Payment Finalization. The ACH network processes the consumer's information to complete the electronic payment, allowing the merchant to withdraw the funds from the payer's bank account.
Reasons Why eCheck Payments Fail
Payment via electronic checks usually does not go through for one of these reasons:
Bounced eCheck. A bounced eCheck cannot be processed because the sender does not have sufficient funds in their bank account. Passing these "bad checks" is illegal, and banks usually charge NSF (non-sufficient funds) fees to the account holder.
Canceled eCheck. The payer can cancel an eCheck by alerting the bank before it is processed. If the funds are already on the receiver's account, the payer cannot cancel the payment, they can only ask for a refund.
How to Accept eChecks as a Business?
There are a few steps that businesses need to take to start accepting eChecks.
Setting up a merchant account. To accept eChecks, a business needs to open a merchant account that supports ACH payment processing. ACH is a US financial network that facilitates efficient and secure money transfers from one account to another.
Sending the transaction details to the payment processor. After the payer has provided the routing and account number, the payment is sent to the payment processor. Businesses that process a large volume of regular payments require a steady and organized solution for handling them. The use of a payment processor saves time on both ends through automation and protects this process from human errors.
---
Note: Learn everything about payment processors in our article What Is a Payment Processor?
---
Benefits and Drawbacks of Using eChecks
Merchants can benefit from accepting eChecks for several reasons: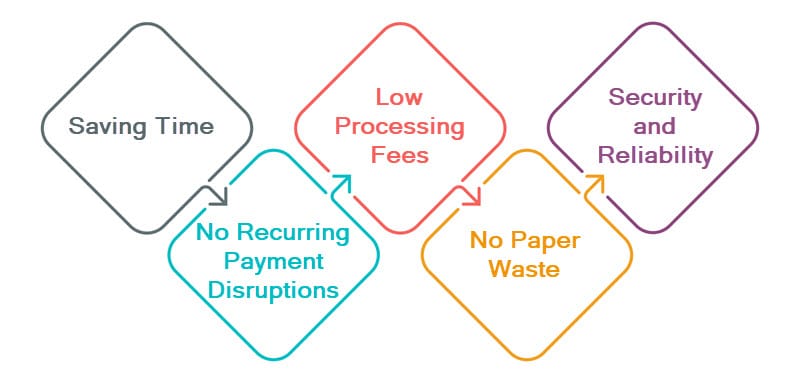 They save time. Electronic checks are processed faster than traditional paper ones because this is done automatically online. The entire process usually takes around 3 to 5 business days, depending on the merchant bank's policy.
They avoid recurring payment disruptions. Bank account numbers change less frequently than credit card information. Because eChecks rely exclusively on account numbers, collecting recurring payments via this method reduces the likelihood of payment flow breakages caused by changes in cardholder data.
Processing fees are low. eChecks have lower fees than other forms of payment such as credit cards, which typically cost more to process.
They leave no waste. Electronic checks are environmentally friendly because they do not waste any paper. They are processed entirely online, and the transaction confirmation is sent electronically to the payer in just a few seconds.
They are secure and reliable. Thanks to the use of ACH, eChecks are encrypted. This guarantees the security of money and data in the transaction.
Sending and receiving eChecks also comes with some drawbacks:
Bounced checks. If the payer does not have enough funds to cover the amount on the electronic check, it will bounce. This will disrupt the payment process and add additional costs in fees. eChecks usually take 2 or 3 business days to either clear or bounce.
Fraud potential. Unfortunately, not all businesses use safe payment processors, which exposes customers' information to hackers. This is why merchants should use a payment processor that ensures security through encryption. As for the consumers, they are advised to send eCheck payments only to the businesses they trust.
System errors. Sometimes, system errors cause double withdrawals or incorrect withdrawal amounts. This disrupts the payment process and requires the merchant to issue a refund to the consumer.
Common Questions about eChecks
Here are some of the most asked questions about eChecks.
Is Paying with an eCheck Safe?
Using eChecks for online payments is safe for several reasons.
Encryption. The information you input to make a payment with an electronic check is encrypted, reducing the risk of payment fraud. Aside from encryption, companies implement additional safety features such as multi-factor authentication.
No physical documents. Since eChecks are not in paper form, there is less risk of them being lost, stolen, or tampered with.
ACH. The Automated Clearing House ensures absolute safety for all payments performed via eChecks. However, note that ACH exists only in the US, while other parts of the world use different financial networks for processing eChecks.
---
Note: The equivalent of ACH in Europe is SEPA. For information on this framework, read our article What are SEPA Payments and How Do They Work?.
---
How Much Does It Cost to Process an eCheck?
On average, fees range from $0.30 to $1.50 for each eCheck transaction.
The costs of processing eChecks depend on the merchant account provider. There is no universal fee for eChecks and some eCheck payment processors may charge fees for processing each electronic check separately or add a regular monthly fee for the service.
Can you Dispute an eCheck?
After the payment has been cleared and the funds are on the receiver's account, an eCheck cannot be canceled anymore. Instead, there is an option of disputing it.
The account holder can dispute an eCheck by filing a de-authorization request. The account holder has 90 days from the moment of receiving their bank statement to submit a de-authorization form. This form is submitted to the bank and often includes a lot of additional paperwork such as affidavits. After the request is cleared, the funds are immediately pulled from the receiver's account.
However, before the funds return to the account holder's bank account, they go through the ACH again. This takes 4 to 5 business days, after which the funds will be visible on the account.
What Is the Difference Between an eCheck and a Regular Check?

Here are the differences between eChecks and regular checks.
Form. The most evident difference is that eChecks are in electronic form, while regular checks are in paper form.
Security. eChecks are considered safer since electronic payments are protected with advanced technology, while traditional paper checks are handled by humans and can be tampered with.
Submission and processing times. Since eChecks are submitted in electronic form, the users save time by inputting their information right away and sending it for automated processing. With paper checks, they must go to the bank, stand in line, and wait for a bank clerk to input the check information before they send the check for processing. Additionally, in the case of recurring payments, the payer enters their data only to make the first payment. All subsequent payments are processed automatically.
Costs. eChecks have far lower processing costs than paper checks because they are handled automatically in electronic form. With paper checks, there are costs involving different forms, invoices, and receipts, as well as human labor costs.
Conclusion
eChecks provide a safe and efficient way to make online payments. Automation guarantees lower costs and shorter processing times compared to paper checks.
This payment option also favors recurring payments, bringing added benefits to subscription-based businesses. Many customers prefer alternative payment methods, like eChecks, so offering additional payment options in your online store improves the customer experience.
About the author