Introduction
According to Invesp, customers return 30% of online purchases. Responding to return and refund requests when running an ecommerce business is a matter of balancing customer satisfaction with a potential loss of profit. The good news is that 92% of customers who return a product are willing to purchase from the brand again when faced with pleasant customer service.
But what do customers regard as pleasant customer service?
This guide reveals how to respond to a refund request, find the best solution, and create a pleasant experience for all parties, regardless of the outcome.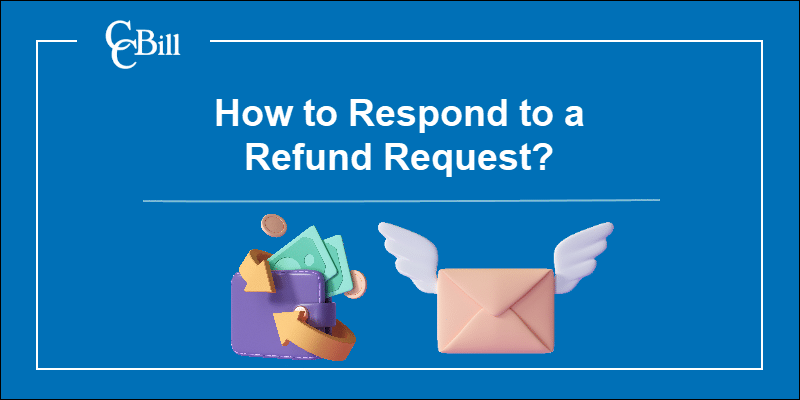 Refund Request Response: Best Practices
A liberal refund policy is not the best approach because it enables friendly fraud. At the same time, customers don't trust brands with a no-refund policy. Striving for the middle ground is optimal but does not protect businesses from frustrated buyers or fraud.
---
Note: Don't know the differences between refunds and chargebacks? Read our blog article and find out: Chargeback Vs. Refund: Differences and How to Handle Them?
---
No single refund policy satisfies everyone, so thorough preparation before handling refund requests is crucial. Hypothetical thinking and practicing customer support scenarios ensure you address every refund request in the best manner possible.
The following steps will help you prepare for these situations.
1. Stay Calm and Professional
No business owner likes learning that their customers are dissatisfied, and the situation is even less pleasant when that dissatisfaction is expressed in harsh language.

Keeping a cool head in such situations is difficult but imperative, and will ensure a rational approach and result in a satisfying outcome for everyone.
---
Note: Check our guide to learn more about the best practices for ecommerce customer service.
---
2. Maintain a Clear Refund Policy
Buyers sometimes don't understand the terms of the returns and refunds policy if they are faced with lengthy and confusing information. Looking for help, they will initiate a vast number of refund requests. As a result, representatives will have to walk each customer through the policy and refund process.

A clear refund policy acts as a self-service tool. It ensures that those who read it understand the terms and conditions they agree to during purchase. If the information is easy to read, the return and refund process will proceed simply. This is because a clear refund policy not only decreases the number refund requests but also helps resolve existing ones.
To write a clear refund policy, specify the following using short sentences and simple language:
What you consider valid reasons for returns and exchanges (damaged or faulty product, wrong size or color, etc.).
What the time frame for returns is (the norm is 30–90 days after purchasing or receiving the product).
What methods customers can use to return products (post, courier, in-store).
What refund options you offer (cash, credit transfer, store credit, gift card, coupon, PayPal).
What additional fees a return/refund incurs (shipping or refund handling).
---
Extra tip: Try to avoid charging restock fees and offer free shipping labels whenever possible.
---
3. Make Sure Your Refund Policy is Easy to Find
A refund policy is of little help if it is not easily accessible. If the refund policy is clearly stated wherever possible, customers are more likely to know about it and abide by it.
The current omnichannel culture allows shoppers to buy from a brand using their preferred channel. Because of this, your refund policy should be easy to access from any channel, at any touchpoint.

Typically, brands dedicate an entire page on their website to the refund policy or mention it on their FAQ page or Help Center.
It is a good idea for ecommerce merchants to also include the refund policy:
On product and category pages.
On the checkout page.
On the landing page.
4. Review the Refund Request
Sometimes a buyer makes an impulsive purchase before checking the refund policy or receives a faulty product. They submit a refund request, and now you must review it and decide what to do.
Reviewing the request should answer the following questions:
Is all the order information listed?
Is the order legitimate?
Was the refund request submitted within the allowed timeframe?
Where did the fault occur, and what or who caused it?
Is the product in returnable condition?
Which payment method did the buyer use?
Answering the above-mentioned questions helps you get a clear picture of the situation and respond in the best way.
5. Respond to the Refund Request Quickly
The key to good customer support is replying as quickly as possible. Delaying a response only frustrates the customer. If the customer doesn't receive a reply, they will request a chargeback which is a more costly procedure for merchants.
However, it is vital to include only factual information in your response. If you do not have a solution right away, inform the customer that you are investigating the issue and will reply once you know more about it.
6. Use Clear Language
Whether you are dealing with a refund request or advertising a product, clear language is the key to good communication. Buyers do not understand their options when faced with confusing language.
Whenever you draft a response, apply the following principles:
Keep it concise. Lengthy replies that provide little to no valuable information create suspicion and frustrate the buyer.
Use simple language. Simple language leaves no space for misinterpretation.
Go straight to the point. The buyer is seeking a resolution and wants answers as soon as possible.
7. Explore Alternative Solutions
Refund requests are negotiations, the terms of which are defined in your business's refund policy. A good negotiator understands the buyer's wishes and shows willingness to help.
Before you approve the refund or offer alternatives, ask the buyer about the purchase and what caused their dissatisfaction. Typically, dissatisfaction stems from an urgency caused by one of the following reasons:
The need for the product that turned out to be faulty.
The temporary unavailability of the funds spent on the failed purchase.
Such cases allow you to offer a product exchange, in-store credits, gift cards, and other alternative solutions to prevent the loss of the sale and ensure the buyer turns into a repeat customer.
8. Ask For Feedback
Businesses should strive to reduce the number of return requests they receive. The best way to do this is to collect customer feedback and implement the insights gained from it.
---
Note: Read our article about customer feedback to find out what it is and how to use it to increase sales.
---
Refund Request Email Template Examples
The following examples represent optimal approaches to different types of refund requests and implement all the practices mentioned above.

First Response to a Refund Request
Hi [name],
My name is [name]. I am contacting you to let you know that we received your refund request.
We are looking into what went wrong and will contact you as soon as we know more.
Best regards,
[signature]

Response to a Denied Refund (With Refund Alternatives)
Hi [name],
We are sorry to inform you that we are unable to meet your request as it does not fall under our refund policy. However, we value you as a customer and would like to offer you the option to return the product in exchange for:
•	Another product of the same value
•	Store credit
•	A gift card of the same value as the product
If you would like us to proceed in this direction, let us know, and we will provide you with detailed instructions on the next steps.
Best regards,
[signature]

Response to a Denied Refund (No Alternatives + Feedback Prompt)
Hi [name],
We regret to inform you that you are not eligible for a refund.
Since we are always looking for ways to improve, we would appreciate any feedback you have regarding the service you received, the product itself, and your shopping experience in general.
If you are still looking for a product to meet your needs, let us know, and we will be happy to assist you.
Thank you for your time,
[signature]

Response to an Approved Refund Request
Hi [name],
We are reaching out to you regarding the refund request you initiated on [date].
We are happy to inform you that your request has been approved. We will process your refund immediately and you can expect to see the amount of your initial payment returned to you within [number] days.
Feel free to contact us if you have any questions or concerns.
We apologize for the inconvenience this process has caused you.
Best regards,
[signature]

When Should You Review Your Refund Policy?
If you notice a rising number of refund requests, it might be time to review and revise your refund policy.
The most common causes for an increase in the number of requested refunds are:
A liberal refund policy. If your business approves most refund requests, buyers will ask for their money back for minor inconveniences, such as slight differences in the product's appearance, a negligible lag in a service's performance, etc. Impose a strict refund policy that buyers can't take advantage of.
A loophole in the policy's terms. Refund policy loopholes allow buyers to receive a refund without returning the product they are unhappy with, causing significant revenue loss. Work with a lawyer to ensure your policy does not contain loopholes of this kind.
A decrease in the quality of products or services. Buyers who find a product that reliably satisfies their needs will purchase the same products repeatedly. However, those buyers will be the first to notice a decrease in quality, request a refund, and even consider a competitor's product. To avoid this scenario, make sure all changes in product quality are for the better.
An increase in the prices of products or services. Competitive prices help acquire customers and turn them into repeat customers. Price increases deter buyers from future purchases, especially if not accompanied by improvements in quality. The more drastic the price change, the more buyers will consider competitor products. Justify every price increase with quality improvements or extra perks.
Unexpected fees. All charges that are not clearly stated before or during checkout are an unpleasant surprise for customers. Avoid unnecessary complaints and refund requests by making all refund policy-related information, including extra fees of any kind, as clear and accessible as possible.
---
Note: If you need help choosing a pricing model, check our guides on tiered, value-based, dynamic, and volume pricing.
---
Conclusion
Refund requests are learning opportunities and a valuable tool for improving customer satisfaction and loyalty.
Use the information and templates provided in this article to bring your customer support to the next level.
About the author