Merchants who apply the right pricing strategy generate more revenue and more recurring customers.
The two most popular pricing models in modern business are tiered pricing and volume pricing. Every merchant needs to understand these two strategies to determine which one is a better option for them.
In this article, we compare tiered pricing vs. volume pricing and explain both pricing models to help merchants make their choice.
Tiered Pricing vs. Volume Pricing Differences
In a tiered pricing model, merchants set different product or usage tiers and define prices for each tier. Whenever a customer purchases a certain number of items, the purchase falls within a single tier that has a defined price per unit within that tier.
The average price per unit drops when customers progress to the next merchant-defined tier.
Volume pricing offers discounts for bulk purchases - the more products a customer buys, the lower the total price per unit.
Tiered Pricing Vs. Volume Pricing: Example
Let's look at an example to see how tiered and volume pricing models differ. For example, you're selling a product and you have set the following prices per unit:
| Number of Products | Price per User |
| --- | --- |
| 0 - 10 Products | $15 |
| 11-30 Products | $10 |
| 31 - 50 Products | $5 |
You've sold 45 products to a customer. Here's how the revenue is calculated based on the pricing model:
Tiered Pricing
Volume Pricing
Units bought
10 x $15 = $150
20 x $10 = $200
15 x $5 = $75
45 x $5 = $225
Total Revenue
$425
$225
Average Price Per Unit
$9.44
$5
With tiered pricing, the first 10 units cost $15, the next 20 units cost $10, and the final 15 units cost $5 each, for a total revenue of $425. With volume pricing, the price per unit is $5 across the board as the price is based on the total number of items sold and the total revenue is $225.
From this example, it is clear that the tiered pricing model generates more revenue than volume pricing per unit but may result in fewer units sold.
Tiered Pricing Model
Tiered pricing is often used to create payment plans for subscription-based services. Each tier within a tiered pricing model contains various features offered at a specific price. Customers choose the tier that best meets their needs.
Pricing tiers must be highlighted on the website homepage so visitors can easily spot them.
Each tier description should contain the price and all the features a customer gets.
Pros and Cons of Tiered Pricing Model
The main pros of the tiered pricing model are as follows:
Scalability. Customers can upgrade or downgrade to different tiers in line with their needs.
Better targeting potential. Merchants can expand their customer base by targeting different customer groups with various tiers.
Competitiveness. Offering several tiers may attract customers who have left other businesses because of high costs.
Improved conversion. Some buyers are more likely to become customers if they choose from several tiers.
Adjustability. Merchants can adjust the profit margin to suit market changes and business goals.

These are the main drawbacks of the tiered pricing model:
More complicated. Merchants offer a combination of features and prices for each tier rather than a single package or volume pricing.

Less clear. Customers might not buy a product or service if they don't understand the billing system behind the tiers.

Paying more than expected. Some customers might choose a higher level of services than they need and spend more than they want. To prevent this, make it clear that they can change tiers.
Note: Offer a free trial so that customers try different features and tiers and choose the one that best fits their needs.
Who Is Tiered Pricing Model Best for?
Examples of Tiered Pricing Model
For instance, Dropbox offers four different tiers for cloud-based storage. Dropbox customers pay either monthly or annual subscriptions. Paying a yearly subscription is more affordable.
They've highlighted the most popular tier.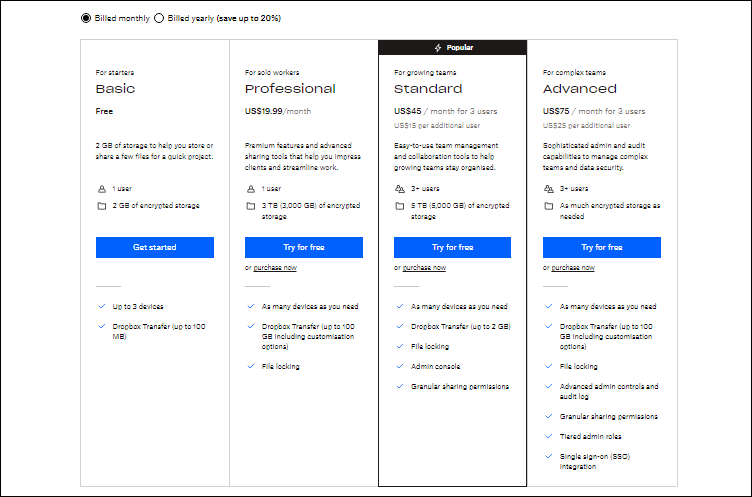 SpiderOak is another cloud-storage provider that uses tiers. They also have four different tiers, but their offer is simplified and doesn't contain too many details on features.

Volume Pricing Model
Volume pricing is a model in which the price of one product or service drops as the number of items purchased increases.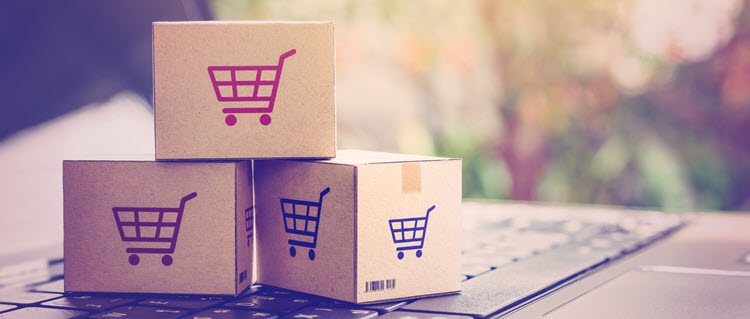 Merchants who want to sell larger quantities of products and make bulk sales usually choose volume pricing. Buyers that get higher discounts when they buy larger volumes often become repeat customers and return for more products.
Pros and Cons of Volume Pricing Model
The key advantages of volume pricing are as follows:
Straightforward calculation. Merchants can easily set prices and calculate the total purchase revenue.
Easy to understand. Customers multiply the number of purchased items by the price per item, and they know how much they need to pay.
Bulk purchases. Getting discounts for purchasing larger quantities encourages customers to buy more.
The disadvantages of volume pricing are:
Lower profits. As customers buy more items, merchants make less money on a single item.

Decreased brand value. Discounts on bulk sales can attract more customers, but they can also affect the brand value. Evaluate the level of discount you want to offer via volume pricing to avoid sending the message that your products aren't valuable or competitive.
Who Is Volume Pricing Model Best for?
Many global brands offer volume pricing.
For instance, eBay reduces the price per item as customers increase the number of products they buy.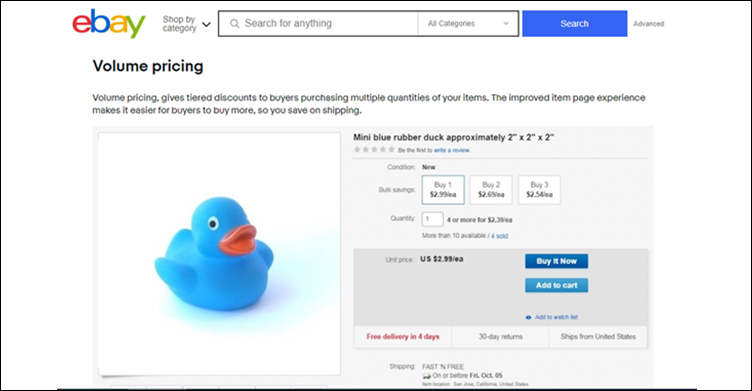 Dropshipping suppliers regularly provide discounts for bulk purchases.
Tiered pricing vs. Volume Pricing: What's Good for Your Business?
Tiered pricing is better for SaaS and subscription businesses because it increases profit and ensures recurring revenue. In addition, having several tiers attracts more customers.
Volume pricing is more suitable for merchants who want to increase the repeat purchase rate via bulk sales and ecommerce stores in general.
Conclusion
Identifying and implementing the right pricing model will help generate more profit from day one.
Use the information in this guide to decide whether tiered pricing or volume pricing is the best option for your business and kickstart your business.