Due to the fast-paced business market, large companies and small ventures alike are changing the way they charge their customers.
Instead of making one-time sales at high prices, entrepreneurs have turned to subscriptions. They ensure long-term customer retention and the extended lifetime value (LTV) of customers.
In this article, you'll read more about the subscription business model and subscription processing. You'll get familiar with some typical examples of this model, as well.
What Is a Subscription-Based Business Model?

In the subscription-based business model, customers pay a monthly or annual subscription to a company to use its products or services. It ensures steady recurring revenue for business owners who can base their business budgets on subscriptions.
This business model emphasizes customer retention instead of customer acquisition. The subscription processing model focuses on generating recurring income from a single customer over a period of time, thus increasing the lifetime value (LTV) of customers.
The subscription model has been spreading from industry to industry and has been successfully used in the SaaS, retail, food, and entertainment industries.
How Does a Subscription Business Model Function?
In the subscription business model, customers make recurring payments for products or services. Companies use one or more subscription pricing models that match their business goals.
They might offer one or more pricing tiers, as well. Offering several tiers attracts different types of customers and ensures higher income.
Subscription-Based Business Model Examples
The following examples of subscription-based business models are highly likely to ensure long-term customer loyalty and a high renewal rate.
Subscription Boxes
Customers that subscribe to a subscription box receive a box full of desired products every month. Usually, each item in the box would cost more if bought separately.
Subscribers either choose what products the box contains, or they let the subscription business surprise them.
Merchants that use this subscription business model get to know their customer base more efficiently.
For instance, Candy Club offers two subscription plans. They let their customers send gift boxes to other people for special occasions, as well.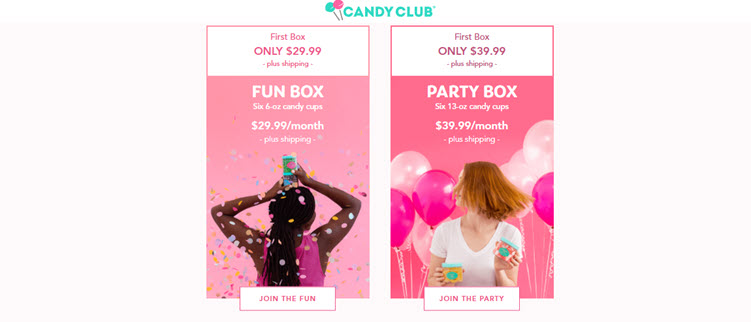 Software Subscription Model
Most businesses selling software solutions have turned to the subscription business model.
They can update and boost those solutions on the go instead of asking customers to redownload the software after every new release.
Their customers don't need to pay a large upfront amount for the software and they can subscribe only to the software features they need.
DocuSign is a school example of the software subscription model. They offer their digital services in three different pricing plans. There's an advanced plan, which allows customers to negotiate the subscription terms and conditions with DocuSign.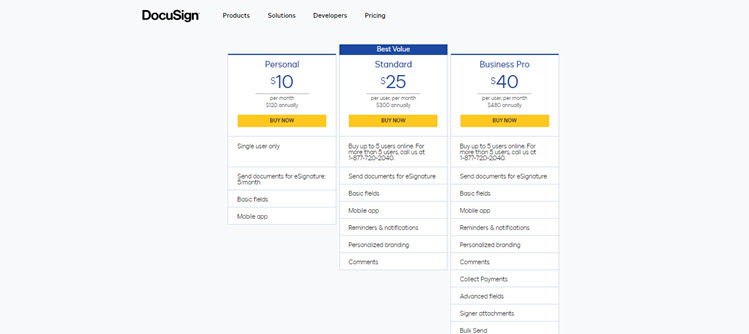 Health and Workout Subscription Model
Gyms and health centers use the subscription model to let their customers work out more flexibly (in both physical and financial terms). Such subscriptions enable customers to combine home-based training sessions and gym workouts.
Many businesses in this niche include courses, books, meal plans, and workout equipment in their subscription.
HASfit offers various fitness programs, organized in 15 different product offerings. There are adapted programs for men and women, together with books and nutrition tips for subscribers.

Meal Service Subscription
Food and meal service subscription companies provide their customers with ingredients, meals, or recipes. Subscribers choose subscription features based on their diet preferences. That way, they save time and eat healthy and diverse food.
Home Chef is a subscription-based food service that offers meal plans and ingredients for various audiences. Low carb, high carb, protein-based, or vegetarian food – they cover different bases.

Streaming Subscription services
Subscribers to streaming subscription services pay a subscription to access multimedia content – music, movies, TV-shows.
Customers find everything they need in one place.
Merchants ensure a predictable revenue and steady cash flow.
Deezer is a popular music streaming service. It comes with three different plans that provide users with millions of hi-fi tracks.
You can use Deezer for free, which includes ads and a limited number of features.

Important Subscription Business Model Metrics
The following subscription business model metrics indicate how successful a business is:
Monthly recurring revenue (MRR). Monthly recurring revenue is the amount of money that a company makes from its subscriptions every month. When forecasting monthly recurring revenue, consider the variables, such as the number of new and lost customers.
Annual recurring revenue (ARR). Annual recurring revenue is the total revenue that a subscription business has made within one calendar year.
Customer acquisition cost (CAC). The customer acquisition cost is the amount of money that a company spends to familiarize users with its products and turn them into customers.
Subscriber return on investment (ROI). Return on investment is a subscription metric that indicates how much money a merchant returns per subscriber. Divide the customer lifetime value by the customer acquisition cost to get this metric. The perfect ratio is between 2:1 and 4:1. It means that you return an optimal amount of money to acquire customers in the assets you've invested.
Customer lifetime value (CLV). Customer lifetime value is the expected amount of money that a subscriber will spend on your products and services in a lifetime.
Average revenue per user (ARPU). The average revenue per user is the metric that shows the revenue acquired per user. The total revenue within a specific period is divided by the number of subscribers to calculate the ARPU. Businesses that use tiers may calculate ARPU within a single tier or for all tiers altogether.
Growth efficiency. Growth efficiency indicates the recurring revenue growth per 1$ invested in marketing.
Churn rate. Churn rate is the percentage of users that stop paying a subscription within a specific period.
Lead velocity rate (LVR). Lead velocity rate shows how successful a company is in generating new leads. It's the difference in qualified leads during two compared periods.
Subscription Business Model Advantages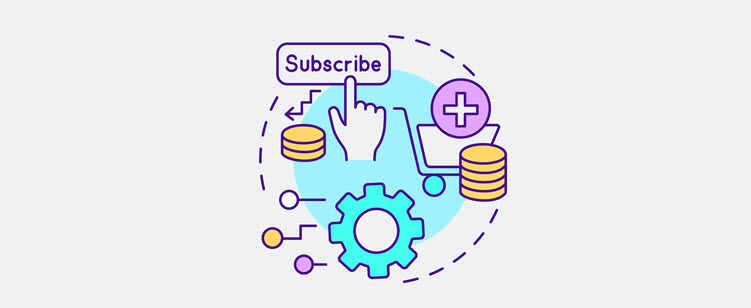 The subscription-based business model brings the following key advantages.
Customer-Friendly Features
Collecting a monthly subscription for a selected number of services is a customer-friendly approach.
Customers choose what features they need and the tier they want to pay. They don't pay for services they don't use and save money that way.
They can easily upgrade or downgrade to a different tier, in line with their needs.
Easily Predictable Revenue
Merchants using the subscription business model easily predict their revenue and ensure a steady cash flow. As repeat and recurring customers pay their monthly subscriptions, business owners know how much money they will be receiving in the time ahead.
It's easier to calculate and plan a business budget when you work with steady revenue streams.
Stronger Bonds with Customers
Merchants and subscribers are more likely to develop stronger bonds with one another via subscriptions.
Business owners need to ensure top-notch customer support and provide additional value to customers.
Subscribers that consistently receive the services they've paid for and get adequate 24/7 assistance tend to stay with businesses that provide such a service.
Lower Customer Acquisition Cost (CAC)
The subscription business model is a conservative model because it doesn't support spending a fortune on aggressive marketing campaigns.
Subscription businesses aim more at people who already know their brands than at completely new leads. Consequently, the customer acquisition cost is lower than in some other business models. The word-of-mouth that satisfied subscribers spread is a valuable promotional tool in the subscription-based model. The focus is on customer retention rather than on customer acquisition.
Generating more customers
Many users prefer paying the services they use in smaller installments than as a one-time upfront payment. When such leads see a business offering only one pricing plan or flat-rate tiers, they go away.
On the other hand, subscription businesses provide services in exchange for a subscription that most users can pay.
Moreover, combining a subscription business model based on tiers means increasing the chance of meeting different budgets and attracting more customers.
Subscription Business Model Disadvantages and How to Overcome Them

The subscription business model brings some disadvantages, too. Follow our tips to see how to overcome those.
High Cancellation Rate
Due to the flexible nature of this model, it potentially leads to a high cancellation rate and churn rate. When subscribers don't like the content or services they receive, they stop paying the subscription.
Keep offering new features and services within the existing tiers. Reward first-time subscribers with special coupons or additions to basic services. Consider preparing discounts for semiannual or annual upfront payments.
Customers' Fear of Signing Up
Some subscription-based businesses require that customers sign long-term contracts (for example, internet providers). Others don't insist on any long-term commitments. Conduct a survey among the potential customers and see which option is better for your target audience.
Offer a trial period so that potential subscribers try your services in advance. Avoid insisting on long-term contracts if it doesn't bring benefits.
High-Value Requirements for Merchants
Contemporary customers have many options in every niche. It puts a lot of pressure on merchants' backs. If subscription businesses don't bring excitement to their customers, they leave. So, merchants need to keep bringing value to its subscribers.
Keep adding new features and products to existing tiers. Regularly inform your subscribers what innovations you're working on to keep them engaged. Use email newsletters and social media to spread those messages.
Unpredictable Initial Revenue
New businesses considering the subscription business model need to be aware that revenue becomes predictable after a while. It's not easy to predict initial revenue in that case.
Consider trying other business payment models initially and switching to the subscription model when you build an emergency fund.
Harsh Competition
Many businesses opt for the subscription business model, which increases the competition and makes it difficult for new merchants to succeed. When customers see that your rival sells the same products or services at lower prices, they'll unsubscribe from your business and subscribe to theirs.
Analyze what the existing and potential competitors are doing to attract subscribers. Build subscriptions and plans that beat their current subscriptions.
Conclusion
The subscription business model is a chance for businesses to generate new customers and build long-term relationships with them.
Despite its benefits, it's not the best option for every business owner. The tips and solutions described in this guide will help business owners understand the subscription business model and see how they can benefit from using it. Carefully analyze the pros and cons, and determine how your target audience would react to a subscription model.