Customers want convenient, fast, and secure payment options. E-wallets allow customers to initiate online and in-person transactions from their preferred device without using a credit card or banking app.
Here is everything you need to know about digital wallets, how they streamline payment flows, and why customers and merchants love them.
What Is an E-Wallet (Digital Wallet)?
An e-wallet, or a digital wallet, is a mobile app, web app, or device that stores encrypted customer payment data.
Customers can install a digital wallet on their preferred device and use it to:
Store PII (personally identifiable information), i.e., account numbers, addresses, emails, passwords.
Link the wallet with their bank account or payment cards.
Initiate transactions using a phone, desktop, or any other device with supported software.
Deposit and transfer funds to other users.
Store multiple payment tokens.
Receive discount coupons and gift cards.
Book hotels and travel tickets.
Store ID cards, driver's licenses, and other sensitive documentation.
Digital wallets reduce the need for carrying cash, credit cards, and other physical payment tools.
Customers rarely part from their smartphones, making them a convenient choice for hosting digital wallets. Many wearables, like smartwatches, are also becoming a viable option for initiating contactless in-person payments.
Types of Digital Wallets
There are 3 main digital wallet types:
Closed Wallet. Companies create proprietary digital wallets to simplify payments for their products and services. Customers use this e-wallet type to conduct transactions with the wallet issuer only.
Semi-closed Wallet. Semi-closed wallets allow users to initiate transactions with a specific list of merchants. Merchants need to enter into an agreement with the wallet provider and integrate the wallet solution before accepting this type of payment.
Open Wallet. Like semi-closed wallets, customers can pay on specific merchant websites and locations. In addition, customers can withdraw or deposit funds from their e-wallets in banks or ATMs.
How Does a Digital Wallet Work?
A customer is typically presented with an option to create a digital wallet account after making an initial purchase. Customers can then complete subsequent transactions using the e-wallet instead of entering payment details or using a card.
Customers can also register directly on the vendor's website and use the digital wallet to pay on websites or in stores that accept the vendor's solution as a valid payment method.
When creating a digital wallet, customers are required to:
Register or sign-up with a digital wallet provider.

Install the e-wallet app on a preferred device or use a web-based application.

Provide the necessary personal and payment data to the app. Optionally, add an ID card, driver's license, healthcare card, or other documents supported by the digital wallet.

Use the wallet to pay for services and products provided by merchants who accept transactions from that specific digital wallet solution.

Digital wallets use passwords, biometrics, and other sophisticated tools to verify transactions. The payment is routed through payment processors, payment gateways, acquirers, and other third parties involved in payment processing.
Mobile devices often connect via Bluetooth, Wi-Fi, NFC (near field communication), or MST (magnetic secure transmission) to securely transmit payment data from a mobile device to a point-of-sale terminal.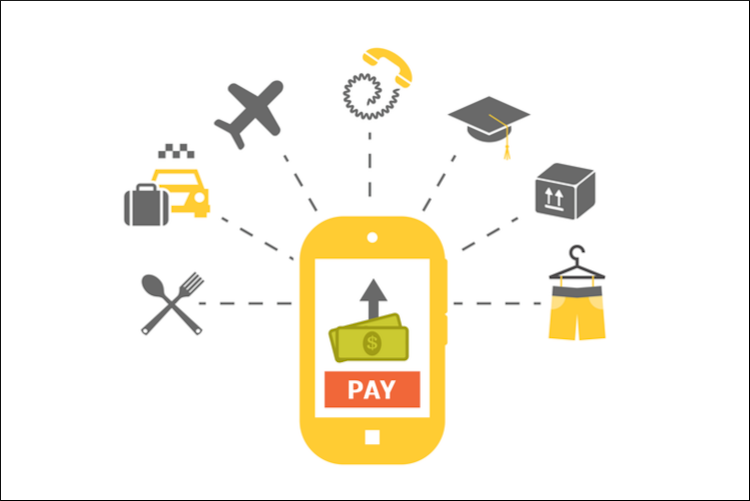 How to Set up a Digital Wallet?
Merchants who want to accept e-wallet payments need to open an account with a digital wallet provider and integrate with their payment solution. The technical integration can be as simple as placing a pay button on a website or as complex as developing a custom payment API solution.
Using the services of a payment processor can streamline the integration process and save merchants time and money.
Best Digital Wallets
There is a wide variety of digital wallet solutions available to consumers and merchants. Here are the 12 best digital wallets to use as of time of writing:
PayPal
Cash App
Google Pay
Samsung Pay
Apple Pay
Facebook Pay
Amazon Pay
Ali Pay
Walmart Pay
Venmo
WeChat Pay

FAQs about E-Wallets (Digital Wallets)
Here are the answers to the most common questions related to e-wallets.
Why Do I Need a Digital Wallet?
If customers cannot find their preferred payment option, they are more likely to abandon the purchase. To improve conversion rates, merchants must offer as many payment options as possible, including digital wallets.
The number of customers using e-wallets is increasing. Digital wallets are the most popular payment method in Europe, mobile wallets are very popular in Africa, while massive markets like China and India prefer alternative payment methods such as digital wallets too.
Digital wallets aggregate many frequently used services into a single app and reduce the need for carrying cash, cards, and other physical payment instruments.
Are Digital Wallets Safe?
Digital wallets were designed with safety in mind. All transactions are encrypted, trackable, and require authentication from multiple parties, making digital wallets one of the safest way to pay.
Are Digital Wallets Free?
Almost all digital wallet apps can be installed for free. Some digital wallet providers require users to sign up for an account before they can use the service, which may incur a fee.
Most digital wallet providers charge a transaction fee when withdrawing money from an ATM. Transfers to your bank account also typically incur fees.
Digital Wallet vs Credit Card: How do They Differ?
Credit cards and digital wallets both give customers a safe, convenient way to purchase items from merchants. The difference is that digital wallets can store additional customer information and payment instruments, making them more versatile as a payment tool.
Credit cards also require users to sign up for a bank account, whereas almost anyone with a compatible mobile device can use a digital wallet.
Digital Wallet vs. Mobile Wallet: How do They Differ?
A mobile wallet is a digital wallet only usable from a mobile phone. Digital wallets can also come in different forms. Some are usable on desktops, and others are embedded in specialized hardware devices.
Conclusion
Digital wallets are a versatile payment tool. They are becoming increasingly common globally thanks to their advantages over traditional payment tools such as credit cards.
As a merchant, adding support for payments via digital wallets is an excellent way to streamline your payment processing and give consumers more options for conducting transactions with your business.