Fundraising is a difficult, never-ending process. Non-profits work around the clock to acquire the necessary donations for their programs. In the past, non-profit organizations primarily relied on grants and large one-time donations made at fundraising events. Their sources of funding were unpredictable and irregular, which made campaign planning challenging.
With technological advances, donors and non-profits are embracing a new model of giving—recurring donations.
Let's see what makes recurring donations an essential fundraising tool for today's non-profits.
What Are Recurring Donations?

Recurring donations are automatic payments occurring at regular intervals, like monthly subscriptions. They are monetary gifts to non-profit organizations that are raising money to further their missions.
Donors choose how much and how often they want to give to non-profits. The most common model is monthly recurring giving, but recurring donations can also be scheduled for other intervals, such as quarterly, bi-annually, or annually. After donors sign up for the recurring donation program, the payments are automatically made from their chosen card to the non-profit organization.
Donors can suspend their recurring giving at any moment. It's the non-profit's job to motivate donors to keep contributing to the organization's mission.
How Do Recurring Donations Work?
Here is how recurring donations help non-profits earn steady revenue:
The non-profit sets up a recurring giving program and offers the new recurring payment option on their donation form. There are usually several giving levels from which donors can choose.
The organization invites their existing and potential donors to make a recurring donation to sustain their charity work. They explain why recurring donations are essential for the organization. Perhaps it is because stable, regular revenue is important for the survival of their organization. Or the non-profit may be launching a long-term campaign for which they need to ensure a stable monthly budget.
Non-profits use different marketing channels – website, social media, email – to spread the word about their new recurring donation program and explain the impact of the donors' contributions.
Non-profits constantly engage and incentivize acquired donors to continue their recurring giving.
What Are the Benefits of Recurring Donations for Non-Profits?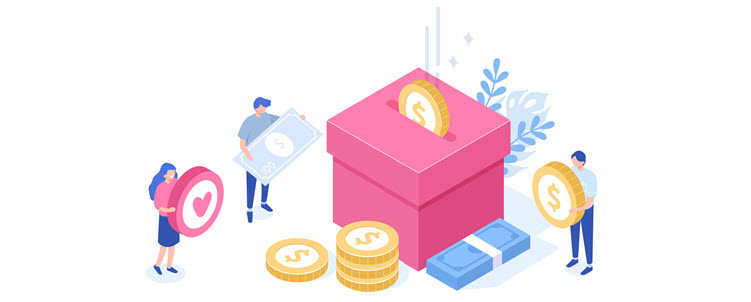 The primary purpose of recurring donations for non-profit organizations is financial stability. Recurring donations allow non-profits to achieve:
Stable and predictable monthly revenue. With stable income from recurring donors, non-profits can forecast their monthly revenue, regardless of fundraising events and charity giving seasons.
Increased total annual received donations. Statistics show that monthly donations, though often smaller than one-time donations, add up to a larger amount annually.
Easier project planning, budgeting, and sustainability. With predictable monthly revenues, non-profits can plan out and sustain multiple, long-term projects.
Decreased operational costs. Finding new donors is more expensive than maintaining existing ones. With predictable, automatic monthly income, non-profits don't have to constantly apply for grants or organize frequent fundraising events.
Higher donor retention. Recurring donors are more likely to continue their giving year after year than one-time donors. Many recurring donors make one-time donations in addition to their regular contributions.
More convenient payment option for donors. Once they agree to spend a certain amount each month for a cause they believe in, donors like the convenience of having the amount automatically withdrawn from their account. They also find it more affordable to give smaller monthly contributions than one large amount.
Building stronger, lasting relationships with donors. Non-profits constantly engage with recurring donors to thank them and update them about the projects their donations sustain. Regular interaction leads to higher donor retention.
How to Accept Recurring Donations

Implementing a recurring donations program requires careful planning and maintenance.
Note: Non-profit organizations go through an extensive screening process before they can accept payments, kindly check what information your payment partners require.
Follow the steps below to get the most from your recurring donations program.
Define Your Goals
Before implementing any recurring donation strategy, define your goal. It can be a certain monthly or annual amount, a specific amount needed to sustain planned projects, or a set number of monthly donors.
Study Your Audience
Creating a recurring donation strategy involves studying the target donors. Start by analyzing your existing donor base. Then, research who potential donors are, how to appeal to them, and the probable size of their donations.
Find a Payment Processor
To accept recurring donations, you need a payment processor that processes debit and credit card payments. Some payment processors work only with non-profits and offer specialized services.
Carefully review whether your potential payment processor offers:
Secure and reliable service.
Advanced fraud protection.
Integrated recurring donation tools.
Monthly reports on gross revenue, paid fees, and other expenses.
ACH payments (a must for automatic recurring payments in the US).
Quick payout time.
Quick and reliable customer service.
Large number of accepted credit cards and currencies.
After finding the most suitable payment processor, set up the recurring donation option and offer it on your website.
Promote Your New Recurring Payment Program
To reach new donors, use all available marketing and media channels to promote your new program. Reach out to your loyal supporters and social media fans, asking them to be the first to become recurring donors. It may be easier to get recurring donations if you brand the option and give it a catchy name instead of calling it "recurring donation."
Constantly Incentivize Regular Donors
Send personalized thank-you notes or emails to recurring donors after each donation to remind them how important they are to your organization. Always be upfront about why their donation is essential for the survival of your program.
You may want to brand your recurring donor community as well. Having a special name for the group that matches the program's name emphasizes that donors belong to a special community and strengthens the bond between them and your organization.
Optionally, send occasional gifts to recurring donors. They may be products by corporations that sponsor you or simple, heartfelt gifts like branded stickers or handwritten letters.
Individuals who choose to support non-profits are most grateful for exclusive updates, videos, and reports about the cause they are supporting.
Conclusion
Recurring donations have changed the fundraising game. Today, non-profits need a steady monthly cash flow rather than occasional one-time donations to enable them to scale their projects. Recurring giving is the number one tool for securing resources for successful long-term programs and campaigns.