Introduction
The best loyalty programs do not focus on expensive gifts or on offering the largest loyalty discount.
An online community is built on shared values, openness, and respecting the customer's judgment. Loyalty programs need to show customers that your store cares about the things they care about.
Use a loyalty program to motivate customers to share their shopping experience with others and help promote your store and brand.
Find out what makes these 8 loyalty programs so successful and try to implement these ideas in your online store.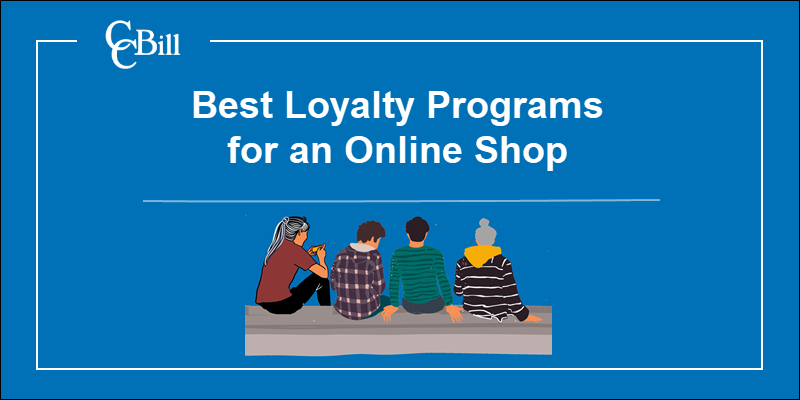 Loyalty Program Types
Ecommerce merchants use several types of loyalty programs to turn first-time shoppers into repeat customers:
Point-based Programs - Customers are awarded points if they make repeated purchases, recommend products to friends, family, and share content on social media. Redeeming these points gives members access to special discounts and other benefits.
Cash Back - If a customer spends a predefined sum, the store is going to credit the customer's in-store account with a small amount. The funds can usually only be spent in the store.
Tiered Programs - The customer receives better deals if they engage with the store more frequently. The membership levels and perks increase once a member reaches point milestones.
Partner Program - Buying products in one store gives members access to products and services in other stores.
Paid Loyalty Program - Customers pay for a membership to get exclusive content and VIP treatment.
Value-based - The store rewards its members for contributing and helping the store to promote its values and mission.
Most businesses use a hybrid approach and combine several types of loyalty programs to create an immersive experience for their customers.
Patagonia
Patagonia sells clothing and equipment for outdoor activities such as climbing, surfing, snowboarding, etc.
Protecting the environment by reducing consumption is at the forefront of Patagonia's core values. This unusual approach, for an ecommerce store, is best reflected in the free Trade In Get Credit program.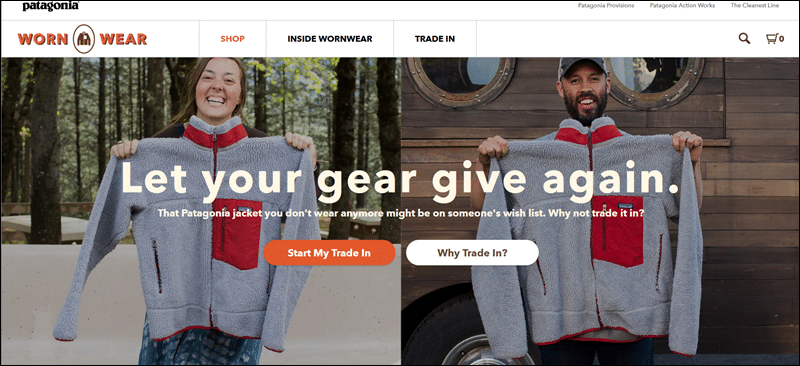 The program allows customers to return worn items and receive credit to purchase new Patagonia products. Patagonia's value-based loyalty program:
Shows customers that the store cares more about its mission than profit margins.
Encourages members to participate in fulfilling the store's mission.
Rewards customers with in-store credit for returning clothing they no longer want.
Customers reduce their consumption, but the few products they do buy are going to be from a store that shares their values.
This example demonstrates how a store understands what its customers care about. The loyalty program is simply a tool that inspires members to work towards a greater goal.
Marvel
Marvel comics, movies, TV shows, and merchandise have become one of the most successful stories in the entertainment industry.
Die-hard fans posting and sharing videos, memes, and stories have made Marvel's characters synonymous with popular culture.
The Insider loyalty program does not incentivize customers to buy more Marvel products. It tries to draw ever more people into the Marvel Universe and have them stay there for as long as possible.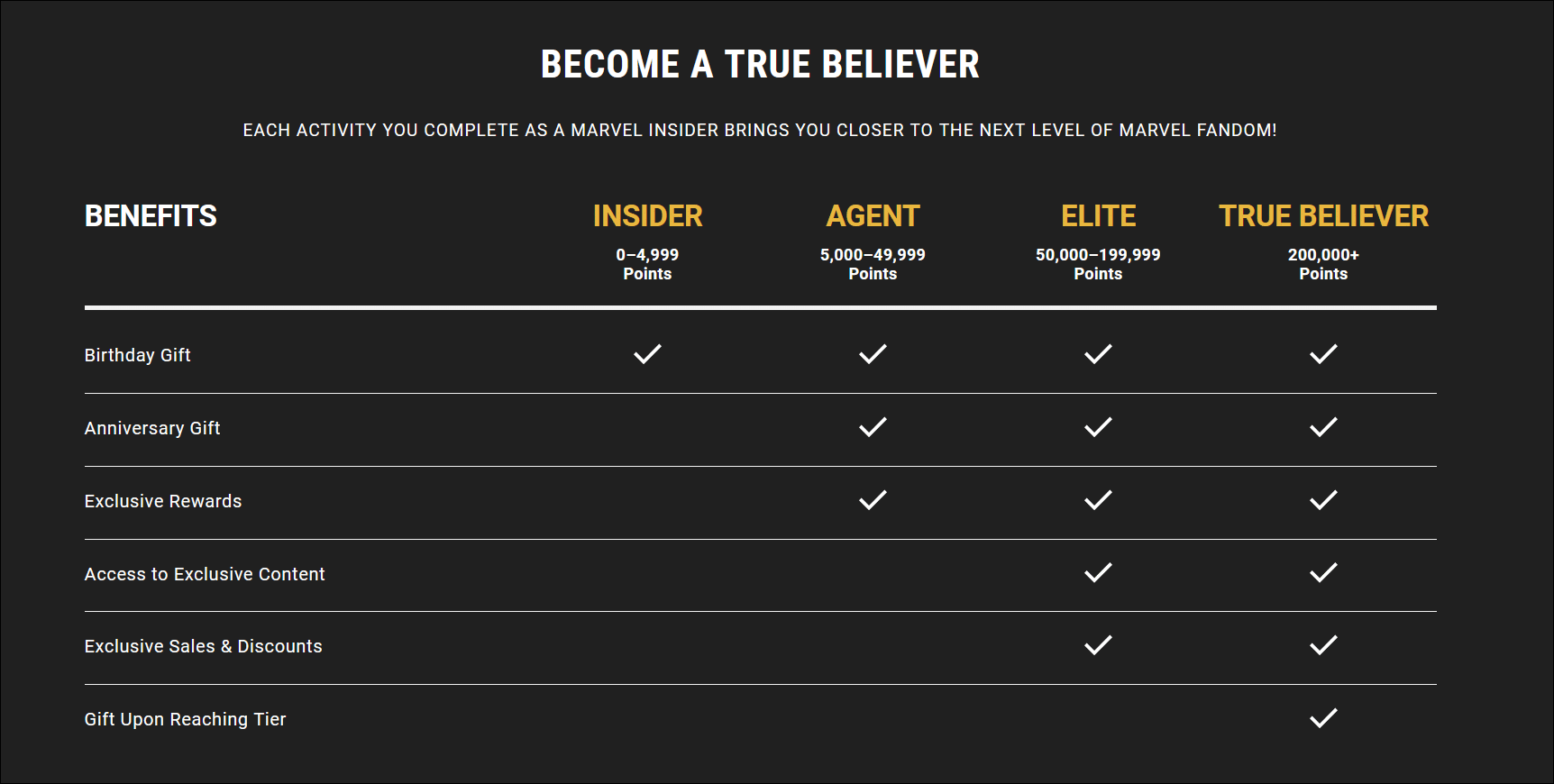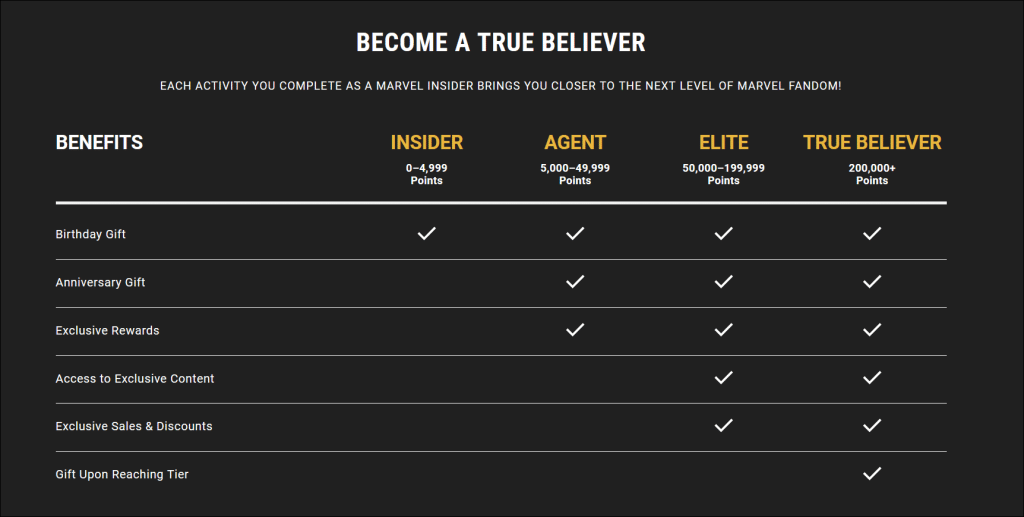 The free program rewards fans for their online activities and for engaging with other Marvel fans. The program motivates customers to:
Read articles.
Read comics online.
Watch videos.
Post comments and reviews.
Enthusiastic and passionate fans get a chance to receive rewards, early access, merchandise, and store discounts. The goal is to excite the fanbase and keep the community hungry for more of Marvel's content.
Zappos
Zappos sells shoes and clothing. When customers buy clothes online, they are often concerned that a product is not going to fit and may not look as good as they expected.
The process of returning items, getting refunds, or exchanging products is drawn out and complicated.
The Zappos VIP loyalty program tackles this issue head-on. Program members get expedited free shipping, rapid refunds on returns, and arranged UPS pickups. Additionally, VIP is a point-based program that grants customers points for purchases. The points can later be used when buying new products.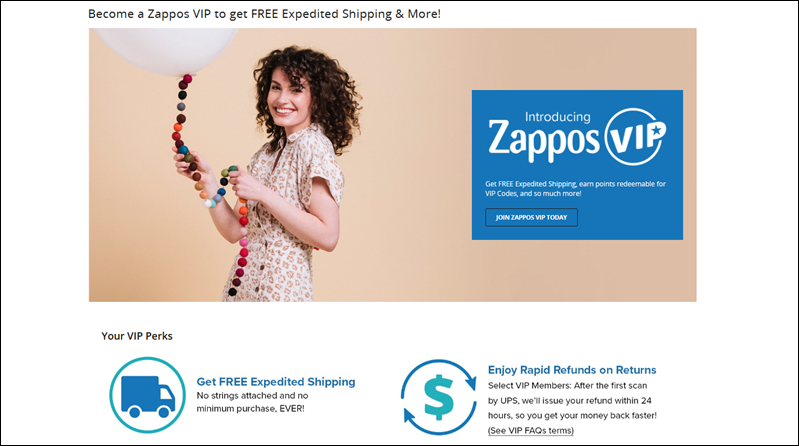 Loyal members feel that Zappos spent time and effort to create a program that pinpoints and solves customer stress points. If customers know that refunds are issued within 24 hours and that it's easy to return products, they are going to shop with much more confidence.
Frank Body
Frank Body sells skin and hair products and focuses on body positivity and inclusion.
The writing and website design is laced with humor. This upbeat approach tries to lighten the mood and make customers feel comfortable and empowered when shopping for skincare products.
The Hotel Pink loyalty program is both point-based and tiered.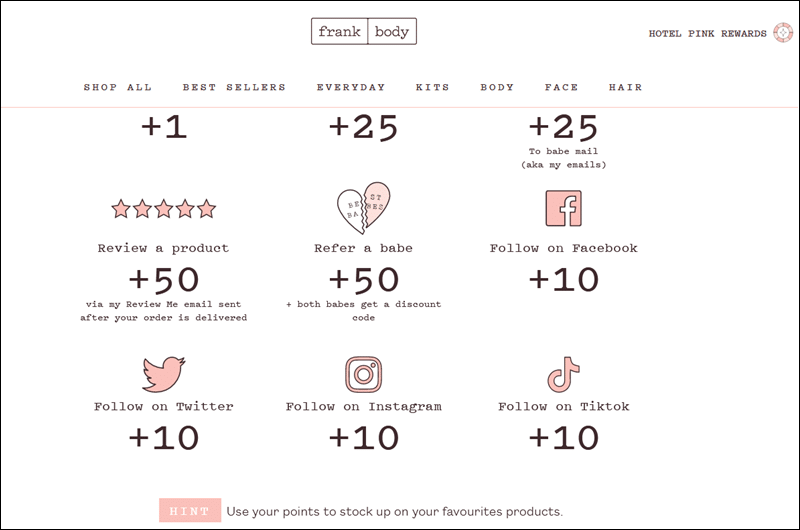 The referral program grants points to customers when they buy, recommend, or follow Frank Body's social media accounts.
Depending on the number of collected points, customers get access to different benefits, including cashing in points during checkout.
This hybrid approach has become very popular with cosmetics and skincare brands.
GEM
GEM uses a subscription business model to sell plant-based vitamins. Customers that sign up for a subscription receive regular deliveries of their vitamin packages.
The GEM loyalty program is simple and highly effective. A customer refers a friend who receives a $20 GEM voucher. If the friend buys a product using the voucher, the referrer also gets a $20 voucher.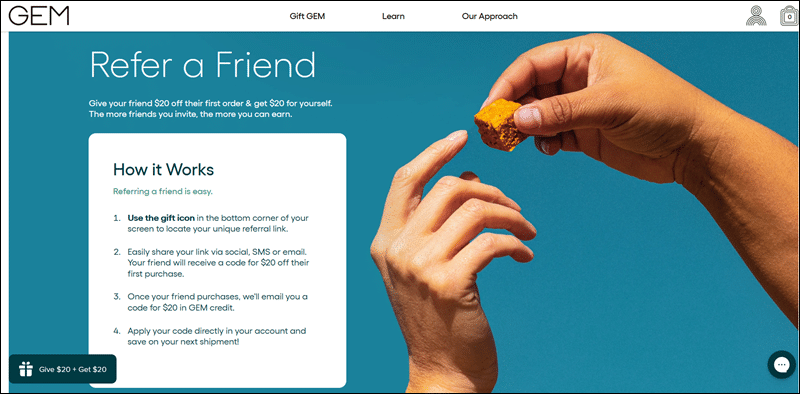 An ecommerce store that sells subscriptions can afford to use this type of loyalty program. The returns for signing up a new subscriber outweigh the initial cost of the gift voucher.
Blume
Blume sells skincare products geared towards a younger audience. The cosmetics industry is highly competitive, and it's challenging to create a unique loyalty program.
The BlumeTopia loyalty program rewards customers for buying products, leaving reviews online, and following Blume's social media channels.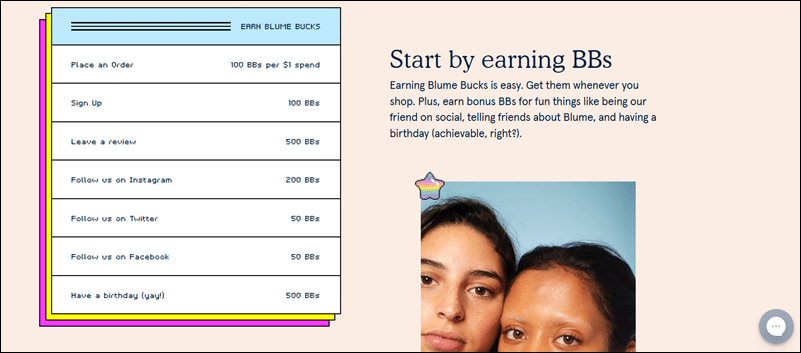 When a customer passes milestones, their status gets elevated, and the number of perks they receive increases.
Zumiez
Zumiez sells clothing, footwear, and accessories for skate and snow. It has an extensive network of brick-and-mortar stores which allows them to offer unique experiences to customers.
The free Zumiez Stash loyalty program grants members points for in-store and online activities.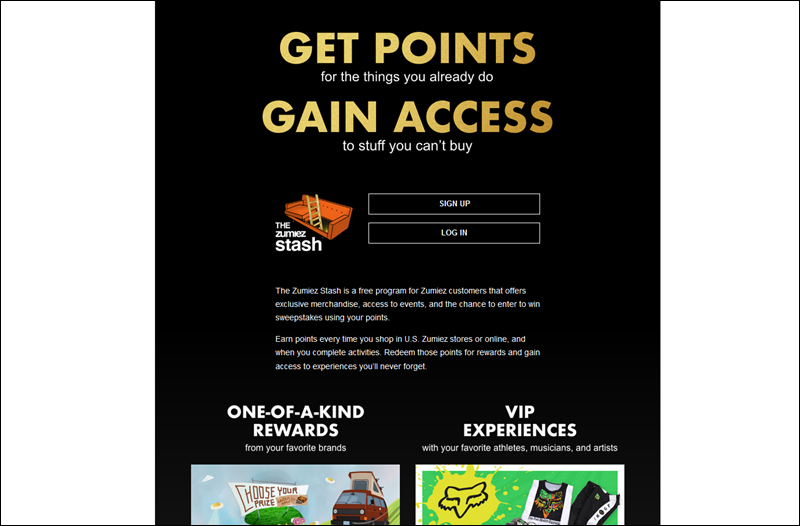 Members use these points to get exclusive merchandise and attend in-person events with musicians, athletes, and artists.
IKEA
The Family loyalty program allows IKEA to maintain a strong online presence and engage with members that do not visit their stores.
IKEA Family members can take advantage of the Free Childcare offer and leave their children in a local daycare center for the day. This is a good example of a partnership program where one store offers customers services provided by a different company.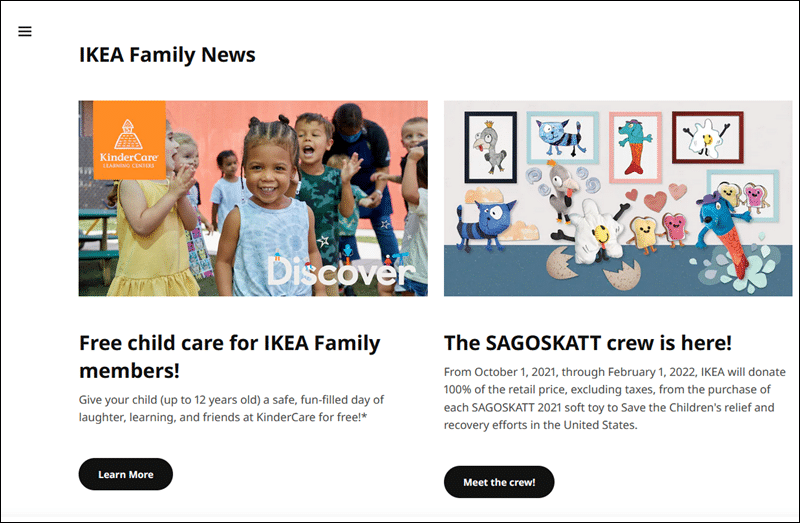 IKEA also organizes an annual soft toy drawing competition for children. A toy based on the winning drawing is manufactured and sold in IKEA's stores. All the proceeds from the sale are forwarded to the Save the Children charity.
Including the customer's family members in constructive and meaningful activities is a sure way to increase loyalty and expand the customer base.
Conclusion
Successful loyalty programs are simple and reflect the store's business model and company values. Start by getting to know your customers and avoid creating a generic catch-all loyalty program.
The terms of the program need to be transparent and show customers how much you appreciate their loyalty.
About the author