In the world of 
ecommerce
, merchants understand the importance of fulfillment. Fulfillment is the process that merchants use to package and deliver their products to their customers. This includes going the extra mile to organize and manage the logistics of shipping and delivery to make sure that the fulfillment method is handled to the satisfaction of their buyers. To make sure this process is flawless, many ecommerce, especially mid-size to enterprise-level, choose to outsource their fulfillment, so they can focus on managing the growth of their business. But, how do you choose the right type of fulfillment for your business? Let's consider all the aspects below.
What is Fulfillment in Ecommerce?
Ecommerce fulfillment includes the steps a business takes when they receive an order, package, ship, and delivery it to the end consumer. While this term can be used with any company that sells and ships products, it is most commonly referred to by ecommerce merchants. For a business to survive, it must keep its customers happy. Most ecommerce businesses can't do this alone. This is where third-party fulfillment companies come into play.
Ecommerce Order Fulfillment
companies help deliver your product to your buyers. This includes receiving the goods on your behalf, storing and inventorying your goods, the final processing of your orders and shipping the purchased goods to your customers. Fulfillment service providers are specialized in these procedures, so they can provide a seamless fit with the balance of your operations.
Order Fulfillment vs Dropshipping
It's not always easy to distinguish between Fulfilment and Dropshipping. The terms are closely linked and have the same result, which is delivering the product to the customer. But Merchants should understand some of the differences between the two processes, they can pick the right one for their ecommerce. When choosing a Fulfillment service, the merchant chooses to store their inventory in the third-party company's warehouse. This Fulfillment company will then take care of the delivery method used for the merchant's products, as well as packaging and shipping. If relinquishing too much of the control for all these processes creates too much of an operational hassle for the merchant, they can also choose Dropshipping as an option.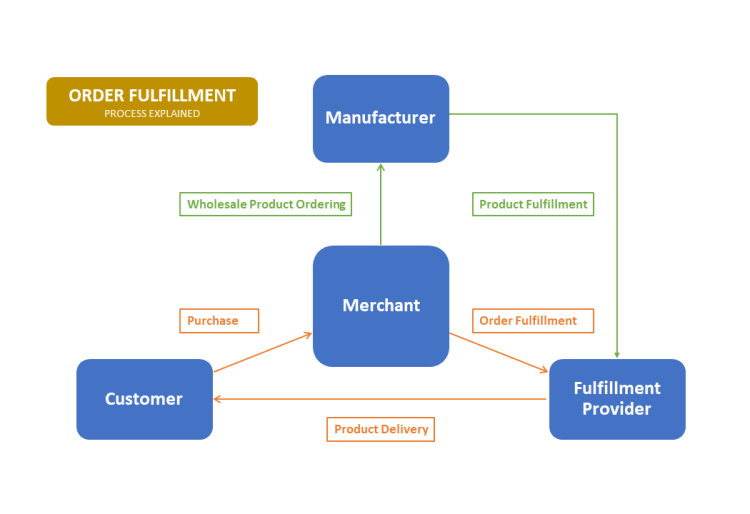 Dropshipping is seen as an easier alternative to Fulfillment, and one that requires low startup capital. In this process, the merchant doesn't have the product physically with them or in their inventory. Instead, the manufacturer creates and stores the products on behalf of the merchant. The merchant's pre-purchased product only leaves the manufacturer's once an order is placed from the merchant's ecommerce store. Once the order is made, the merchant forwards the buyer's order and shipping information to the manufacturer, and the manufacturer sends the product directly to the consumer from their warehouse.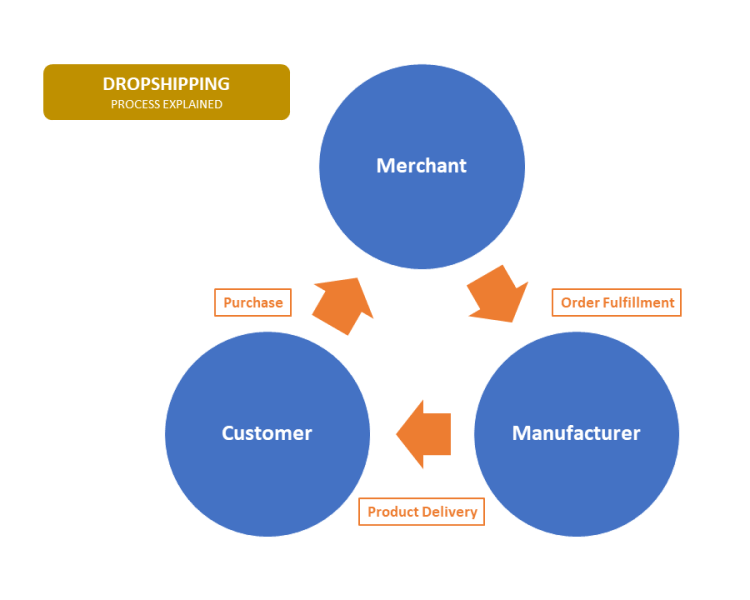 Merchants choosing to Dropship can save logistical time to market, while still making a nice profit, as they can purchase their ecommerce store's products at the wholesale price and sell them for higher retail prices on their website. It is then down to the manufacturer to fulfill the customers' orders.
Do You Need Ecommerce Fulfillment Service?
To answer this question, we'll have to take into consideration the size and needs of your business.
When You Do NOT Need Fulfillment Services?
If you're a small merchant who sells handmade, custom jewelry on a marketplace like Etsy, then you are probably capable of inventorying and selling your products directly from your home or office location. With Etsy, you have a very basic fulfillment like order tracking. Since this type of business is small and the output is low, your ecommerce will probably not need a fulfillment service.
When Do You Need Fulfillment Services?
On the other hand, for larger 
ecommerce businesses
, things will look a little bit different. The larger your web storefront, the higher the probability that there is more inventory for you to store and ship to your customers. This typically requires warehouse space and at least a small team of employees that you dedicate to shipping and receiving. Also, if you have a global customer base, then you should consider having a physical location in the regions where your consumers are placing their orders. For example, if you are producing organic cosmetics in bulk, then inventory control is a necessity. You would naturally consider outsourcing to a third-party fulfillment service, to see if it is possible to reduce your labor and software costs associated with inventory management. To help you meet the growing demand for your products, it might be best to leave your inventory to the professionals.
Benefits of Using Third-Party Fulfillment Software Solutions
There are also advantages to using automated fulfillment software, which is sometimes integrated into shopping cart and ecommerce solutions, such as 3dcart or WooCommerce. This software features instant shipping calculators and seamless integration with global carriers such as FedEx and UPS. This is important because many buyers will abandon their cart if they don't trust the delivery option.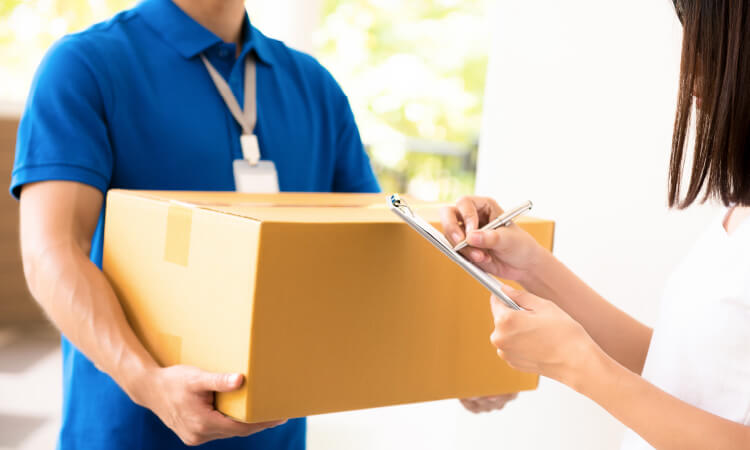 Of course, not every fulfillment service is the same, one should take a couple of things into consideration when deciding on the right one for their ecommerce. For example, monthly order volume, product types and where customers are located. If this isn't enough reason to depend on a third-party fulfillment service or software solution, then just keep in mind that you and your employees will be 100% responsible for professionally handling your ecommerce order processing, shipping and receiving. If there are delays or issues with the delivery of your orders, then your buyers will think twice before purchasing from you again.
Top Ecommerce Fulfillment Service Providers
Fulfillment by Amazon (FBA)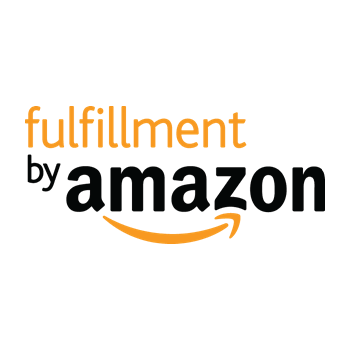 Fulfillment by Amazon
, or
FBA
as it is known in the industry, is the order fulfillment service provided by e-retail giant Amazon.com. That alone may be reason enough to use the service, but FBA does have offerings that tap into the extensive infrastructure and global presence of Amazon.com. These proven features provide your online business with a wider market reach and a trusted reputation. FBA can be used by anyone who sells online, including sellers of small items, those on multiple channels, and existing Amazon sellers. With FBA, you can leverage Amazon's extensive logistics and its network of over 140 fulfillment centers, that are spread out around the globe. The service can handle product processing and shipment, manage payments and refunds, and provide 24/7 customer support. FBA is well known for its quick processing, fast delivery and shipping times, climate-controlled warehouses, refunds and returns policy, and
quality ecommerce customer service
support. FBA integrates with all leading ecommerce and shopping cart platforms and works seamlessly with numerous third-party applications, providing your business unmatched scalability and flexibility. Among the many FBA highlights are:
140+ global fulfillment centers
Climate controlled warehouses
Fast delivery/shipping times
Easy returns policy
Solid 24/7 customer service
Multi-channel selling
Shipping rate discounts
Multiple shipping and payment options
Extensive integrations
Backed by Amazon.com
You get Amazon.com's full global resources, infrastructure, and logistics. However, FBA is just one of the many proven fulfillment services you can choose from.
Rakuten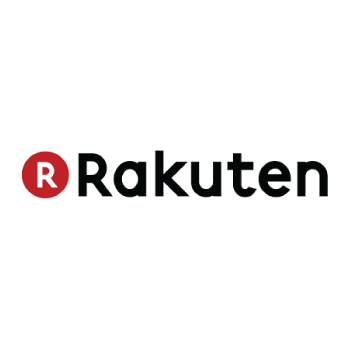 Rakuten
 is
one of the top ecommerce companies
based in Tokyo, Japan. It is also the largest ecommerce in Japan, operating the country's largest internet bank and credit card company. Their rapid growth is flagged by aggressive acquisitions and joint ventures. Several Rakuten Super Logistics reviews have shown that the provider can reduce fulfillment overhead and, more importantly, allow you to focus on your core tasks, including growing your business. Likewise, as a specialist in the field, fulfillment companies like Rakuten have the agility and expertise to keep your deliveries running on time and accurately, helping you build a positive reputation with your customers. Pricing is quota-based and set on monthly order volume. The service provider requires a minimum of 250 orders per month but can manage 10,000 and more orders per month. Likewise, pricing may also be based on inclusions, broken down in Rakuten Super Logistics' main services: order fulfillment services; ecommerce freight; dedicated client support; and ecommerce smart tools.
Cloud-hosted order management and inventory system to handle customer orders and processing
International and domestic freight service with pickup and drop-off
1-2 days delivery to almost any point in the US via ground shipping
Dedicated client support with 3-hour response time
A suite of technology tools powered by SmartSuite for inventory, shipping, and analytics
The company also provides other business services to help you grow the business. These include marketing services, marketplaces for your products and customer loyalty program. However, it is best to attribute marketing to a specialist agency, CRM or marketing automation software that has a more in-depth understanding of this field.
FedEx Fulfillment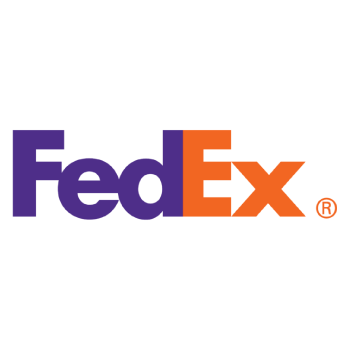 FedEx Fulfillment
 is relatively new to the industry as this ecommerce solution was launched early in 2017. It is a subsidiary of FedEx Corp. and helps small and medium-sized companies fulfill orders from multiple channels, including online marketplaces and websites, as well as omnichannel support for shipping inventory for their retail outlets. In short, the solution is an integrated supply chain product that utilizes an easy-to-use platform and FedEx's renowned transportation networks. FedEx Fulfillment is a reliable logistics solution that offers warehousing, packaging, fulfillment, transportation, and reverse logistics services to its clients. Its platform manages inventory and integrates selling channels. Fast-growing ecommerce businesses can opt to use FedEx Fulfillment, as this vendor can move goods efficiently and reliably. Plus, this service has the backing of the established FedEx infrastructure which means its clients can outsource their fulfillment and logistics needs to the provider and focus on growing their business. The FedEx Fulfillment platform provides its clients full visibility into their products and gives them a simple way to track, handle inventory, evaluate trends, and make educated decisions by understanding their shoppers' spending behaviors. This provider's unique selling propositions are same-day fulfillment cut-off times, two-day ground shipping to most of the US population, and the infrastructure for a smooth returns process. Clients can store their products at FedEx warehouses in the US and Canada. FedEx Fulfillment will package and ship the items to customers. The best part is they offer white label boxes with your brand's logo, rather than the FedEx logo.
ShipBob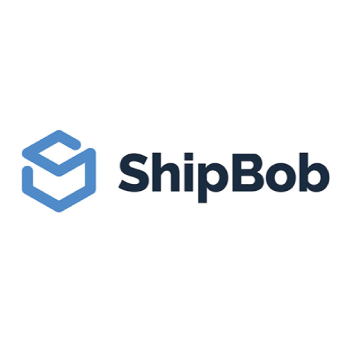 ShipBob
 is an all in one fulfillment service, with an aim not to disappoint. They are consumer-oriented, boasting two-day delivery of products, and fantastic integrations with some of the top ecommerce solutions like Shopify, Magento, and WooCommerce. Most ecommerce are quick to choose ShipBob simply because they handle inventory in a very convenient and effective manner. They have multiple warehouses and handle orders for free, as well as inventory management. It's also ideal if you want to do custom branding of your products. What's also convenient is that their system is cloud-based, so there is easy access to real-time updates. Reports and analytics help any merchant manage their forecasts and make the right business decisions. Their insights help you take care of your inventory level and keep on track. If you're looking for a trusted carrier, ShipBob is the right choice. Another wonderful aspect is its order status lets you know how the order is being processed, whether it's completed or canceled. The final buy-in is their return processing techniques. If the delivered product is faulty in any way, they handle the returns.
ShipMonk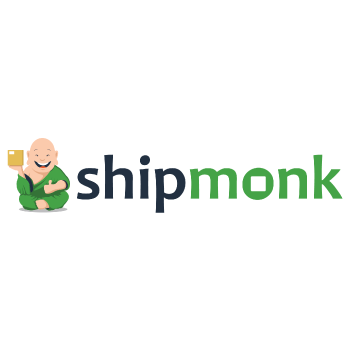 ShipMonk
 aims to fulfill your business needs intuitively. It comes with robust API integrations that can be used by the distributor. Their system synchronizes seamlessly with your shopping cart online and imports all fulfillment orders. The software is designed to help handle ecommerce orders easily, and at reasonably priced rates. To avoid working with incorrect numbers, all charges are correctly identified by the calculator. The size of your business doesn't matter. ShipMonk handles more than 10,000 orders a day. There are no order minimums with ShipMonk. You can sell one product to your customers comfortably. This delivery service allows you to distribute your products to their different warehouses, directly from your supplier. For integration, ShipMonk does not charge the merchant anything. That doesn't mean they aren't experts at it. Truth is, more than 100 shopping carts are attached to the system. For major channels like Shopify, BigCommerce, and 3dcart, it works well. The processing of the order is where the intuitive nature of their software comes into play, by selecting the most suitable method of shipping, and determining if an item is in stock. They verify the address of the delivery of an ordered item. They mitigate the possibility of a customer's order being lost. The software also automatically sends an email tracking number to the customer. If you're looking for a product that's designed to help you promote your brand, then you shouldn't look any further. ShipMonk will figure it out for you. Also, you can set guidelines that are strictly followed by the company during the handling of custom packaging. Returns will always happen, no matter what you do or what fulfillment service you choose. They are however better than chargebacks. Favorably, ShipMonk makes returns part of the entire fulfillment process.
ShipStation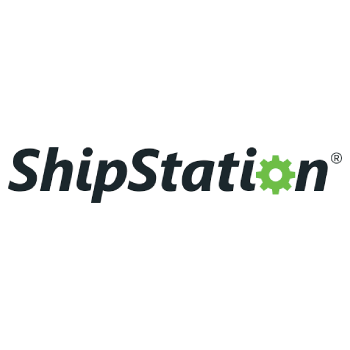 ShipStation
 allows the merchant to run through a 30-day free trial period on all its apps. It links to prominent marketplaces like Amazon, eBay, and Walmart, in addition to its integration ability with strong ecommerce platforms. It has a website for self-service tracking that is open to merchants and customers alike. It is certainly a good way to build the trust of a buyer and retain regular customers. ShipStation is known for its low shipping costs. They help you compare all major carriers ' prices and their delivery times. It can be daunting to deal with huge orders. As a solution, ShipStation is equipping you with a mobile app where you can almost instantly monitor all transactions. ShipStation features including:
Pending order checks
Access to all shipping rates and custom quotes
Realtime views of all reports and analytics to handle all orders via Amazon FBA
Monitor each shipment and receive tracking emails
The interface is designed to provide the user with a seamless experience. The code can filter all the information and automatically monitor all orders. ShipStation is not limited to retailers of high-end. It has six pricing packages that are flexible to accommodate all sizes of companies. ShipStation is suitable for any ecommerce that handles a large volume of orders and wants a fulfillment service that does packaging, inventory management, and quick integration at a discounted price as well.
Red Stag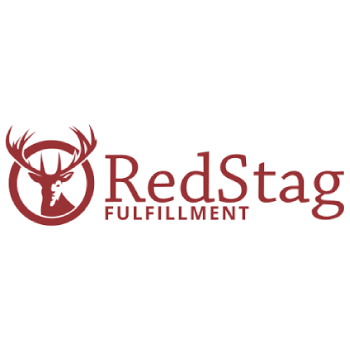 Red Stag Fulfillment i
s a popular US-based ecommerce order fulfillment services provider that specializes in shipments over 5 pounds. They offer a 100% guarantee for their 48-hour, dock-to-stock time, order accuracy, order speed, and inventory accuracy. This vendor stands out in the market as it combines cloud-based fulfillment software with excellent operations, to take care of your specialized product fulfillment needs. Red Stag is good for fragile, high-value, and oversized goods, items above five pounds, and products that need customization or light assembly before shipment. Red Stag has struck a useful deal with FedEx that enables them to ship oversized and heavy products at considerable discounts. Plus, they use state-of-the-art quality control solutions to video-track their warehouses and packing locations to prevent theft, packing mistakes, and shipping damage. If they make an error in their service, they promise to pay you $50 for each occurrence. Their video-monitored packing infrastructure reduces mistakes to 1 in every 150,000 packages. They do this by placing video cameras over each packing station to protect businesses from customer claims of erroneous orders. This reduces fraud and theft and saves money for its clients. As mentioned earlier, their exclusive deal with FedEx enables this provider to offer significant discounts on shipping oversized and heavy goods. On top of that, they also have affordable rates for orders needing light assembly or custom branding. The company charges lower storage fees compared to many others, so it's a good choice for enterprises with slow inventory turnover.
Conclusion
All in all, a successful ecommerce business needs to consider all aspects of the fulfillment process, whether they are a small or large company. First, you get your ecommerce set up and your products displayed, at the same time you consider your payment processor to help handle your customer support and chargebacks. Shipping is the final and most crucial step towards completing the ecommerce fulfillment process. If you get this right, you will see it positively reflected by your business success and the abundance of customers. If you are just starting perhaps you can handle the process by yourself at the beginning. However, you'll see later, as your 
ecommerce business
 grows, the best choice for your company would be to let a team of experts handle the fulfillment process for you, so you can focus on your core business needs. Many third-party processors and shipping systems can help take the hassle out of your everyday monotonous tasks.