Introduction
Thanks to the internet, now, more than ever before, national borders and oceans are no longer an insurmountable obstacle for reaching customers. Modern technology and global financial interconnectivity allow consumers can buy from any ecommerce merchant offering international service, and receive deliveries in record time, as if they ordered from a local brand.  
Going cross-border has its advantages for a business as the market for a product can grow exponentially. However, it is important to remember that selling locally can be very different from selling in another country, even if the country is a geographic neighbor.
The goal of this guide is to inform merchants about the opportunities and challenges international business presents, as well as what it takes to start a global ecommerce operation, and how to prepare for the transition process.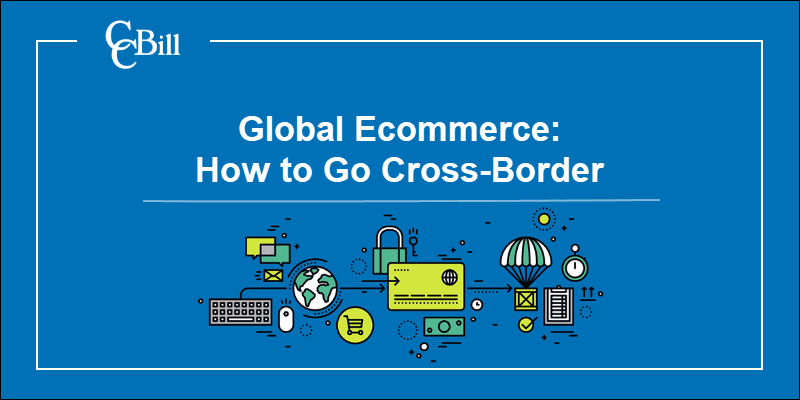 What is Global Ecommerce?
Global ecommerce is an ecommerce subindustry consisting of online businesses that expanded from their local to foreign markets, reaching customers beyond political borders.
According to data from Statista, an average of 71% of online businesses eventually expand their market from local to international.
Global Ecommerce Statistics
Ecommerce sales in Latin America are expected to reach $160 billion by 2025.
India's ecommerce market is expected to reach $200 billion by 2026.
Digital sales in the Asia-Pacific region amounted to $2.992 trillion in 2021.
The country with the highest ecommerce share in retail is China.
The largest ecommerce niche in the world is fashion.
Benefits of International Ecommerce 
Expanding an ecommerce business to a global market can benefit both merchants and consumers. 
Merchant Benefits
Merchants benefit from going global in the following ways:
Larger audience.
Better brand awareness.
Expanded customer base.
Better insights on local trends.
Easier to analyze the feasibility and profitability of opening physical locations.
Opportunity to test pricing strategies in different markets.
Consumer Benefits
Consumers benefit from global ecommerce shops in the following ways:
More brands to choose from.
Wider choice of products.
The ability to shop 24/7/365.
Access to brands that have not entered their country's market.
Challenges of Global Ecommerce & How to Overcome Them
Achieving global reach is a step towards growing a business but presents several challenges. Get acquainted with the obstacles ecommerce merchants face before they can sell internationally and how to overcome them.
Lack of Personal Interaction with Customers
In-store experiences and personal interactions are crucial sale-driving factors in traditional brick-and-mortar retail.
Ecommerce lacks that human touch but makes up for it with personalization techniques, live engagement platforms, and quality customer support. Global ecommerce shops that successfully implement both make customers feel seen, heard, and valued.
---
Note: For more information on how to provide a flawless customer experience, refer to our guide Omnichannel Customer Experience – Everything You Need to Know.
---
Greater Competition
Going global means competing against a vast sea of online businesses, which is why it is crucial to find a way to stand out.
Some of the features of a unique and recognizable online business are:
Competitive prices.
Unique selling points.
Pleasant user experience.
Attention-grabbing design.
---
Note: Get acquainted with the latest Ecommerce Website Design Trends, and discover 12 Web Design Tips that will improve the look, feel, and performance of your online shop.
---
Multi-currency Payment Processing
Multi-currency payment processing allows customers to pay and merchants to receive funds in their local currency.
Some of the challenges associated with multi-currency solutions are:
The website must be translated into several languages.  
The solution is of little use if shipping costs too much. 
Most payment processors charge an additional fixed fee per multi-currency transaction (a currency conversion fee that is typically around 1% of the transaction amount). 
Multi-currency payment needs to be integrated with the payment gateway. 
---
Note: CCBill's payment processing solutions are trusted by online businesses of diverse sizes and niches across 196 countries. Going global is easy when you have solutions that accommodate the needs of your ecommerce store, so get in touch today! 
---
Complex Marketing Operations
Ecommerce marketing for international businesses is far more complex than for local ones. Global ecommerce marketing strategies must consider and overcome the following factors:
Time zones
Spending capabilities
Local trends and demand
Climate
Local lifestyles
Language barriers
Geopolitical and cultural backgrounds
Merchants can overcome these obstacles by:
Conducting thorough market research.
Following local trends.
Creating local buyer personas for different countries.
Using marketing mediums that allow control over publishing times (SMS, emails, social media, etc.).
Employing an affiliate program and partnering with local influencers.
Creating different social media accounts for different languages and launching ad and email campaigns in the local language.
Avoiding any mention of sensitive geopolitical and cultural topics, except for exclusive offers during major holidays.
Technical Infrastructure
Any store designed to be launched on a global scale must be built upon reliable technical infrastructure and be accessible to prospects from any country.
These goals are achieved by optimizing the following factors:
Hosting. Website loading speed is proportional to visitors' proximity to the server a website is hosted on. Partnering with a hosting provider that provides services on all continents is paramount for optimal loading speeds across the globe.
Localization. Translating a global ecommerce shop removes international language barriers. Brands either implement a language-change button, or create different store views for different countries. The optimal selection of languages to translate to depends on a number of factors, including target markets, website traffic, cost of translation, etc.
Currency. Shopping from a brand shipping internationally is a challenge when the shop lists prices in a not-so-commonly used currency. But even when shops display prices in dollars, euros, or pounds, fluctuations in currency exchange rates still happen. The solution to these issues is to employ a real-time on-page currency convertor, or develop an option that allows customers to select the currency they want prices to be displayed in.
Difficulty Meeting Customer Expectations
Customers expect around-the-clock customer support and multiple shipping options to choose from.
Whether they are outsourcing or hiring internally, global ecommerce merchants must invest in 24/7/364 support. A clever and affordable method is to employ an ecommerce chatbot, and forward assistance requests to live personnel only when necessary.
Global fulfillment operations are complex, but customers demand options. Some customers prioritize quick shipping times and are willing to pay extra for it, while others prefer waiting for their products longer if it means that shipping is free. Because of this, merchants must partner with several fulfillment providers to ensure timely deliveries and accommodate all their customers' needs.
Establishing Trust with Customers
In-person experiences are the best way to build trust with prospects, but what can businesses do when such experiences are not an option? This is often an issue for online-only businesses and retailers testing foreign markets.
Fortunately, as the ecommerce industry evolved, marketing experts discovered ways to assure prospective customers that a brand or product can be trusted, such as:
Reviews and testimonials
Trust badges
User-generated content
Another way to reassure customers is to establish a return policy that allows returns and exchanges under reasonable conditions. However, handling returns on a global scale is something not all ecommerce businesses can afford.
In such cases, merchants should analyze their customer base, communicate with their fulfillment providers, and identify countries they can afford to allow returns to. The return policy must then clearly state from which countries customers can return or exchange products.
Make it clear to customers that they will receive what they order and that they have options if they are unhappy with their purchase. Also, assure them that their data is being handled according to the highest security standards. 
How to Prepare for Going Global – 3 Things to Consider
Before going global, merchants must investigate good business opportunities and establish an expansion plan.

Product Demand
Product demand and shopping trends are different in every country. Aligning marketing and sale efforts with local habits brings the best results.
Product demand also influences storage and fulfillment operations. A best-selling product should be kept in warehouses near the countries with the highest demand to ensure fast shipping.
Analyze your product offerings and different countries' shopping trends and select fulfillment providers based on those insights.
Market Gaps
Identifying market gaps in different countries and being the first to fill them gives global ecommerce brands a good head start on a local market.
Conduct thorough market research to find these market gaps. Sometimes it is as simple as having a mobile-friendly shop, and other times it is more complex, like demand for a unique product that has not been introduced to that market yet.
Expansion Goals
Before expanding to international markets, merchants must establish expansion goals. An ecommerce store going global should:
Incorporate changes in the shop's design (translations and currency conversions being the minimum requirement).
Expand payment options and accept multiple currencies (or enable currency conversion).
Switch to multiple international fulfillment providers.
Owners of brands with physical stores can also consider the option of opening physical stores across the world.
How to Build an International Ecommerce Strategy in 7 Steps
Now that you are familiar with the challenges, it is time to build an expansion strategy. The following steps explain the process.

Pricing
Product pricing depends on the following factors:
Procurement costs
Shipping costs
Import fees
Taxes
Some businesses take customers' purchasing power into account, as well.
There are two ways to go about international pricing:
Establishing a single price that can cover procurement and fulfillment expenses and merchant fees in every country. This option may cause a loss of customers who cannot afford a product.
Showing different prices (store views) to different countries, based on local conditions. This solution is customer-friendly but reduces possible revenue.
---
Note: Having trouble deciding on a pricing model? Explore the best subscription pricing models, brush and learn more about the benefits of dynamic pricing.
---
Payment
Going global means marketing and selling to customers who use numerous different payment methods. Global ecommerce businesses must strive to provide the payment methods their customers prefer and expand the options over time. A recent trend to consider is Buy Now, Pay Later (BNPL). 
---
Note: For more information on different payment options, refer to our article Preferred Payment Methods for Online Shoppers.
---
Customer Service
Decide whether to hire internally or outsource customer service and support. Determine which languages you will provide support for by looking at the existing or expected demographic of your business's audience and customer base.
---
Note: For tips on how to provide top-level customer support, check out our article Ecommerce Customer Service: Benefits and 10 Best Practices.
---
Shipping and Logistics
Customers want a variety of shipping options, so partnering with several fulfillment providers is a must. The right selection of fulfillment providers ultimately depends on the conditions set by the provider, (such as price, guarantees, delivery times, regions the company covers, and similar) and how well they suit a business.
Analyze your business's and customers' needs and compare offers by providers before making the final decision. Prioritize affordability for customers. Also, follow world news to learn about any events that could impact shipping times and keep your customers updated. 
---
Note: Use our guide What Is Ecommerce Fulfillment to help you create an effective ecommerce fulfillment strategy.
---
Compliance with Laws
Selling internationally means complying with local laws and regulations. This will affect:
What can be sold and shipped
How customer data is stored and processed
Taxes
Import regulations
Local export procedures
Company- or country-related sanctions
It is also important to learn about cultural norms and regulations. An example of a cultural regulation that affects what can be sold is the HALAL standard.
Laws regarding the collection and handling of customer data vary between different countries and regions. For example, businesses expanding into the European market must follow EU data protection laws, such as the General Data Protection Regulation (GDPR). The US equivalent of the GDPR is the California Consumer Privacy Act (CCPA). Countries of the APAC area regulate laws on a state, not regional, level.
Conclusion
You now know what global ecommerce is and what benefits and challenges it poses to merchants. Use the information provided in this guide to determine whether your business is ready to expand and sell internationally.
About the author