Introduction
2-6% of people who visit an online shop add products to their carts. However, a staggering 70-80% of those prospects never complete the purchase. This is known as shopping cart abandonment and is a burning issue faced by ecommerce merchants worldwide.
Fortunately, the reasons behind cart abandonment are often simpler than merchants realize and can be eliminated with quick and targeted action.
Discover 17 cart abandonment solutions that address all common customer pain points, and use them to recover carts, increase sales, and grow your business.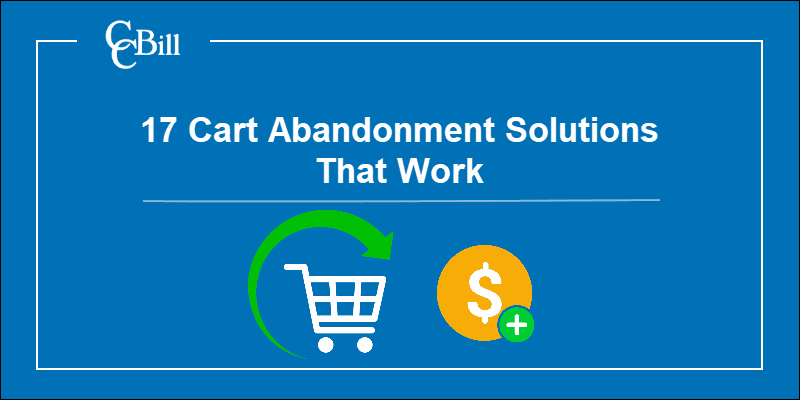 17 Ways to Reduce Cart Abandonment
Before making any drastic changes to their online business, merchants must investigate the specific reasons that are driving cart abandonment on their ecommerce website. The fix might involve just minor tweaks to the shopping experience or a combination of conversion optimization measures.
Read through the following 17 tried and tested cart abandonment solutions and find the ones that are applicable to your case.
1. Ensure Pricing Transparency
The most prevalent reason for cart abandonment is hidden (and high) extra costs. Product pricing, taxes, shipping fees, and any other extra costs must be clearly stated from the get-go.
To make pricing as transparent as possible:
Display the final price (with fees and taxes included) on product pages.
Include a breakdown of taxes and fees during checkout.
Include tax and shipping calculators on help, FAQ, and checkout pages.
2. Establish a Reasonable Return Policy
Having a strict return policy prevents fraud and policy abuses but makes customers doubt a brand and avoid shopping from them. Customers must be able to replace faulty products and exchange those that do not match the product description, or they will switch to a competitor.
On the other hand, despite being able to return products, customers may avoid doing so due to the complexity of the procedure and shipping costs. Because of that, it is crucial to make the returns process as streamlined as possible and refrain from charging shipping for returns if possible.
One way to offer free returns and not lose revenue is to include a small percentage of return shipping into product prices. Most customers will not return products, and those who do will appreciate being able to do so without additional expenses.
To establish a reasonable return policy:
Make returns and exchanges available to customers.
Establish reasonable conditions for returns and exchanges.
Offer free returns, if possible.
Generate shipping labels customers can print.
Partner with different shipping providers so customers can select their preferred one.
---
Note: There is no good return policy that prevents refunds completely. Learn How to Respond to a Refund Request in a way that saves sales.
---
3. Implement Pop-Up Messages
The development of smart behavioral software allows merchants to determine their visitors' intent and the stage they are at in the customer journey. These insights are used to segment prospects, and target them with the right short-format content.
For example, the software can detect that a user is visiting an ecommerce site for the first time. This information is then used to create an automated event that displays a pop-up window to first-time visitors. This pop-up will contain informational content – brand history, product offerings, and FAQ about ordering, payments, and shipping.
This same technology can be used to determine exit intent – a user's intent to leave a website, which is essentially cart abandonment. Customers displaying signs of exit intent can be targeted with unique offers that will make them reconsider their purchase decision.

4. Use Push Notifications
User intent discovered using smart behavioral software can also be employed to create and launch push notification campaigns. The only differences between pop-up messages and push notifications are:
The amount of content that can be displayed. Pop-up messages can display significantly more content than push notifications.
The way the medium is received. Push notifications reach people via web browsers and smart devices, while pop-up messages are limited to web browsers.
The amount of space for creativity. Pop-up messages are more customizable. However, push notifications are constantly getting more functionalities, as well as creative and interactive elements.

5. Send Cart Abandonment Emails
Cart abandonment emails are an efficient and affordable tool that, with the right content, gently pushes the customer to complete the purchase. A successful cart abandonment email campaign captures and reengages customers with compelling copy, striking design, and clear calls to action.
---
Note: For more on this topic, refer to our guide Abandoned Cart Email: What Is It and How to Write One.
---
6. Improve Website Loading Speed
Optimizing websites for fast loading speeds is not only UX and SEO etiquette but also crucial for keeping customers. If a website is taking too long to load, customers will lose their patience and give up on their purchases.
Here are some of the ways to improve website loading speed:
Reduce the size of images and compress them as much as possible without reducing image quality.
Use lightweight themes if using ecommerce platforms and website builders.
Remove excess plugins from ecommerce platforms.
Use caching.
Minify code.
Use a content delivery network (CDN) - a geographically distributed server network.
Partner with a trusted web hosting provider and, if possible, use dedicated hosting.
Use as few fonts as possible.
---
Note: If your store is powered by Magento, refer to Magento SEO: A Comprehensive Guide and Checklist for more information.
---
7. Launch Retargeting Ads
According to WordStream, retargeting ads are 76% more likely to be clicked on. The success of retargeting ads can be attributed to the fact that customers are being reminded of the products they already want but left behind.
The more customers see a product they abandoned, the more likely they are to change their minds and buy it.
8. Use Chatbots
Chatbots are a versatile and popular ecommerce marketing tool. Their automation capabilities and ability to follow customers during their shopping experience make them an irreplaceable asset.
Ecommerce chatbots can be used to reduce cart abandonment by:
Sending customers a message with their cart contents and an incentive when they re-visit a store where they previously abandoned a cart.
Informing customers about the shopping, payment, and shipping process.
Helping customers troubleshoot website and payment issues.
Informing customers about the return policy.
---
Note: For more information on using chatbots for ecommerce, refer to our guides Ecommerce Chatbots: How to Use Them to Boost Sales and How to Add a Chatbot to Your Website.
---
9. Implement a Live Engagement Platform
Although chatbots are useful, their functionality is limited. Sometimes, customers seek live personal assistance, and the easiest way to provide it is via live engagement platforms (live chat, video calls, etc.)
Live engagement platforms not only enrich user experience but also reduce cart abandonment. If a customer is having technical issues of any kind, or finds it difficult to complete checkout, live support can help and prevent them from abandoning their purchase.

10. Use SMS Marketing
Brands collect customers' phone numbers when they:
Register for an account for an ecommerce store.
Apply for a loyalty program.
In both cases, brands typically ask customers for permission to send promotional messages. Promotional messages can also be used to send customers a link to their abandoned cart, followed by an incentive in the form of a discount or free shipping.
11. Provide Social Proof
Some customers are more hesitant than others when it comes to shopping from a new brand, or shopping online altogether. Building trust is a must because customers want to be sure that:
Their payment data is safely processed.
They will receive their order.
The products they receive will look and work as described.
Including the following elements in an ecommerce shop is an easy and effective way to build trust with customers:
Trust badges
User-generated content
Testimonials and customer reviews
Labels for all-time best sellers, trending products, leftover stock, page visits, etc.
12. Ensure Checkout is Streamlined and Transparent
Whether in person or online, customers want a quick and easy checkout. If the checkout form consists of too many steps and does not show them how far they have progressed, the customer will give up halfway.
Implement a one-page checkout or segment the process into clearly defined groups of steps. Multi-step checkout typically consists of the following stages:
Cart overview
Delivery and contact information
Payment method selection and data input
Final order overview and purchase confirmation
---
Note: If your store is powered by WooCommerce, read our guide on How to Customize WooCommerce Checkout Page Layout.
---
13. Allow Guest Checkout
Forcing customers to create an account negatively affects UX because it does not take the following into account:
Not all customers are comfortable with companies saving their delivery and payment data.
Setting up an account takes time that some customers do not have.
Allowing guest checkout addresses both issues and allows customers to complete their purchases more quickly.
14. Offer Multiple Payment Options
Customers sometimes abandon their cart because their preferred payment option is not available. The most popular payment methods are debit and credit cards, but customers are exploring alternatives. Examples are PayPal, eChecks, cryptocurrencies, Google/Apple Pay, "buy now, pay later" (BNPL), etc.
New businesses can often only afford to support the most popular payment methods because of processing costs. However, as a company grows, the list of available payment methods should also expand.

15. Implement Wish Lists
Customers who are not determined to shop from a specific brand compare offers from multiple shops. While some use price-comparing websites, others do it manually. In the process, shopping carts become shopping lists.
Enabling a wish list allows customers to save products for later, check on price changes, and avoid using the cart until necessary, thus preventing cart abandonment. Customers will also appreciate if the wish list grants them the option to create product collections for better organization.
16. Offer Multiple Shipping Options
Customers may give up on a purchase when they find out a brand is not partnering with their preferred shipping provider, or the options listed come with a hefty price. Most customers are willing to wait for delivery if it means they will pay less. However, some customers require urgent delivery, and such options should be available to them.
---
Note: Find out What Is Ecommerce Fulfillment and how to choose the right fulfillment provider for your business.
---
17. Make Shipping Free
90% of consumers would shop online more often if they were offered free shipping, and 24% of consumers are ready to spend more per purchase to make their order qualify for free shipping.
It is not always possible to waive shipping costs but there are solutions that can help encourage customers to complete their purchase:
Offer free shipping above a certain price threshold.
Make certain items eligible for free shipping.
Give free shipping as a reward to repeat customers (e.g., after a certain number of individual purchases).
Include shipping costs in product prices so customers do not feel they are paying extra for delivery.
Conclusion
You now know how to reduce existing and prevent future cart abandonment. Use the information provided in this guide to build trust with customers, enhance their shopping experience, prevent sales losses, and increase online revenue.
About the author