Introduction
As many as 7 out of 10 online shoppers abandon their carts, causing the ecommerce industry an annual sales revenue loss of $18 billion. The severity of this issue is emphasized by the fact that these losses are expected to rise to $4 trillion this year.
Minimizing cart abandonment should be of the utmost priority to any merchant. One way to lower abandonment cart rates is through consistent and thorough optimization of sales strategies. However, the most cost-effective way to reduce cart abandonment is to employ email marketing.
Find out what an abandoned cart email is and how to design and launch a cart abandonment email campaign.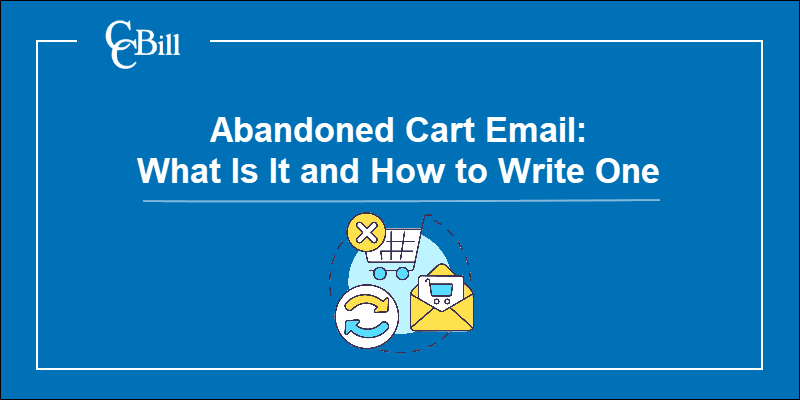 What is an Abandoned Cart Email?
An abandoned cart email is an email a customer receives when they add products to their cart but fail to complete the purchase.
Cart abandonment emails use ecommerce personalization to convince customers to reconsider the products they left unpurchased. Personalization techniques are applied to the typical elements of cart abandonment emails:
The text - The customer is addressed by name.
The products - The email displays the products in the abandoned cart and the upsells and cross-sells are relevant to them.
The incentive - Special deals in the form of freebies (such as wishlist items or product maintenance tools), a discount code, or free shipping.
Abandoned Cart Email Examples
The following are examples of abandoned cart emails that work.
Rudy's
Rudy's is a barbershop and hair and beard maintenance product shop. Their abandoned cart email features a relatable and memorable message that, even if it does not convince a customer to reconsider a purchase, will surely make them smile.

The witty message is not the only reason this email is a good example. The email also features:
A simple and straightforward cart preview.
Incentives in the form of free shipping and a discount code.
Urgency created by informing the customer that the cart will expire soon.
Whisky Loot
Whisky Loot is an alcoholic beverage subscription service that embraces playful branding.

Before exploring the contents of the abandoned cart email, the customer reads a humorous, attention-grabbing phrase – "Your cart is sobering up." What follows is a witty list of pros and cons of the subscription service and an FAQ section that addresses and relieves customer's concerns.
Bonobos
Bonobos is a men's fashion brand.
Their abandoned cart email campaigns work because they call to action and provide a solution to common customer pain points right off the bat.

In addition, their emails often provide a first purchase incentive and highlight the brand's free shipping and returns policy.
Adidas
Adidas uses casual and playful language to communicate with its youthful (and young-at-heart) audience. The brand utilizes social proof in the form of user-generated content and customer reviews to convince prospects to change their minds.

How to Launch an Abandoned Cart Email Campaign
Cart abandonment emails are sent automatically via marketing services, all-in-one ecommerce platforms, or customer relationship management software (CRM). These software solutions allow brands to design the different elements of the email and schedule it to be sent at a designated time.
The following are the most popular email campaign management services:
Mailchimp
Sendinblue
Hubspot
Omnisend
Klaviyo
The cost of these services is directly proportional to the number of emails a company wishes to send monthly. The investment, however, is worth it.
On average, every cart abandonment email earns $5-$6 in revenue, and email marketing campaigns are one of the more affordable marketing strategies.
Abandoned Cart Email Best Practices
Creating cart abandonment email campaigns with best industry practices in mind ensures that the emails invoke the right feelings and send the right message. Follow these best practices to write and design an effective abandoned cart email.
Include a Clear Product List
The main goal of cart abandonment emails is to remind customers about the products they did not buy. Therefore, the crucial element of these emails is the product list.
When listing your products, ensure the following:
Make the list the centerpiece of the email – The product list should take up most of the space. Keep in mind that a good list does not look bulky or require much additional scrolling.
Limit the list to three products – Cart abandonment emails must be short and straight to the point. List three products and guide customers with more products back to their cart. Listing more than three products will distract the customer from the calls to action (CTAs). In addition, smartphone and tablet users would have to scroll endlessly to get to the end of the email.
Include relevant product information – Relevant product information helps the customer remember what they left behind. Examples of essential information include size, color, quantity, material, etc.
Include product images – Online shoppers buy what they see in images. Writing is of little use to customers if they cannot see the product.
Include Clear and Eye-Catching Calls to Action (CTAs)
Calls to action are design elements that prompt a response from the user. In the case of a cart abandonment email, a CTA would be the button that leads a customer to the cart preview page.
Best practices for CTAs are as follows:
Include at least two – The first CTA drives interest – it calls the user to see the contents of the email. The second CTA converts – after the user sees the products, they must once again decide whether to complete the purchase or not.
Place the first CTA as high up as possible – For the first CTA to fulfill its purpose, it must be one of the first things a customer sees after opening the email.
Make CTAs big and bold – Eye-catching CTAs feature prominent buttons, colors that contrast the background, and capitalized writing.
Choose the Right Approach (Formal vs. Casual)
The copy is a crucial component of every cart abandonment email as it directly affects two things:
Whether a cart abandonment email will be opened.
Whether the email will successfully drive the customer into buying the products they considered.
Brands can take a formal or casual approach, both of which have their pros and cons.
Formal copy is straightforward, which some customers value. However, it may not catch the readers' attention and is not memorable.
A casual approach to writing a cart abandonment email includes witty messages, puns, and wordplay. Such emails invoke a positive emotional reaction in customers, which is essential to driving sales and creating repeat customers. However, playful language should be used with moderation since overuse can leave an unprofessional impression.
If a brand's product offer is modern and fun, and playful language is a part of its branding, such language is expected in all marketing collateral, including cart abandonment emails. A lighthearted approach, however, is not optimal for some types of products and subscription services, e.g., medicine, medical equipment, or memorial products.
Emphasize Key Selling Points
A key selling point is what differentiates one brand from a sea of brands in the same industry. Cart abandonment emails are a great place to remind customers of a brand's key selling point.
Examples of selling points worth highlighting are:
Sustainable production and shipping practices.
Always free international shipping and returns.
Social activism (donating a percentage of revenue to charity).
Money back guarantees.
Use Urgency
Successful application of urgency compels customers to make a purchase. In cart abandonment emails, urgency is used to tell customers about:
Limited or low stock-products – Customers tend to abandon products when they think that a product will remain in stock for a while. If a product is selling out quickly, make sure to let the customer know.
Promotional activities that will expire soon – If a customer likes a product but is unsure whether to buy it now or later, informing them about limited-time offers will make them feel that they must seize the best deal must quickly.
Urgency is emphasized with time-sensitive language and power words and phrases, such as fast, now, quick, hurry, while supplies last. Also consider adding dynamic elements, such as:
Leftover stock labels that update.
Timers for limited-time offers.
Cart expiration timers.
Include Social Proof
Customers are distrustful of new or online-only brands. An efficient way to build customer trust through cart abandonment emails is to include social proof in the form of reviews, 5-star ratings, and bestseller labels.
Divide the Campaign into Phases
Sending one cart abandonment email does not guarantee that the customer will see it. The email may get lost in a sea of other emails or filtered into a promotional email folder the customer does not check.
Sending several emails increases the chances of them being seen and opened. The standard industry practice is to send one email followed by one to two follow-ups in a span of a few days.
The first email reminds the customer of the products they abandoned. The second email creates a sense of urgency around the products from the first email. The third email is the final attempt to hook a customer by recommending products similar to the abandoned ones.
Make sure not to overdo the follow-up emails as the customers might perceive them as spam and their email spam filters might quarantine them.
Time the Emails According to Your Buyer Persona's Schedule
The best time to send a cart abandonment email is the one that ensures customers see and open it.
Identifying that time can be challenging considering that different lifestyles allow different screen time. Identify buyer personas and conduct research to identify their behavior patterns. Use those insights to schedule cart abandonment emails accordingly.
Incentivize
Customers give up on a purchase if they do not consider it valuable enough. Companies add value via:
Gifts
Discounts
Free shipping
Incentives should be kept to a minimum and used as a last resort. Overusing incentives may train customers to always wait for better deals. An appropriate time to offer a discount would be if a customer often looks at a product but never buys it.
---
Note: For more ideas for incentives, read our Loyalty Discounts Guide for Online Businesses.
---
Include Your Shipping and Return Policy
Every ecommerce business should strive to include its policies wherever relevant and possible. Brands with a fair return policy that permits exchanges, returns, and refunds should highlight that policy in their cart abandonment emails. Customers will be more confident to buy from a brand knowing they have options if the product is faulty or not what they expected.
Test and Optimize
Create several designs with different element layouts and copy styles and send them at different times of the day. Monitor open rates and click-through rates. Use these insights to optimize existing campaigns and design better ones in the future.
Cart Abandonment Reasons
The following are considered the most common reasons for cart abandonment.
Strict, unclear, or non-existent return policy.
Unexpected fees.
Account requirement.
No distinct cart total (with extra fees included).
Complicated checkout process.
Limited and costly shipping options.
Slow delivery.
Website or payment gateway malfunction.
Lack of payment methods.
Payment failure.
The best way to address these concerns and reduce cart abandonment rates is to:
Adopt a customer-centric approach.
Partner with a reliable payment processor.
Ensure a secure and effortless checkout process.
---
Note: Check out our more in-depth articles on cart abandonment reasons and various cart abandonment solutions.
---
Conclusion
When done right, abandoned cart emails are a cost-efficient way to reengage customers, build trust with your target audience, and recover sales that would otherwise be lost.
Use the tips and examples in this guide to design and launch a unique and successful cart abandonment email campaign.
About the author