When it comes to personal goals, it shouldn't be surprising to learn that finding intimacy with a romantic partner ranks high on the top 10 list. Twenty years ago, the options for finding an ideal love were limited to meeting that special someone through your friends, at work, maybe at church, via a community group, at 'The Club' or at your corner bar.
Today, technology has changed the dating game. Some may say that the evolution began in the mid-1990s when all that was needed to go online was a computer, laptop, and dial-up connection. Meeting new 'dates' online was as simple as setting up a dating profile and selecting your preferences on internet-based dating websites. These online dating sites provided subscription-based memberships to adult consumers who were looking to connect and engage with someone new. Following the increasing popularity of mobile and smartphones, today there are over 91 million users of dating apps, worldwide. Whether looking for exclusive or non-exclusive love, the online dating market remains strong with $555 million in U.S. revenues in 2018 and expected growth to more than $649 million in 2023.
What is a Dating App?
A dating app is an application version of a dating website. These apps can be free or paid, and they are usually built natively for mobile platforms like iOS and Android or through dating app builder platforms. Typically available for download from the App Store on any device, some do require a download directly from the website. Dating apps are profile and location-based, as the idea is for the user to find partners in their close proximity. A good number of apps, such as Tinder are linked to other social media platforms, like Facebook or Instagram. Others are independent and rely solely on the information the user provides when setting up their account or membership, like OKCupid. Many dating apps use the smartphones GPS Location capabilities and provide easy access to their members' gallery so that users can update their profiles with ease.
Fun Fact: In 2012, Tinder became the first dating app. This started the boom of dating apps on smartphones.
Dating Industry Overview
With technology advancing so rapidly, we have managed to digitize nearly all aspects of day-to-day life, and that includes our love life. The Dating industry has been growing rapidly for years, with its target audience primarily being youth. But, today's expanding aging population is now contributing to this ever-growing market. In fact, it's estimated that by 2040, 70% of couples will have met online.
The two main channels that the Dating industry uses to serve this market are mobile apps and websites. However, apps now have a stronger hold on the overall dating user base. When it comes to the revenue model, it is divided into membership subscriptions and free memberships.
Conditions driving the Dating industry is a continual increase in the single/divorced population, the growing economy, the improvements and availability of technology, as well as the acceptance of online dating. What further helps this market continue to expand is its
popularity with the LGBTQ community, who use dating apps as their primary form of connecting. Interestingly, the revenue gained by the LGBTQ market influencers is predicted to rise by 25% by 2020.
With the extension of working hours, it's understandable why so many young people would resort to using dating apps to find friendship or love. But, it is not only youth that is taking advantage of this convenience. From 2013- 2015, the adult population that was aging from their 50's to their 60's, has doubled from 6% to 12%. Plus, the average adult user of dating apps spend about an hour a day on their apps, and are willing to pay premium membership fees for an extra shot at finding their soul mate.
The key players in the Dating industry are numerous and have carved out their own share of the market. Each one is unique in their own way and has an advantage over another. The trick for users of these apps is finding the one that suits their preferences. From membership sites which test the theory of put your money where your mouth is, to the love-at-first-sight swiping apps; from the old fashioned matchmaker to the essay-based apps that go down to the smallest detail, each presents a compelling promise to their membership base.
Of course, every industry has its difficulties. The dating industry's includes catfishing, dating scams and its slower acceptance in the rising economies.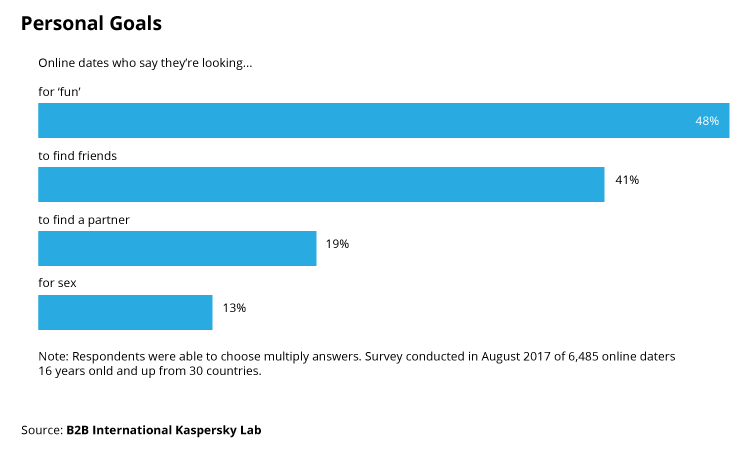 The Psychology behind Dating Apps
Long gone are the days when it was frowned upon to take a chance by meeting a stranger over the internet. Millennials have taken it upon themselves to lead a movement in the dating apps industry by making it acceptable. It's understandable why this shift has occurred, as Matchmaking is an age-old practice, and it is only natural that it goes online, like nearly everything else in our world. What is dynamic though, are the reasons why users are drawn to these apps. According to current surveys, it is simply for the fun of it.
But, it comes down to what a user is looking for in a mate, and thus an app. Apps such as OKCupid and Plenty of Fish require the user to input detailed information about themselves. This personal information creates a type of personality test which helps them better match with potential partners. This is also a good way to see how committed a user is to find a serious relationship. If they are willing to go through the laborious process of filling out pages and pages with their personal information, they are more likely to be steadfast. For others, there are applications like Tinder or Bumble that are swipe-based and link directly to social platform profiles. These types of apps make it easy for users to join quickly and match up if they are not necessarily looking for something serious.
What makes dating apps so popular is the control they give the user, and the power to choose among countless potential partners from the palm of their hand. The choices are endless and it's up to each user whether they want to continue a conversation with someone else on the app. In fact, apps like Bumble give women the advantage to make the first move. On the other hand, ones like Tinder, keep users swiping, to see how many potential candidates will swipe back.
No longer is it necessary to go on a long date, buy flowers for someone, or watch a boring movie with a stranger in order to get to know someone. With so many apps and potential candidates at the swipe of a finger, narrowing down potential candidates is just faster and simpler. Users are given the option to choose among a pool of candidates, most likely a larger pool than their circle of friends or a night at the bar can provide. Plus, they can converse with multiple users at the same time. This saves time, money and the need to take each candidate out on a traditional date.
Something else that has contributed to the fast acceptance of dating apps is the ease with which people can now find new friends or potential partners. It is convenient and fun in the dating app world, and best of all users can swipe while at work, with friends, or on vacation. Meeting new people has never been easier.
With so many potentials partners in the online dating pool, it's easy to get a confidence boost now and then. There are bound to be plenty of interested individuals and even if a user is rejected, they know there are hundreds more waiting for a chance to get a shot. The rejection aspect is removed, with just a swipe of the finger, and on to the next, they go.
Interesting online dating stats include that as much as 60% of the adults in the U.S. say dating online is a good way to meet people, and 66% have already met someone online. About 5% of the American population is either in a serious relationship or have married someone they met online.
Of course, this is not to say that online dating does not have its psychological drawbacks. Having too many options to choose from can potentially open up a can of worms. With so many choices, it's easy for a user to get overwhelmed, picky or even depressed. The idea of an ideal partner can lead to a swiping frenzy in hopes of finding someone that fits in user's box,
instead of getting to know someone who might be perfect for them, but does not have all the specifications that a dating app lists.
Needless to say, algorithms are not always to be trusted for the most accurate assessment of users. In reality, there is no perfect system to match two people together. So depending solely on the logic of an application, may not be the best way to decide on your future potential mate.
Also, without physical contact, it may be difficult to tell if you are attracted to the other person before you meet face to face. Many times, the only contact you have with a candidate is to see their picture and in seconds decide if you will swipe left or right. Communicating online can be a problem as well because text can be interpreted in all sorts of different ways. Hence, this could lead to miscommunication or issues being lost in translation.
Online dating is still seen by many as superficial. Users enter the market casually, and many of the users in the dating market don't consider other users as serious or wanting something serious from the actual app. The picture on a user's profile many times doesn't show the real them and it is edited to suit society's idea of attractiveness. While in real life, the reality of their looks may be pretty different.
Some users have been burnt by new dating apps entering the market, which ended up being phishing scams to get user information. From email to address and even card number, the vulnerability of having personal information leaked and misused can be a hazard for users trying out new dating apps. Credibility and trust remain important aspects when it comes to dating.
But even with this in mind, dating apps are considered the first choice when picking a partner for the LGBTQ community and the second choice for straight daters who still consider meeting a partner through their friends a top choice.
Dating Apps Business Models
There are over 1,500 dating apps available on your mobile store, and the competition is fierce. The best apps in the industry have worked their way to the top by being unique and offering new options and attractive means in which to attract new users to get their share from the market. Many entrepreneurs are eager to jump into the online dating industry due to its promising profits and predicted market growth.
Some recognizable apps that stand out from the rest are Tinder which pairs hopefuls on a hookup basis. When using this app, they have a chance to take a glance at their potential partner, and then swiping their picture left to dismiss them, or right to show interest. Bumble is an interesting one with functionality similar to that of Tinder. The twist is that the female has the upper hand, and is the first one to start a conversation. Another we are highlighting
below is The League which is an elite dating app with a focus on matching ambitious and grounded individuals.
What has made the dating business model such a success are its risk-taking entrepreneurs who have made love a viable source of income. Today, that start-up spirit has matured and is coupled with a more corporate, enterprise environment. This holds true with the leader in the
market, Matchgroup, which has aggressively acquired apps such as Tinder, Plenty of Fish, and OKCupid. Impressively, more than 7 million users pay for the dating services provided by Matchgroup.
Creating a dating app or a dating website is no easy task, simply because there is so much competition. But the opportunity still remains. For those who wish to enter the market now, they should plan to serve a specific niche need of singles. Examples of dating apps that have done a good job of this include ChristianMingle, Grindr and Sniffr.
To make your own dating app there are a few steps to consider. First, you have to pick your niche in order to attract your audience segment. Next, you should decide which of the two primary sales models you wish to offer, freemium or paid subscription-based.
Most free dating apps have some common features. First, free access is granted to new users and gives them limited functionality. This usually offers the app developer the right to publish third-party ads, which will, in turn, bring them revenue from their advertisers. Users then have the opportunity to use the app Ad-Free, by for paying a premium account or membership. Another aspect that might entice a free member to upgrade and pay for a subscription is in-app purchases, which could include the ability to get more visibility in the dating pool or more robust premium account features. Tinder does this in a profitable way, promising its members more swipes, re-dos, top profile features and much more.
The paid or subscription-based option functions are similar across all the platforms. This model offers the user a fixed price for a membership, that they can pay either monthly or yearly. Their membership provides them with access to certain features that might not be available otherwise. As mentioned prior, the app's users have the opportunity to pay and forgo seeing ads in order to access all the app's functionality. They can still receive options for in-app purchases like coins and tokens for extra time, or more swipes. All these upgrades provide more revenue for the app provider.
Based on the dating app providers in-app feature options, a user cans set up a profile, where they can enter their bio, easily add an image, add their interests, age, gender, etc. Tinder takes this a step further with their out-of-the-box thinking, and have added a sexual orientation feature.
One of the hardest parts of making a dating app is setting the algorithm to help match their members. This means having an adjustable setting to make matching possibilities more flexible.
Nobody looking for love wants to wait an entire day, or continue to check their phone to see if they have a response from one of their matches. Providing a real-time alert system is crucial to creating a high-end dating app. These notifications should include, messages, matches, reminders, and events.
Finally and most importantly having a user-friendly interface with a chatting or messaging system is what sets many dating apps part. Whether this is free for all users or requires a premium account to talk to other users, this option is a must for today's apps.
Fun Fact: Dating app users spend around $243 annually on new signups and membership renewals.
Best Dating Apps of 2019
While there are numerous dating apps out there, a few stand out and are the crème de la crème of the industry. When it comes to the most popular, in the U.S. we can single out Tinder, OKCupid and Plenty of Fish. However, if we're talking about user engagement, Grindr, Tinder, OKCupid, and Bumble dominate the market. So what makes these apps better than the rest, and why is it that all the singles are choosing these over others? Maybe it's their easy user interface and their availability on both Android and iPhone systems. The Apps below are the best Dating apps of 2019: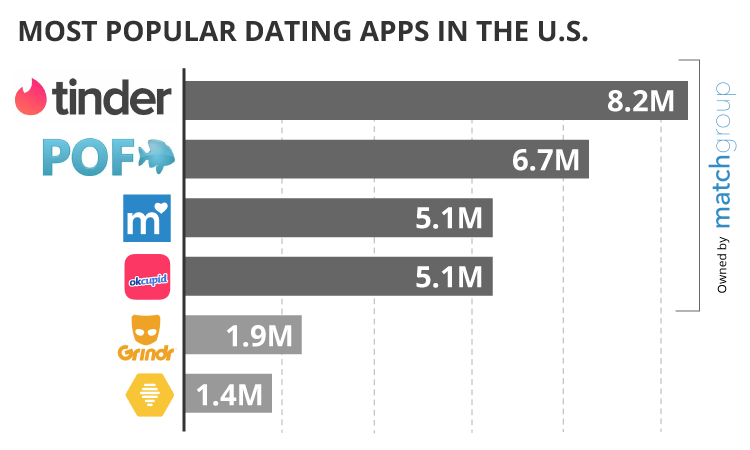 Tinder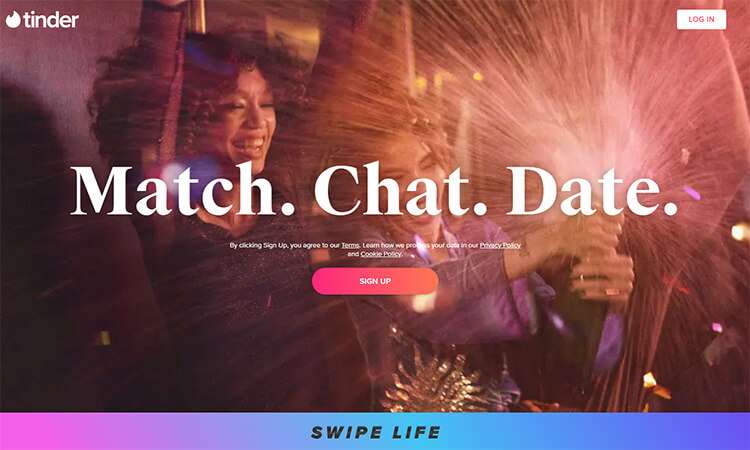 What makes Tinder the top dating app for 2019? Well, nearly the whole world is on it. The dating world, that is. It doesn't matter if you're looking for the love of your life, or just browsing for a quick fling, chances are that you'll 'swipe' into them on Tinder. In fact, Tinder has nearly 50 million users in the U.S. alone.
Tinder is also the easiest app to set up, giving users quick access to hundreds of singles in their geo-area. There is no need for previous online or app dating experience, as it is simple for the clumsiest technology user to learn.
There are multiple reasons why Tinder has become so popular. For starts, users don't have to write essays about themselves. In fact, they can pull information directly from their other social profiles, minimizing the need for additional typing. With a picture, a little background information, and a link to Facebook or Instagram, a user profile is set up.
Like most, Tinder is a location-based app. This means that users have the option to choose how close, or far, they want to search for their future interest. It also lets them decide what age limit and gender they prefer. Profiles are short, so going through multiple accounts only takes a short amount of time. Decision making is quick. This means, a user won't learn much about their potential mate on the first swipe and will have to give their match the time to respond with what they are looking for.
Tinder has not always had a positive reaction from users, as most claim it is more for hookups. Recently, however, users have changed their opinions and say many successful relationships and marriages have resulted from using the application.
When it was first released, Tinder grabbed a user's Facebook account to make sure that the information presented was valid. With new updates, users can now make their account just by using their phone number. By allowing the app to access their location and gallery, they can find matches around them. This lets a user update their profile pictures easily. Tinder only allows accounts for those 18 and over. With a short bio and a recommended profile picture, a user is ready to swipe.
On the plus side, once the app is started, users are presented by a sea of images, so they can adjust their location and age preferences to narrow the pool of candidates. What's also great is that users get to see mutual friends and if they are linked to their social media accounts. Users can also exchange the same information with Spotify, which is the newest addition to Tinder.
Swiping is simple, swipe left for no, or right for yes. There is even a Superlike feature, giving that additional I really like you message to the user's profile picture. Once matched, the users have the chance to chat, and be creative. Free options including giving limited swipes, but users can always upgrade and pay for a membership, which offers unlimited swipes.
With Tinder Passport, users can swipe in other countries because the location should not be the determination of your love life.
Other fun facts include:
This app has 100 million downloads on the Google
Play Store
Users swipe more than 1.6 billion times a day
It's available in 196 countries and in 30
languages.
New: Tinder has introduced the orientation option. Here you can be more creative with your sexual orientation. This is a standout feature in the industry. 
It is no surprise why this app makes it to the top of our list of Best Dating Apps for 2019.
Demographics
Age:
16-24 – 39%
25-34 – 41%
35-44 – 15%
45-54 – 4%
55-64 – 1%
Gender: Female – 38%, Male – 62%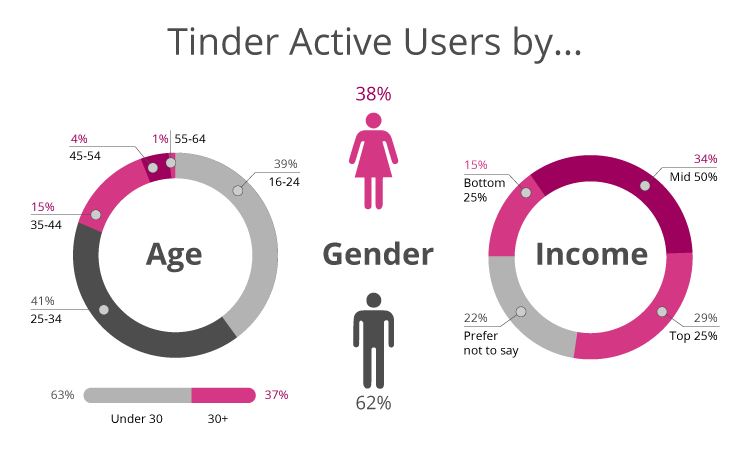 Pros:
Quick and easy to set up and use
No unsolicited messages
No time restrictions on sending messages
More gender options for LGBTQ users
Cons:
Narrow age demographic of users
Usually looking for casual relationships
Can't revisit expired matches without premium membership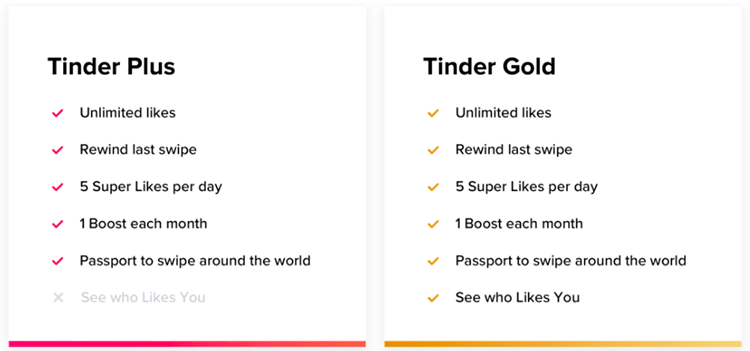 Costs:
Free Version:
User gets access to almost all features, with in-app ads.
Paid Version: Tinder
has two paid or premium plans. These include Tinder Plus and Tinder Gold. A purchase of either will help you get an ad-less application.
Tinder Plus:
Members have unlimited swipes, five super likes a day, and a monthly boost to help get more people swiping you. The Passport feature, which allows the member to pick any city in the world to swipe. They also get access to Rewind, so they don't miss out on the one that got away. Tinder Plus is $9.99 a month for users under 30 years old and $19.99 a month for those 30 and above.
Boosts: 10 boosts
$2.50, 5 boosts $3.00 and 1 boost $3.99.
Tinder Gold:
Members receive the option to see who liked them. 12 months: $12.50/month, 6 months: $18.83/month, 1 month: 29.99/month
Match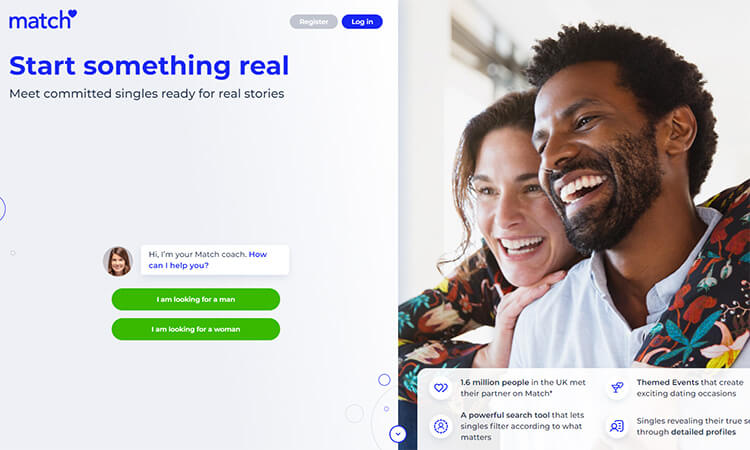 This list could not go on without us mentioning Match.com. This online dating mogul services 25 countries in eight languages. Match.com is one of the oldest dating websites in the market, as well as one of the largest. Its mobile application came later, as did their acquisition of OKCupid. Since 2012, Match.com has acquired many of the most popular dating apps including Plenty of Fish, Tinder, and Twoo just to name a few.
Built upon their own platform, there is no need to log in with Facebook or any other social profile with Match.com. This makes the app perfect for people who like their privacy. They target people who are primarily looking for serious relationships, which is easily visible when setting up a user profile. After defining their age, gender and preference, a user is given the option of choosing a relationship status, including: never married, separated, and divorced or Widow/Widower. The app goes into great detail with questions about height, body type, education, languages and how often you exercise.
What makes Match.com different is that it asks a user to define their ideal partner. Details such as height, body type, likes and dislikes, as well as habits. There is even an option called deal-breaker, in case there is something a user does not look for in a partner. In short, Match.com is undoubtedly a site for someone who knows what they want in a partner.
Once a user adds a photo, and their profile is approved, they are sent their first matches. As a full member, a user can contact other members, send and receive messages, see who's viewed their profile, plus a lot more. They are given matches to choose from, unticking a photo removes a suggestion from their profile. There is no need to swipe or search for a match, as they are already suggested by the app. Users can receive messages get winks
or likes from anyone.
To take full advantage of all functionality, users need to subscribe. This means a monetary investment must be made to find love on Match.com.
From a usability standpoint, the apps' interface is not as appealing or user-friendly as Tinder's or Bumble's. It does have a set of navigation tabs, where most information can be filtered, such as who's viewed your profile or who liked you.
Demographics
25% are under age 30;
48.6% are ages 30-49
26.5% are age 50+
74% have some college or college degree
46% do not have children
23% have children who at least sometimes live at home
21.6% have children away from home, (8.8% did not answer)
The 50+ age group is Match.com's fastest growing demographic
Pros:
The App's algorithm keeps improving and uses user's feedback and behavior.
Numerous search and discovery options
Constant addition of new features and functionalities
Cons:
New users have to wait for approval
Monthly costs are higher than average
Costs:
Free membership: Limited functionality.
Free Trial: New users can try Match.com for free for seven days. To be eligible, you must not
be a current subscriber, be over 18 years of age and agree to their Terms of
Use Agreement.
Paid Membership: To take advantage of Match.com you're going to have to
get a paid membership. The prices are straight forward:
Free Basic Account: $0
1 Month: - $42.99
3 Month: - $23.99 / Month
6 Month: - $20.99 / Month
Plenty of Fish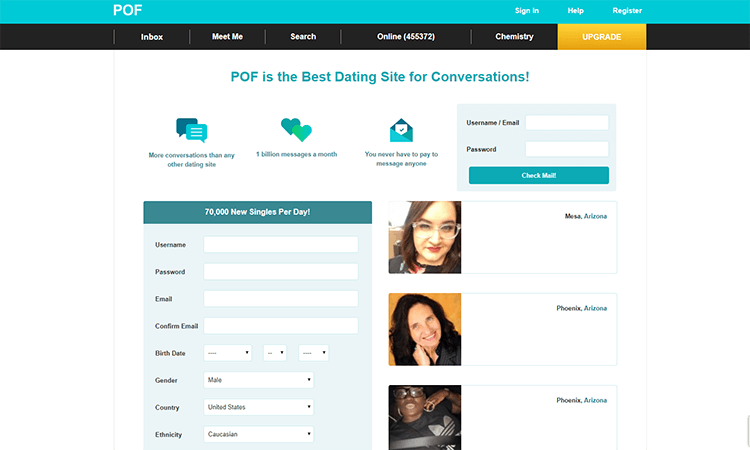 Plenty of Fish is the perfect online dating app for those looking for a cheap alternative. It is entirely free unless a user wishes to have full access to premium features. The premium features offer additional insight into its members. Although the user interface is not the most appealing, because it is ad-driven. Because it is one of the oldest and largest dating apps, users have a large pool of singles with which to mingle. In fact, most users are bound to find some great matches in the first 24 hours on the app.
How many members are there exactly? Plenty of Fish boasts up to 100 million global users. Each day 3.6 million of those users log on, and another 55,000 new members join. Plenty of Fish produces over 1 million relationships every year! The interesting fact about this app is that only women are allowed to send pictures.
Plenty of Fish is constantly adding updates, with new features and improvements. They have even added the Spark feature where a user can quote a part of another user's profile, to help break the ice. While the initial sign up is not too long, there is an in-app chemistry test that helps further narrow down potential matches.
The app is simple with swipe options like Tinder and a location option to see matches in the general area, like Happn. Similarly, it consists of a personality test with each user's likes and dislikes, and preferences in their partner. These features offer a user a better chance of getting matched to someone who has similar likes and needs as they have in a relationship. Plenty of Fish's low commitment level and free features make it perfect for those looking to dip their toes in the dating pool. It can be a little challenging when setting up an account over mobile, but it's worth the effort to find a perfect match without a log of added cost.
Demographics:
Age:
18-24 – 20%
25-34 – 38%
35-44 – 22%
45-54 – 14%
55+ – 6%
Over 3M daily active users
6 Billion Page Views per Month
1.6 Million Unique Daily Visitors
Pros
Large user base
Available on many platforms
Relationship tests
Cheap premium features
Cons
Basic Matching Algorithm
Requires more information to sign up
No chatrooms or video chat
Costs:
Free Account: - $0
2 Months: $18.59 /
Month
4 Months:- $13.39 /
Month
8 Months:- $10.68 /
Month
OkCupid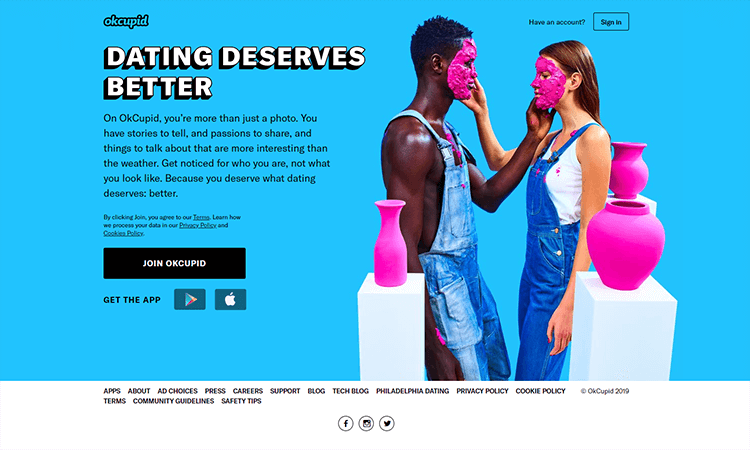 With a sleek site and years of earned consumer trust, OKCupid is on our list for a good reason. Users can create their profile right away and even use Facebook for a quicker sign-up. It is one of the top online dating platforms and includes loads of fun and interactive ways to keep its members constantly entertained.
This is one of those dating apps where a user must prepare for a lengthy introduction section. They will be presented with yes or no questions, and also asked to fill out written information about themselves. Once completed, the users are set up with a free account, and they can browse and find matches instantly. In some ways, the OKCupid user experience is similar to Plenty of Fish, with user-defined preferences for potential partners. Matches will then be presented in the percentage of compatibility. The best part is that users get to choose whether to make their answers public or not.
What makes OKCupid so popular is that users get to learn a lot more about their potential matches than on other apps like Tinder or Bumble. Overall, OKCupid does work much smoother on their website, than on mobile. The app's downsides include the use of small images that must be clicked on to see a larger version, endless scrolling, and exiting menus don't always lead you back to the previous page, which makes it difficult to keep track of who you are learning about.
Once users register they are free to browse and message, search and find online users, and like their profiles. Recent changes have made the app a little more like Tinder with swiping features and the ability to match with other users. From a security standpoint, users cannot send messages into other inboxes unless they match. This functionality significantly reduces the number of offensive messages that are sent through the app.
Upgrading to A-list, which is their premium/paid option, gives users access to features such as invisible browsing, and advanced search options among others.
Demographics:
Male: 50%
Female: 50%
Age:
18-24 – 20%
25-34 – 26%
35-44 – 26%
45-54 – 16%
55-64 – 12%
Pros:
There are great features offered at a lower price when members upgrade to A-list.
Interface user-friendly
Free to browse
Cons:
Similar to all Dating apps, one has to pay to get all the features
Not as popular in small cities and towns
Not taken too serious by users as signing up is free
Costs:
Free Account: $0
1 Month: $9.99 
3 Months: $23.85
6 Months: $29.70
Badoo
Badoo is a dating app that has slowly but surely made its way to the top of the popularity list, since its original launch in 2006. The app has over 250 million users in over 190 countries. It is both desktop and mobile-based, but the location feature of the chat is only available on the mobile platform.
Other than being visually attractive, Badoo is geolocation-based. This makes it easy to discover users nearby. It is free for desktop and has both a free and a paid version for mobile. While the price of downloading the paid version is only $2.99, there are still plenty of in-app purchases on both the free and paid versions. This allows users to spend some money on credits to get extra features.
Badoo is becoming increasingly popular for casual hookups. Users can link their profiles to Facebook or Instagram and even share matches on those social networks. A special feature of Badoo is the option of being able to take photos from the actual app without the need to upload them from the mobile device.
From a user interface perspective, the app is easily navigable, easy to set up, and visually pleasing. It has a game-like vibe with plenty of fun features to discover, once the users' profile has been registered. A perfect example is the look-alike feature that finds users and even celebrities that have similar facial features to you.
The set-up is simple, with the typical information form and the option of linking Facebook, Twitter or Instagram. On their smartphones, users have the option to turn on geolocation and push notifications. Connecting with social platforms offers the ease to upload a profile photo, which is a prerequisite to use the app.
When it comes to meeting and messaging members, there are a few different options. The first option of meeting people is through Encounters and People Nearby features. A Superman-like icon even tells you if your super powers are off, such as the ability to undo a no vote or have your message stand out over the rest. There is also an iPhone charge-like icon, which shows the user's popularity level. Their popularity increases with the number of views and messages they receive. Other options include awards and gifts. Users also get in-app coins or credits, for access to other features, such as having your profile featured.
The balance of Badoo is similar to Tinder, and has the option of liking and disliking users by swiping left or right.
Demographics:
Male: 60%
Female: 40%
Their biggest demographic is 20-28 years old and over 40.57% of users are over 30
Pros:
Visually appealing platform
Has a special feature which shows when you might have bumped into a user in real life
The safety feature of profile verification to ensure members are real people.
Cons:
Simple location-based algorithm
Many features need you to upgrade to get access
Costs:
Free Version: $0
Paid Version: $2.99 / Download
Grindr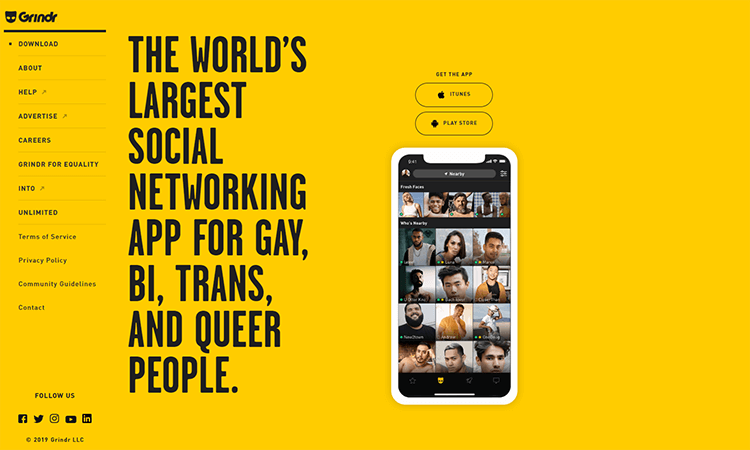 Grindr is a great example of a niche app that turned famous. Although it barely has a decade under its belt, Grindr quickly made a name for itself by turning into the top gay dating app on the market. Like most other apps, it is geolocation-based, which means it's easy to find singles in your area.
Apps like Grindr have become the first choice for meeting potential partners or friends in the LGBTQ community. Even though the initial idea was for it to be a dating app, it is increasingly popular for its hook-up features. It has easy sign-up options and services users all over the globe. Similar to other apps, a user can create an account for free, link it to their Facebook account and they are good to go. Members can see when users are online and in their proximity.
Whatever a user's type might be, they can find them on Grindr. Users can specify the age, location, preference of their matches, narrowing down to the hottie you want to find. Until recently many users chose to upload photos without their face showing. But with the addition of social media linking, users are now taking advantage of the freedom to express themselves. There is also a beta version which helps users single out the matches with only face photos.
With 6 million active users and 2.4 million unique daily users, Grindr will undeniably help any LGBTQ user meet the person of their dreams. Whether sifting through tribes or searching by body type, users are bound to find something to their liking.
The downside of this app includes an old-fashioned user interface. In addition, it does have a reputation for catfishing and fake profiles, but only in certain countries.
Users can upgrade to Grindr Xtra, which costs $5 per month and gives access to unlimited profile blocks and more matches.
Among online adults aged 18+ in US, the percentage who use Grindr: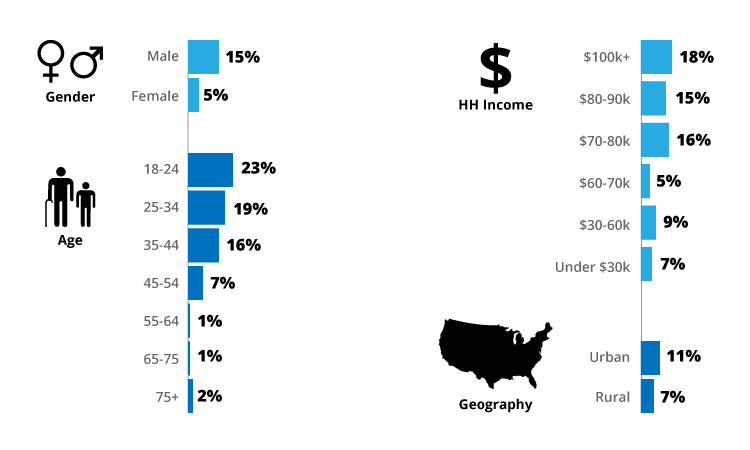 Demographics:
Gender:
Female: 5%
Male: 15%
Age:
18-24 – 23%
25-34 – 19%
35-44 – 16%
45-54 – 7%
55-64 – 1%
65-75 – 1%
75+ – 2%
Pros:
Geo-targeting
Free to Use
Popular with LGBTQ
Cons:
Many fake profiles
Scattered user interface
Tons of Pop
Costs:
Free Basic Account: $0
Premium Membership: $5 / Month
Coffee Meets Bagel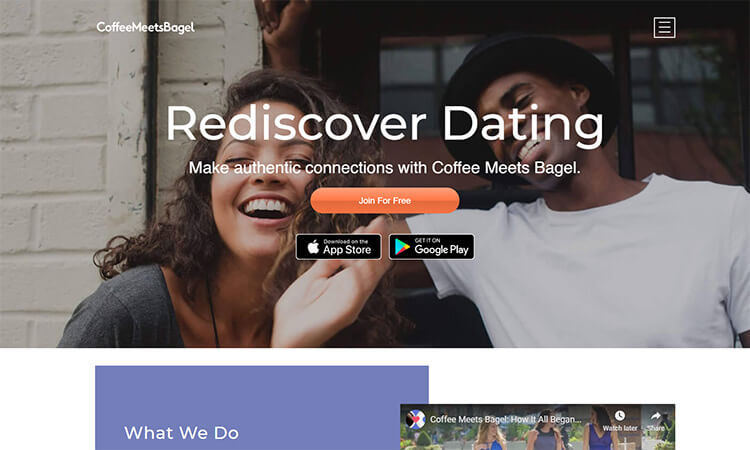 Coffee Meets Bagel and Bumble have a lot in common. The similarities are that both are predominantly female-dominated apps. Users create a profile using their Facebook page and are sent matches or Bagels each day. They are given 24 hours to decide if they like the match or are given the opportunity to pass on them. If the likes are mutual, users are connected and are then free to message each other. The chat room created between the matches has a life span of eight days and will be deleted afterward. This happens even if users have exchanged messages. The only way to get extra time is to use Coffee Beans which can be earned or purchased through various means like sharing the app or being active. If specifics like religion and ethnicity are important to you, you can narrow down your searches.
What makes Coffee Meets Bagel fun is that users are given the option of adding an ice-breaker sentence that gets sent to a Bagel once they're matched. Users are given the opportunity to add up to nine photos and expiring chats can lead to multiple, quick make or break moments between the app's matches.
Although the app itself is pretty user-friendly and appealing in structure, the matching algorithm is not always spot on. Unlike others that are great with geolocation, Coffee Meets Bagel puts a user's preferences before location and might send you a match that is far away. The only other downsides are its slow functionality and the fact that users can only get one Bagel a day unless they purchase more using their Coffee Beans. The overall process is pretty buggy.
The app does try to keep users entertained with numerous fun gimmicks, but the need for step-by-step tutorials ends up turning many users away.
Demographics:
Female: 58%
Male: 42%
Age:
18-24 – 26%
25-34 – 24%
35-44 – 20%
45-54 – 20%
55-64 – 10%
Pros:
Female-dominated App
The more you use the App the more likely you are to get a match
Easy tutorials and user interface
Cons:
The Friends-of-Friends mechanism, so potential meetings in real life might be awkward
High chances of bumping into someone you might have blocked on your social accounts.
Costs:
Free Version: $0
Monthly Membership: $34.99 / Month
Hinge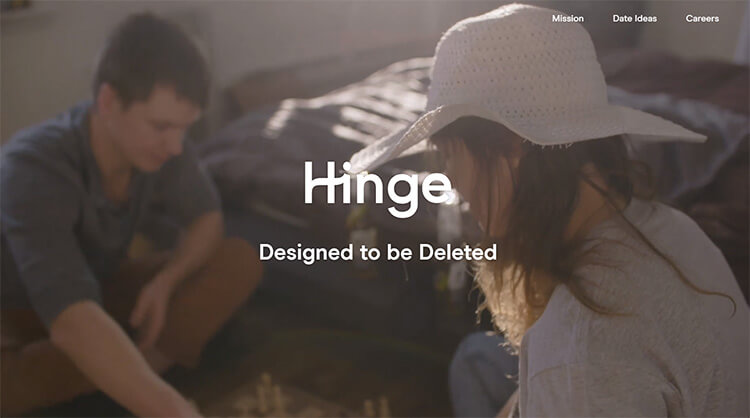 Hinge was designed as an online version of met them through my friends. Users can set up their accounts by log-in with their Facebook profile, but recently Hinge has added the option of not making this a requirement. The look and functionality are similar to Tinder, showing common friends between matches. When setting up an account, instead of inputting likes and dislikes, it will ask questions in a Tinder-like form, where a user can swipe left for no and right for yes. This is a simple and fun way for a user to get their profile completed.
What makes Hinge different is that users can't connect or match with people that don't have mutual friends or friends of friends. It also shows the interest you have in common. While Tinder is regarded more of as a hookup app, Hinge is concentrated on making long-lasting relationships, by narrowing down your circle of potential soulmates to the ones in your close circle of friends. The idea behind this is to reduce the potential of random hookups by keeping it close to home. This functionality deters the practice of sending unsolicited photos or messages to someone, especially if you know you might bump into them at a mutual friend's birthday or wedding.
If a user is looking for more information about a match, they can then ask their mutual friend. If they do not like a match, they can swipe away, and the other user can't message them again unless both agree to the contact. Also, users cannot upload photos of themselves, instead they must use the photos that are available on their Facebook or Instagram profiles. This stops users from making a fake representation of themselves and encourages them to be more active on their social profile.
Of course, this limits matches in both quantity and sometimes in quality, as not all friends have the best judgment. It may also lead to a letdown if a user is picky or are looking for something serious. Another issue might be that a user has already searched through their friend's circle without any luck, and now have to swipe through all those options once more.
Fun Fact: On Hinge's website you can find dating ideas, like Hiking along the Hudson or going to a basketball game.
Demographics:
Male: 40%
Female: 60%
Age:
18-29 – 49%
30-49 – 50%
50 – 1%
Pros:
Mutual friend based App, so only matches with your mutual friends are shown
Free Version
User-friendly interface
Cons:
It's available to users above the age of 13
It shares all your Facebook information
Costs: None
Raya

Raya offers the best of the best in dating pools. The dating app does test your patience, and can ultimately get you rejected. With an acceptance rate of only 8% of all applicants, this is one of the most elite dating and networking apps of our time. It is no surprise that some of the most popular celebrities are using this app to network and meet potential matches.
It focuses on connecting members in the artistic industry and is entirely different than all the other apps discussed. Primarily, because its sole purpose is not only to spark possible relationships among the rich and famous, but also to foster networking and reaching a higher level of career aspiration. Raya is like the VIP party where you are hoping to be included on the list.
There are over 100,000 people on the waiting list for the app. To even apply for this once in a lifetime dating and networking opportunity, you have to complete a lengthy application AND have a referral from a user who is already a member. The app appeared only a couple of years ago and works on an invitation-only basis. Some of its members include actors, designers, athletes and tech execs. Once a user has applied, the application is pulled through a complex algorithm and then evaluated by an unidentified committee and then the wait begins. Waiting for a response can last for weeks or even months. This does not guarantee that a user's application will be accepted, but if by some miracle it is, the user will pay a monthly fee of $8 dollars - not such a high price to have a chance to match with the likes of Khloe Kardashian.
The app maintains a strict privacy policy and does not tolerate abuse. Taking screenshots of users will result in a stern pop-up notice saying that the infringing user is violating member's privacy. Even disclosing personal information about other members can easily get a user blocked from Raya.
While it is only available for iPhone users, users claim that it is well worth the complicated process of signing up and being accepted. They claim they met members who think alike and
are in the same line of work as them. The app is also said to be perfect for networking with the right business partners. In short, a higher class version of The League.
Raya is more about status and a little less net worth. In fact, the user count has been reported low, as it is quality over quantity app. To live up to its name, it is well designed and easy to use. The difference with Raya is that users have two profiles, one for social networking and one for dating. When a user account is set up, members are given access to a pool of fine handpicked dating candidates or they can head over to the Social Mode and check out the hotspots where other members are hanging out.
Unlike other dating apps, Raya is not swipe-based, but instead uses photos from the members Instagram profiles. Members can add a song to go along with their image, and even makes it into a slide-show for other users to view. Both matches must like each other before a chat can be started. While users tend to be more serious and a little less creepy on this application, this does not stop them from trying to show off or pretending to be their better selves. Alas, it is up to members to figure out who's their best match, and if it doesn't work out, at least they would have gone out on a few lavish dates, as the apps' members are known to be big spenders.
Demographics:
Private/ Elite (members in mere thousands)
Pros:
High-quality members because of the rigorous acceptance process
The membership fee is relatively acceptable as compared to other Apps
It's great for networking
Stronger security than other Dating apps
Cons:
Hard to get accepted
Meant for bigger cities with more creative individuals
Depends a lot on your Instagram influence
Costs: $8 dollar monthly membership fee, and a requirement of a strong Instagram following.
Bumble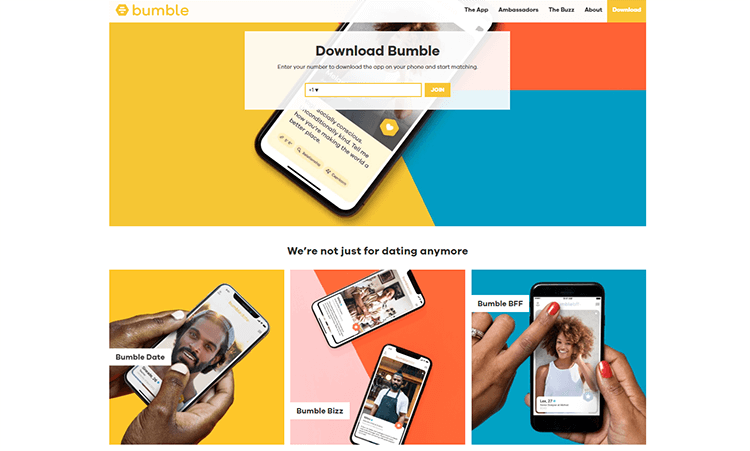 If Tinder is considered the men make the first move app, then Bumble is defiantly the female version. It even looks like it, with a couple of twists. Once it was introduced it became popular fast, maybe because of the fact that its women that take the lead with this application. Its swipe and geolocation function make it user-friendly, but there is a catch. The ladies have the right to message first, and the matches last for only 24 hours. The pressure is on and it's up to the female to decide if she wants to give her match a chance.
This doesn't leave the men without options. Men can extend a match for 24 hours. This goes the same for the ladies, who can choose to extend a match in case they're having a busy day and just can't reply to their match at that moment. The same gender matches can initiate conversations without these barriers. If the man does not message back within 24 hours, the chat is also ended. Essentially, Bumble took the idea of speed dating and put it to use.
The downside of the app is that it's not the first choice of women who like to be pursued. Nor is it built for insecure men who might take too long to answer. It is time-based for a reason, to initiate contact and keep it going as soon as possible. Also, if women are looking for more of an Alfa male, the comments from the female users tell us you're most likely not going to find them on this Bumble.
As far as the functionality, it is unquestionably one of the easiest apps to use, with a smooth interface and a quick and easy setup. It is also the only app that prohibits adult content and it is serious about that policy. It has a strict code of conduct. This is one of the reasons why it is such a popular app among the female population.
User profiles are simple to set up with the option of uploading six pictures as with Tinder. You can search through a match's images with a scroll up option, to get more information about that user. An added benefit is that users can simply shake their phone to return a match, in case they accidentally swiped left. This functionality is not available for free on Tinder. Users are given a chance to write only a short paragraph about themselves. This does not offer the ability to share very much information about themselves but it is a good start.
Bumble might be perfect for the male population which has problems with rejection or doesn't want to waste time on messages that might be rejected. At the end of the day, if both of you are not interested in something more meaningful, the option of BFF is available. Offering an option to have a more casual relationship with users.
Finally, there is a Bumble Boost, which is a premium feature allowing users to buy more time with their matches.
Fun Fact:
Bumble is only 3 years old, making it one of the quickest successes in the dating app world.
Demographics:
Male: 45%
Female: 55%
Age:
18-29 – 63.3%
30-49 – 31.7%
50 – 5%
Pros:
User-friendly, quick to set up and use.
No unsolicited messages
Women message first
Bumble BFF and Bumble Biz
Cons:
24-hour time limit to sending the first message
Hard to revisit expired matches
Expensive premium features
Smaller user base.
Costs:
Premium 1 Week Membership: $8.99
Premium 1 Month Membership: $24.99
Premium 3 Month Membership: $16.66/month
Premium 6 Month Membership: $13.33/month
Happn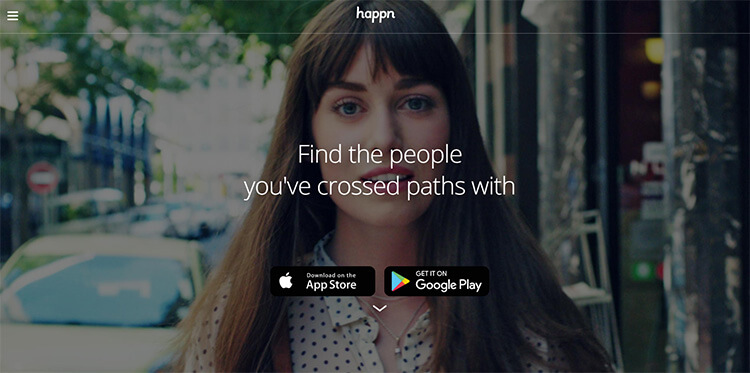 Happn was a French-made app that made it around the world in no time. Other dating apps may be geolocation-based, but the location on this application makes it stand out from the rest. In fact, that is the only aspect that makes it special. Without an algorithm or personality test, this application matches it's users on the basis of location only. So, if you're looking for a meaningful match or someone who is not sitting next to you, this might not be the app for you.
However, if users believe that the love of their life might be right under their nose, they will love the romantic angle of this app. Perhaps a user has a person that they see every day, but they don't know how to approach that person. Now, all they need is an icebreaker like this to make it Happn.
Another fun aspect of this application is that its matches have without a doubt, crossed paths. This means users will have a lot to discuss and there will always be something they have in common.
Signing up to Happn is quicker than the rest. In fact, it is a simple link to a Facebook account. Then the user just needs to allow their location to be shared in the app's settings, and they are ready to use. This is usually a good way to weed out the fakes. Users can find matches that they have crossed paths with, and find out the exact time and place. Users can like an account, but they cannot connect until the other user likes them back. The link with Facebook shows the mutual interests of users, as well. Matches are called Crushes and once matched, users can start chatting freely.
Setting up a profile is simple, because of the Facebook and Instagram links. All the user's information and photos will be available. Users can also connect via Spotify to show music matches. The ability to add interests, favorite types of dates and hobbies are all included in the apps profile area, in addition to age, profession, gender, etc.
Happn must have access to each user's location services, or GPS function, as it tracks users' movement throughout the day. Once a user is at least 250 m near a potential match, the app will notify them and their profile will appear. This app is best suited for larger cities. For security, users can't contact others unless they receive a Heart from their match, and their location is never displayed in real-time. Also, users can block other users, in case they don't want someone knowing your whereabouts.
Demographics:
18-29 – 47.6%
30-49 – 44.4%
50 – 8%
Pros:
This app matches only with users you've crossed paths with
It's available for both Android and iOS
Matches specify their job and company so you can know more about them
You can like a user secretly and they will only find out if they like you.
Cons:
Considering matches are in your surrounding and have at some point passed by you, this might make meetings awkward if it doesn't work out.
Location-based, with nothing else to match up to.
Costs: None
The League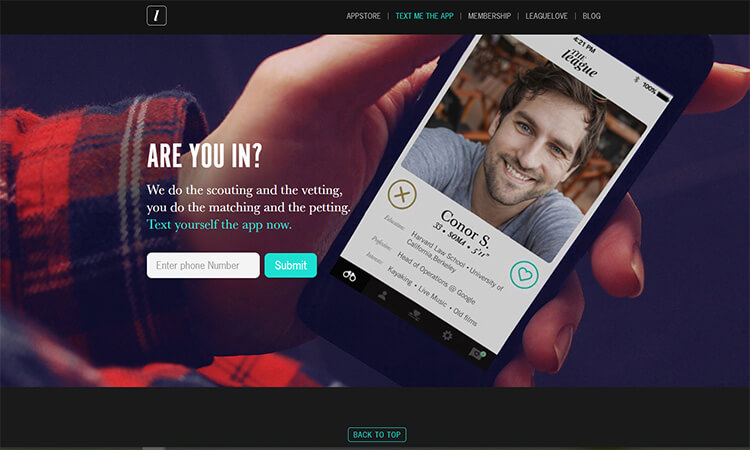 The League was designed to be the Raya for common people, but with class. This app is based on how good your education is or was, and your professional profile. The League was made to weed out the fake profiles and find the top performers, people with ambition and that are highly educated.
Making a user profile takes some steps though. Similarly to Raya, users are put through a screening process and the acceptance takes some time. In fact, for countries that are new to the app, there is a certain number of people that have to be interested in it to essentially have it developed for that region. The process of creating an account includes linking to Facebook or LinkedIn profiles and uploading up to six photos. The reason for so many photos as a necessity is to give users the right to see you in different lights and not just your corporate headshot. Unlike other dating apps, it omits Facebook friends and professional connections, so no one who knows or works with the user will know that they are searching for a match online.
Once a profile is submitted, The League decides whether an applicant is eligible for an account. This means that an applicant can be rejected even after putting in the effort. A difference from Raya is that users need to be referred by someone on the app to give them more credibility. There is also the possibility of being put on the waiting list, which could take up from several hours to several months in order to become a member of this elite site.
Users can try to get their account reviewed faster by signing up for the paid version, which is non-refundable if they are rejected. Once accepted, a member can use the free version or pay the membership fee of $99 a month or $250 a year. The interface is user-friendly and fairly elegant and has similarities with other dating apps when it comes to usability. It also has some other fun functionalities like events and groups. If you like a match, you can click the heart button, if not, press on the X. Matches last for about 21 days, but inactivity or not messaging each other can lead to a user's account to be labeled as frivolous, and from then on, they will receive fewer match suggestions.
Paid members receive seven prospects a day, as opposed to the three you get with a free account. The idea behind this is to have users avoid swiping aimlessly through numerous matches and try to make the most of the few they are presented. If a user wants to be noticed more, they can pay an additional $7 to get a boost.
Fun Tip: This application gives you access to VIP events and meetups, offering more of a chance to get noticed.
Demographics:
Male: 40%
Female: 60%
Age:
18-24 – 25%
25-30 – 45%
35+ – 20%
Pros:
High-quality matches due to screening
Low amount of fake profiles
Cons:
Profile screening process
Few matches per day
Costs:
Free Version: $0
Paid Version: Membership fee of $99 a month or $250 a year
Wingman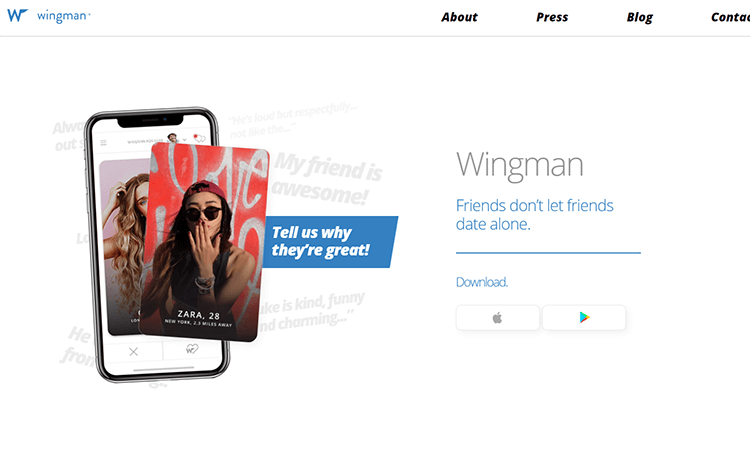 Wingman is an app that lives up to its name. Designed to be an online version of having a friend help you find a partner, it's relatively different from any other apps on the dating market.
Similarly to Tinder, its interface offers a short description and typical information such as age,
gender, interest, with swiping functionality.
What makes Wingman stand out, is the way the app functions. From the profile set up, to the swiping, it is not just in the users' hands. Instead, it is left up to the user's friend, or Wingman.
The user picks a friend to set-up their profile. This can be a fun process, based on the user's choice of friends. The friend will then fill out what they like about the user, what makes them special and anything else positive they can say. This makes the whole set-up process easy on the user but makes it a little more difficult for those who travel and want to find matches instantly. Once a user's profile is set up, their friend does the swiping. App users must have a dedicated friend who is willing to swipe away for them. The potential matches are then notified of the user's interest in them, or better said their friend's interest on their behalf. Uniquely, the user is not part of the matchmaking process, so if the match decides to reject the user, they may never know. If the user gets a connection, then they are notified and get to see who their friend hand-picked for them.
This whole process can be a little confusing, and hard to grasp at first. Some users may even become frustrated that they have placed their swiping destiny in the hands of someone else. However, there are many users out there that have tried various other dating apps and have not had any luck with meeting a potential match. This group may just be willing to leave their luck in a friend's, trusted hands. Letting a friend pick a match might be the right choice.
One of the downsides of Wingman is that it is new on the market and still has some bugs. Also, the pool of candidates is moderately small at launch, so it is understandable that many users are still picking more established apps in the market over Wingman. However, considering this is a free app, it is worth a shot, especially for those who have friends who are willing to dedicate some time to a buddy's love life.
Wingman's functionality is simple and well planned out. It has the impression of a game, with points being allocated to the user's friends who get matches, putting them higher on the leaderboard. The app is fun to use, with a tad of a competition aspect to it, so the idea behind it makes it attractive to its all its users. There are new features being constantly added with the addition of Nudge, which is a tool that helps friends choose someone that the user might have seen and like on the app. Who better than your Wingman to give a little nudge to someone you like?
Demographics:
Unknown
Pros:
Functions similar to that of a game
You don't have to add your information your friends do it for you
Cons:
You're given matches and can't choose them yourself
Fewer users as it's a relatively small target group
Can be buggy
Costs: None
In closing, whether you are looking for a life partner or just a summer fling, there certainly is not a shortage of dating apps on the market to get you on the proper track. Dating has never been easier, so get out there, swipe and mingle.
CCBill Tip
Need payment processing for your dating app or website?

CCBill provides dating industry with online payment services and the right tools to adapt, grow and automate with ease.