The fast-paced ecommerce industry keeps churning up modern and efficient shopping solutions. While voice recognition technology has been around for a while, only recently have consumers started regularly using voice commands to browse and shop online.
Learn all about voice commerce, its uses, and advantages for merchants and consumers.
Voice commerce is the use of virtual assistants to purchase products and make online payments on devices such as computers, smartphones, tablets, and smart speakers. These devices come with built-in virtual assistants (Apple's Siri, Google Assistant, or Amazon's Alexa), which recognize users' voice commands to place orders, shop, and make payments online.
How Does Voice Commerce Work?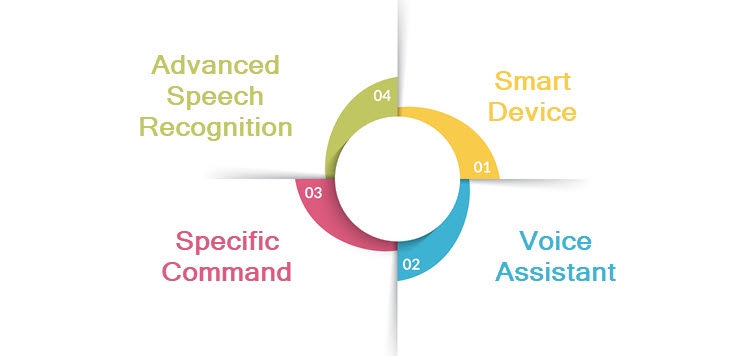 For a consumer to make a purchase, voice commerce is simple and requires the following:
Smart device. This includes computers, smartphones, tablets, and smart speakers with voice recognition technology.

Voice assistant. The voice assistant activates after the user utters a simple phrase into their device, such as "Hey, Siri" for Apple devices or "Ok, Google" for Android devices.

Specific command. After the virtual assistant is activated, the user gives a command using a specific trigger word such as "Search for" or "Order".

Advanced speech recognition. A virtual assistant recognizes the user's voice and does not accept commands made by an unknown voice. This adds the necessary safety level to the actions the voice assistant performs.

Once the AI powering the voice assistant interprets the user's input it submits a voice response, such as "I have found one product that might suit you. Would you like me to order it?"
Voice Commerce Examples
Here are several examples of using voice commerce.
Repeated and peer-to-peer payments. Users can instruct their voice assistants to perform repeat payments (e.g., bills and rent) or send money to other people directly from their bank accounts. This is especially useful since the voice assistant remembers the payment information, so you do not have to input it again for each payment.

Reordering. The technology makes reordering items previously purchased as easy as saying: "Siri, reorder the dog food I bought last month."

Grocery shopping and ordering food. Voice assistants have a built-in feature for shopping for groceries and ordering food directly from stores and restaurants.

Discovering a product and making a purchase. Voice assistants provide clear answers to user queries. Once the customer has enough information, they can move on to ordering the product immediately via voice assistant.

Benefits of Voice Commerce

Here are the benefits of implementing voice commerce in your ecommerce business strategy:
1. Convenience
Customers can use voice recognition to search for products and pay for them while doing other things. Little room is left for errors since the voice assistant repeats each command back to the user to ensure its accuracy.
2. Speed
With voice-assisted shopping, customers no longer need to search in a browser and then navigate websites to find what they are looking for. Once they decide to make a purchase, they do not have to input their login and payment information to complete the transaction. Rather, they just need to give a voice command as a confirmation for the site or an app to process the order and the payment.
3. Easy Personalization
Voice commerce gathers significant and useful data about customers' behavior and shopping habits. Merchants can use this knowledge to create a more personalized ecommerce experience. Based on shopping history and preferences, voice assistants provide recommendations for future purchases by offering products similar to users' previous searches.
4. Smooth Customer Journey
Voice commerce does not finish when the customer places the order. The technology smooths the entire customer journey – from the initial search to the delivery of the product at the customer's door.
The AI embedded in voice assistants is getting better at interpreting customer intent, predicting behavior, and offering the optimal solution for a customer's pain point. Once the customer places the order, the voice assistant provides them with exact, real-time information on when their delivery will arrive. Virtual assistants also make it easy for customers to change delivery details.
5. Security
Online shops and their payment processing vendors guarantee the security of user data on all channels and devices, including ones using virtual assistants. You can expect the same level of security as if you are using any other payment method, such as an eWallet.
In addition, advanced voice recognition technology is based on voice biometrics that recognizes the intensity and the pitch of the voice. This confirms the identity of the user, which is especially important when making secure payments online.
6. Accessibility
Voice recognition technology is crucial for making daily activities easier for the elderly, visually impaired, and differently abled. The technology is a game-changer that allows them to smoothly meet their needs, fulfill their desires, and perform everyday activities without having to use a keyboard, zoom in on a screen, or ask someone else for help.
Challenges of Voice Commerce
Despite the impressive achievements of voice recognition technology and the opportunities it offers to customers and merchants, voice commerce comes with a certain set of challenges:
1. Language Limitations
Currently, most voice assistants only recognize commands made in half a dozen languages, with English being the primary language. For example, Amazon's Alexa understands commands in English and only 7 other languages, which is quite limiting to global consumers. Despite voice assistants being globally available, they do not provide the option of accepting commands in most languages worldwide.
Voice assistants also still have problems recognizing regional accents (such as Welsh and Scottish) and speech impediments.
2. Lack of Trust
Many customers are still hesitant to make complex and pricy purchases when using voice assistants. Instead, they only make repeated purchases of smaller and cheaper products.
3. Knowledge Gap
Since voice commerce is relatively new in the ecommerce industry, many customers still do not know its many capabilities and uses.
4. Unnatural Interactions
Many consumers still hesitate to use voice commerce technology because the interaction feels unnatural and not intuitive enough compared to interacting with a customer support agent or a salesperson.
5. Privacy Concerns
Voice assistants gather data about customers' interests and needs based on previous searches and purchases. Although this can be an advantage, some customers fear about their data privacy and safety, especially their payment information.
Furthermore, users fear that virtual assistants collect information all the time. That makes for a concerning scenario in which we are being spied on.
Voice Commerce Statistics
Here are the essential voice commerce statistics you should know:
As the range of devices with voice assistants increases, market researcher Juniper expects the value of voice-controlled transactions to grow to an impressive 320% in 2023.

130 million people in the US are expected to start using smart speakers for shopping by 2025.

Total transaction value made through voice assistance is expected to reach $164 billion globally by 2025.

Over 40% of global shoppers regularly used smart speakers for shopping in 2021.

Since the beginning of the COVID-19 pandemic, voice commerce shopping grew 72% in the US.

Voice commerce is a smart solution for merchants who want to simplify and speed up the shopping and payment process for their customers. Since the introduction of voice assistants in computers, smartphones, tablets, and smart speakers, voice commerce has been steadily gaining new users every year.
Although many customers are still hesitant to regularly use voice assistants, these solutions are proving to be reliable and efficient in ecommerce for both merchants and their customers.