No one can deny that B2B
ecommerce
is on the rise. In the business-to-business world, most business owners realize the convenience of ordering their products online. So much so, that they are starting to look for suppliers to efficiently fulfill their procurement needs online. This move to online sourcing has resulted in the exponential growth of global B2B ecommerce, with the anticipation for additional expansion in the years to come.
What is B2B Ecommerce?
B2B Ecommerce, or Business-to-Business ecommerce, covers the online selling of products and services between a vendor company and a client company, from the vendor's website. This contrasts with B2C (Business to Consumer) ecommerce, which defines the online business transactions between a company and a consumer buyer. Compared to the relative simplicity of B2C ecommerce, B2B transactions are much more complicated. In the online B2C market, prices are usually set, delivery is simple, and order volumes are small. On the other hand, B2B transaction prices typically have multiple variables, such as volume tiers. Because businesses are much larger entities, the volume of products and services sold are much higher – and the shipping requirements are much more complicated. Moreover, B2B ecommerce is generally much more complex, including impediments such as taxation and regulation. The size of the B2B ecommerce market makes the criteria for the product and the procedures of execution rather difficult.
Importance of B2B Ecommerce Solutions
For more than 20 years, the B2B ecommerce market has experienced steady growth. Initially, many B2B websites were introduced to economically replace Sales and Account Services Reps. However, the processes associated with this segment of ecommerce have not met the solution standards set by B2C.  Generally, B2B sellers are looking to provide the same shopping experience found on their B2C counterpart's websites. This is an idea that they must keep in mind when creating an ecommerce strategy. B2B buyers also go online, search for the availability and the detailed description of the product they wish to purchase, as well as the ability to place their orders from their desktop, mobile and tablet devices. Overall, these customers are looking for a straightforward, user-friendly experience where they can serve themselves, on their schedule. It's more than just having the best goods, at the lowest prices. Buyers are also looking for the best experience online. To delivery this, B2B sellers should consider using an ecommerce platform to help drive their experience.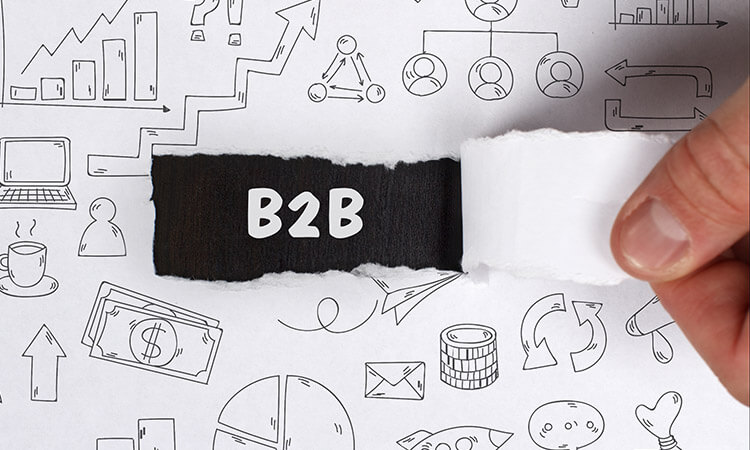 Today, B2B Ecommerce platforms have become the key channels for new customer acquisition and increasing profit.
How to Choose a B2B Ecommerce Platform
There are plenty of B2B ecommerce platforms on the market. They are all different, with a variety of advantages and disadvantages. Before choosing your solution, there are a few things you should consider, including:
Practicality
B2B ecommerce has its own unique challenges that are different from B2C. B2B merchants tackle longer procurement periods, need sales authorizations, budget approvals, large order volumes, and incur repeat orders. Your product needs to meet the complex needs of everyday B2B sellers.
Responsive Design
B2B customers are increasingly shopping through platforms like smartphones and tablets. Your ecommerce should make it easy to browse for items, check prices, and make purchases through various screen sizes. If your online store is not responsive, chances are you're losing out on sales.
Self-Service
Buyers want access to information that can help them solve their problems on their own time. Your
ecommerce
should provide them with the ability to do that. Customers should have access to information regarding packaging, order monitoring, quotation permissions, along with other apps to help them manage their accounts. Finally, good customer service is never a bad idea.
Customer Specific Pricing
B2B Ecommerce should also offer customer-specific catalogs of prices and products. Unlike B2C, prices can vary based on purchase volume. Your platform should make it possible for prices to display differently for different customers.
Payment Options
B2B pricing models are also different from those of B2C, with Businesses regularly purchasing larger and bulk orders. Your platform needs flexible payment options, such as paying one or multiple invoices at a time, making a partial payment and even the possibility of offering recurring payments for your customers.
Product Catalog Management
A big challenge for B2B merchants is the management of product information. Handling dozens of product catalogs, each from a separate supplier and in a different format can be a crazy process and your product content can easily get out of hand and disorganized. Standardizing this data and preparing it for product listings on your website can be challenging. Make sure to evaluate the complexity of your product inventory. In some instances, you might choose to invest in a Product Information Management System for your ecommerce site.
Best B2B Ecommerce Platforms
Picking the right platform for your B2B business is a little different than choosing one for a B2C. At the same time, many companies that consider themselves B2B, also service the consumer market. Just because you choose to be a B2B doesn't mean that you must stray away from selling to end-users. To help you make an easier decision on the best platform for your business needs, we've listed and analyzed the platforms below.
Magento

Magento
 Commerce includes everything you need for multiple brands, channel partners, or key accounts to manage B2B ecommerce websites. With specific roles and permissions, your business to business customers can self-manage their business accounts and set up multiple levels of buyers. They can also track quotes, view detailed order history, and manage their online credit, reducing the need for them to contact you. You can customize the online experience with the option to give B2B customers custom catalogs and price lists and optimize advertising and marketing to different segments. You can customize your B2B ecommerce site to boost revenue, improve flexibility with customer transaction assistance, provide credit cards and alternative methods of payment. If you are looking to optimize your operations, Magento is a single solution. Handle orders from all sales channels on your 
B2B ecommerce website
, provide accurate, real-time inventory to customers throughout your supply chain and use automated business rules to reduce your delivery and fulfillment costs. Magento allows you to increase sales with fast and convenient purchasing options. B2B Buyers can easily place orders online, or your sales team can assist customers by creating orders on their behalf. Magento also includes a full set of quote management tools, so you can respond quickly to quote requests online. B2B Buyers can place orders online quickly by entering SKUs, uploading CSV files, or selecting items from the list of pre-set requests. Company procurement takes place on the go. Develop mobile-optimized, immersive apps to enable your customers and sales staff to place orders on any phone, at any time. Increase sales with B2C-tested merchandising, content management, and promotional capabilities that distinguish your brand and highlight products. As a pioneer in cloud ecommerce, Magento also offers high-performance, secure services without expensive capital costs or maintenance fees. It's also easy to integrate with your current backend applications because of their flexible APIs and off-the-shelf plugins that speed up your promotional process.
Features:
Existing inventory and supply, SEO backing, specific role options, customizable for pricing catalog, real-time inventory, order placement on the go.
Pros:
User-friendly interface, customer support, payment options, customizable pricing, responsive.
Cons:
Costly, few integration possibilities, no CRM, no marketing and emails.
Shopify Plus

Shopify offers an option for B2B ecommerce. They call it the Wholesale storefront with Shopify Plus. Their options also support B2C stores. Shopify Plus is based on appealing to the demands of multinational ecommerce firms.
Shopify Plus
 has a simple to use app with a user-friendly interface that allows even the most novice users to become proficient in no time. This platform is perfect for businesses working through multiple channels. Shopify frequently focuses on simplifying transactional procedures, while still providing a variety of options for consumers. Also, Shopify handles purchase fluctuations and order quantity easily — perfect for businesses operating in both B2B and B2C realms. However, while you can provide your customers with different transaction options, as they become more specific, you may run into some problems. Also, worth mentioning is that the simplicity of Shopify may alter your ability to grow and scale your operations to some point. As a merchant, you can customize the template for various groups of tagged buyers. Shopify Plus even has an option for modifying the overall experience of your logged in customers who are assigned to a specific wholesale group. The wholesale channel of Shopify Plus provides an easy way for scaling brands to expand into the booming B2B market. Whether you're just trying to keep up with inbound wholesale orders or actively tapping into B2B selling for the first time, with your current branding, you'll be able to set up a responsive wholesale store, no development or coding required. With Shopify Plus you can automate the B2B wholesale process from making the account to checking out. Their app features wholesale specific pricing, order controls, and automated quick and easy sign-ups. Best of all, you can create
a password-protected store
for your B2B customers with the existing products and inventory that you have.
Features:
Advanced Shopify apps, customizable checkout, additional API, the Merchant Success Program to help you get the most value out of Shopify Plus.
Pros:
Hosting, bandwidth, payment options, security, customization, reports, custom fulfillment.
Cons:
Content limitations, platform lock-in, platform expertise.
NetSuite SuiteCommerce

NetSuite SuiteCommerce
 was founded to create an engaging website for B2B buyers, which at the same time helps maximize sales and reduce the time needed to purchase a product while having all the features of a B2C ecommerce. Their idea was to help all sorts of merchants multitask on a single platform. The NetSuite platform provides the tools necessary to modernize the purchasing process, including capabilities for routine, repeat and bulk ordering. Combine the supply and buy-side by integrating suppliers, retailers, and industrial agencies. Digital orders are automatically converted into invoices with clearance, delivery and billing process management. Give your negotiated prices, terms and credit limits to customers. Enable customers on your website to request a Quote Request and then turn the quote into an online order. Link the consumer catalogs directly to your customers' e-procurement process with punch-out capability via third-party adapters. Automate and speed up your billing process by enabling buyers to review and manage online payments. View outstanding and available balance summaries, deposits, credit memos, and account terms. Examine both invoices or allow full or partial transactions conveniently against single or multiple invoices when account terms occur. Provide 
B2B payment methods
 like invoice billing, credit limits and ACH processing. Provide self-service assistance for your customers while motivating the staff with comprehensive case management, effective returns, and field service reporting to satisfy customer needs. Enable self-service return management so that online return authorization can be initiated by shoppers. NetSuite also offers a separate help desk option, to support improved communications with your customers and increase your consumer satisfaction. With this option, your clients can submit their questions and queries directly. They even have access to their purchase history, along with delivery, billing, and payment. This makes reordering products a simple process.
Features
: Existing inventory and supply, CRM, Emails.
Pros
: Good integration, comprehensive offer, high visibility.
Cons
: Costly, as well as extensive training.
IBM Digital Commerce

IBM Digital Commerce
 is another B2B supplier-specific ecommerce system. It makes it easy for companies to provide individual customers with personalized service by using contracts, transaction plans, and other such paperwork. The system also facilitates automated storage and recording of such records, meaning that all contracts are squared away automatically. Your group can also build a knowledge base for business-and industry-related information through Digital Commerce. This makes it easy for both your organization and your customers to find the information they need, and at any time. An issue might arise though when it comes to the technical part of the platform, as some coding knowledge is required.
Features:
Digital Commerce provides a fully integrated set of store management, merchandising and marketing tools for business users, including catalog management, promotions, campaigns, prices, page layouts, and stores.
Pros:
Flexibility in the configuration and extension process. Includes a great set of features from the box. Has a somewhat challenging technical learning curve.
Cons:
IBM could benefit from a user community. Customization still has some steep technical challenges. Requires a dedicated team of technical support.
BigCommerce

According to most software review sites,
BigCommerce
is the "world's leading cloud ecommerce platform." The BigCommerce platform makes it easy for customer groups to be offered various price lists or catalogs, and to hybrid businesses with both B2B and B2C customers. In other terms, you can provide a single approach for both B2B and B2C. Due to the complexity of built-in features, the initial learning curve of BigCommerce is shorter than with some other SaaS frameworks. However, the support team and in-depth documentation from BigCommerce allows even new users to quickly and efficiently get up to speed. BigCommerce empowers your team to create sleek website designs for large catalogs, with the segmentation of customers and prices, down to the SKU level. Use automated customer and price segmentation, punch out, purchase orders and net payment terms, user roles, and integration with major ERP, OMS, and CRM systems to enable a better B2B ecommerce experience. Reduce costs by building the B2B customized shipping rates through their native integration with powerful partners in the shipping industry. With 90% of the BigCommerce platform data exposed to APIs and 400+ API calls per second, you can sync data with any 3rd-party tool in your ecosystem. Enable one-click, pre-built resources like instant quote creation, app privileges, and reordering for the B2B customer experience of the best-in-class.
Features:
Existing inventory and supply, CRM, and marketing options.
Pros:
Comprehensive functionality approach.
Cons:
Advanced features can be expensive, unreliable support.
NuOrder

NuOrder
is an order-entry platform for ecommerce that strives to optimize procedures and enhance customer engagement. The B2B ecommerce system of NuOrder is quite flexible and is known to be a valuable
B2B sales
and marketing resource for suppliers, distributors, and manufacturers. Because of its emphasis on procedures specific to B2B, such as reorders and bulk shipping NuOrder may be a little confusing. It may not be the most developed software out there, but it is a basic tool. Furthermore, when synchronizing information and data, many users report a variety of bugs, making for a rather frustrating experience.
Features:
Reorder, bulk shipping. sales and marketing.
Pros:
Easy to use, instant shipping info, build history.
Cons:
Promo code functionality is not available, no iOS app, difficult to select color assortments of the same style.
Contalog

Contalog
offers an exclusive side to regular purchasing tasks. They believe that wholesale purchases boost your revenues tremendously, so you should provide them with a VIP experience. A B2B platform system should also make it easy for businesses to handle large-scale procurement. Invite your wholesale and retail distributors to access your exclusive B2B ecommerce website and send them login credentials to make their orders whenever and wherever they want them. You can specify different prices for products sold on your B2B store with custom pricing options. Best of all, keeping track of your order status is a trouble-free task with B2B ecommerce software from Contalog. Four different order statuses keep your delivery network informed about what's going on and what's being delivered. A database of the shopping history of customers is critical to your company. Your B2B ordering system will have full order and transaction history of all customers helping you to navigate across trends of buying. With the B2B
ecommerce
program from Contalog, you will figure out which items are the best sellers and who are the top suppliers. Track customer-based purchases, inventory figures, etc., and know which goods are not selling or common. The B2B ecommerce system of Contalog helps you to classify and identify goods so that consumers can quickly find the segmentations of the items they choose. Easy navigation and multi-level category hierarchy compliment the consumer identification system.
Features:
Provides inventory management software, order management systems, product information management, ecommerce and mobile business applications, virtual catalogs, and in-store training.
Pros:
Great support and usability, simple to use, complete distribution, supply and order management power, quick to use. To businesses with several facilities,
Cons:
Platform training needed, not yet for companies with more than 1000 users
TradeGecko

TradeGecko
is an inventory management system that aims to improve the accuracy, efficiency, and affordability of your inventory management, so you focus on growing your company. TradeGecko fits well with large companies with substantial warehousing activities, but in terms of pricing and functionality, it is also accommodating enough for small and medium-sized operations. B2B ecommerce offerings from TradeGecko are focused on streamlining processes that involve inventory, orders, and shipping. Simplicity, just like with NuOrder, is at the heart of the value of TradeGecko. You will have even more time to improve processes elsewhere by simplifying and automating your various transactional processes with TradeGecko. TradeGecko also offers comprehensive monitoring and analysis, allowing you to make adjustments if needed to your processes. But, since TradeGecko is a common cloud-based platform, it sometimes faces slowdowns during high-traffic moments. Also, some users report bugs in the input and synchronization of data.
Features:
Inventory control, inventory optimization, warehouse management.
Pros:
Easy to use, updates and solves problems very fast, good customer service correspondence.
Cons:
No payment module, the smartphone app is limited, browser-based software is somewhat slow requiring refreshes for up-to-date stock, as well as long loading times during navigation.
GOECart

GoECart
is hailed as an all-in-one solution for B2B companies seeking to immerse themselves in the ecommerce world. GoECart, is essentially a collection of different "mini-solutions" that can help you streamline any part of your B2B ecommerce platform, from customer relationship management to transactional backend processes. GoECart stores vital data and information in a centralized hub, so that everyone has access to it. The main deficiency of GoECart is that it is often seen as having bits and pieces of what a B2B requires but not fully functional. While the product suite offers options in a variety of areas, it might not be the best option for your business when the company continues to grow. Whether you're selling directly to other businesses, through resellers or retailers, or you're in the center of a market or supply chain, GoECart B2B ecommerce Platform will help you to drive revenue more effectively through your digital B2B network.
Features:
Customer groups facilitate pricing, product displays, bulk discounts, Custom pricing for customers, including negotiated prices.
Pros:
Great value for money.
Cons:
Poor reporting
.
3dCart

3dcart
 gives the B2B client a B2C-like experience. Online shopping offers a level of convenience that traditional retail simply cannot achieve, and the types of ecommerce features you would normally expect in B2C online stores win over B2B buyers. The vast majority of B2B buyers, therefore, prefer to buy online directly from vendors. 3dcart is designed as a platform that allows merchants to sell to anyone, anywhere. A strong foundation for the B2C user experience that enables B2B ecommerce stores to provide their customers with a simplified, streamlined purchase process. Using their strong Core Template Engine, 3dcart stores use mobile-ready responsive design, along with intuitive navigation. Render the goods easy to find by infinite categorization and brand variations, and the clients can figure out what they're interested in right away. 3dcart is fully equipped with all the methods that you need to set up wholesale prices that are best for your company and make sense for the client base. Offer wholesale pricing based on quantity, customer type or both with minimum order quantity requirements and even multiple price levels.
Features:
Intuitive dashboard, checkout, Facebook store, payment options, API access, 247 support, domain registration.
Pros:
User-friendly, full solution, easy to set up
Cons:
Email storage space, monthly fee limitation. B2B ecommerce can be the perfect choice for you, and the market is growing. It takes time and research to select the right
ecommerce
platform for your company. It's an investment in your business' long-term growth. Once you've done your research, you can choose the best platform to meet your B2B needs, and if you're also a B2C company, you can find one that accommodates both.