Every online business needs to accept online payments as quickly and securely as possible. To that end, merchant accounts and payment gateways facilitate online payments, each in their own way.
Together with payment processors, merchant accounts and payment gateways constitute the three pillars of online payment processing and provide a safe framework for digital financial operations.
This article outlines the differences between merchant accounts and payment gateways and what merchants get from each of them.
Merchant Account Vs. Payment Gateway

For organizations processing online payments, it's not a matter of which one to choose. Merchant accounts and payment gateways serve different purposes and organizations accepting online payments need both tools.
Note: A payment processor can provide merchants with all they need to start processing payments online. They work with acquiring banks on setting up a merchant account and provide payment gateway technology so that merchants have everything at their disposal to start processing payments.
What Is a Merchant Account?
A merchant account is a special business bank account that businesses need for payment processing services. Doesn't matter whether a business is processing payments online or via POS terminal, a merchant account is a required to accept payments.
A merchant account is an electronic-only account to which merchants streamline their customers' payments. The debited funds are held on that account until the settlement date. On the settlement date, the funds are transferred to the merchant's regular business bank account or paid out via checks.
How to Get a Merchant Account
Most individual merchants can open a dedicated merchant account at an acquiring bank. However, the process requires time, comprehensive underwriting, upfront investments and jumping through regulation hoops. You need to prove that the account is not to be used for money laundering, online scams and other illegal activities.
A new business may have difficulties proving their credit score and banks often avoid working with high-risk merchants. While high-risk merchant accounts are difficult to obtain, they provide additional functionalities like:
Accepting multiple currencies.
Unlimited payment processing volume.
Global billing.
Recurring billing.  
Note: If you fall into the high-risk category, your best option is to work with a payment processor that has experience in working with high-risk businesses.
Payment service providers (PSP) provide both merchant account and payment gateway options within their service packages. Merchants who choose to work with a PSP, like CCBill, get everything they need to start accepting payments online.
Note: In the case of high-risk merchant accounts, banking rules stipulate that payment providers must perform an in-depth analysis of the merchant's business operations and potential risks.  
Types of Merchant Account
There are two main types of merchant account:
Dedicated Merchant Account. A dedicated merchant account belongs to a single merchant. Owning such an account gives the merchant exclusive control over the funds and transactions. The only organization processing funds via the account is you. Thus, you are in charge of mitigating fraud and keeping the merchant account in good standing.
Aggregate Merchant Account. Payment processors provide aggregate merchant accounts for processing payments of multiple merchants. The PSP collects the money that consumers pay to the merchant, together with funds paid to other merchants. The payment processor ensures the account is in good standing and distributes the funds to merchants based on a set schedule. 
What Is a Payment Gateway?

A payment gateway is software that facilitates electronic transactions by encrypting and sending the customer's personal and bank information to the payment processor.
How Does a Payment Gateway Work?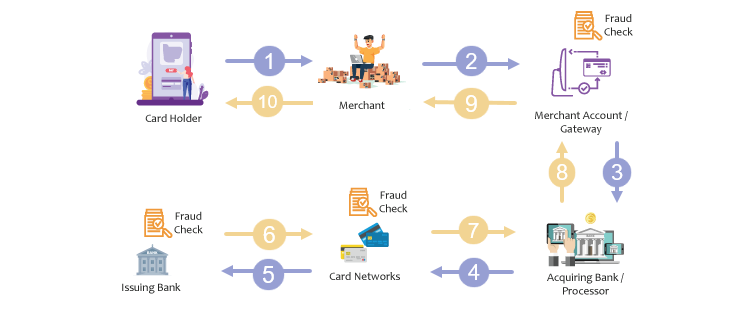 Payment gateways mediate between merchants and banks in the following steps:
The customer provides payment card information on the checkout page.
The payment gateway encrypts the customer's personal and bank information and keeps the transaction safe from data theft and misuse.
The payment gateway then sends the encrypted information to the payment processor.
The payment processor forwards the payment details via the card association to the customer's card issuing bank and waits for the transaction authorization.
The payment processor receives an approval or decline notification and forwards it to the merchant via the payment gateway.  
Besides transmitting user data, hosted payment gateways also usually provide:
Types of Payment Gateways
There are two main types of payment gateways:
Hosted payment gateways. A hosted payment gateway sends customers away from the merchant's checkout page. This is a third-party element that requires customers to leave your website. When a customer clicks the payment link, they are redirected to the payment service provider's page. Once they fill out the payment data and complete the transaction, they are directed back to the website checkout page. Such transactions are PCI compliant and, therefore, completely secure. Nevertheless, using an external gateway means that the merchant does not have full control of the procedure.
Self-hosted or custom payment gateways. In a self-hosted payment gateway, customers' payment data are collected directly on the merchant's website, without redirections to third-party websites. This payment gateway gives merchants full control of the payment process, and everything is finalized in one place. However, custom gateways are expensive, and the security certification process is time-consuming.

API hosted payment gateways. A subtype of a self-hosted payment gateway. For this setup to work, merchants integrate with their payment processor's payment API (Application Programming Interface). Customers provide their credit or debit card details when checking out and the transaction is completed without leaving the merchant's website. That way, merchants fully control the user experience. However, using API hosted gateways means that merchants are responsible for ensuring PCI compliance and payment security.

Conclusion
Doesn't matter whether you are a new business or an industry giant like Amazon, you need a merchant account and a payment gateway to process payments online. These two payment processing concepts serve different purposes and work together to ensure smooth and safe online payment processing.
Take into consideration your requirements and decide whether you want to go down the path of doing everything by yourself in order to maintain full control. Alternatively, you can work with a reliable payment processing provider, such as CCBill, to speed up the process.