With record growth and minimal investment needed to start an ecommerce business, the market is more saturated than ever. To stand out from the competition and grow your idea, you will need a firm understanding of some basic principles of ecommerce.
This article will provide an overview of the different ecommerce business models, along with examples and insight into the online marketplace.
Ecommerce Business Model Types
Each ecommerce business model has advantages and disadvantages, with many companies operating in a blended model. Selecting the best one for your business is critical to keeping it profitable.
Business-to-Consumer (B2C)
In B2C, a business sells a product or service to an individual customer. B2C ecommerce and online retail are commonly used interchangeably even though they are not the same. B2C is a wider term that includes various non-physical services like Software as a Service (SaaS).
The B2C model is ideal for a cash-strapped startup business. With comparatively low upfront investment, it can be very profitable while also being straightforward to set up. But beware, it is also the most competitive market, offering lower customer lifetime value and higher order volumes than B2B.
Despite having a 52% market share in the United States, Amazon only controls 13% of the worldwide B2C ecommerce market. Alibaba Group (Taobao and Tmall) accounts for 30% of the market.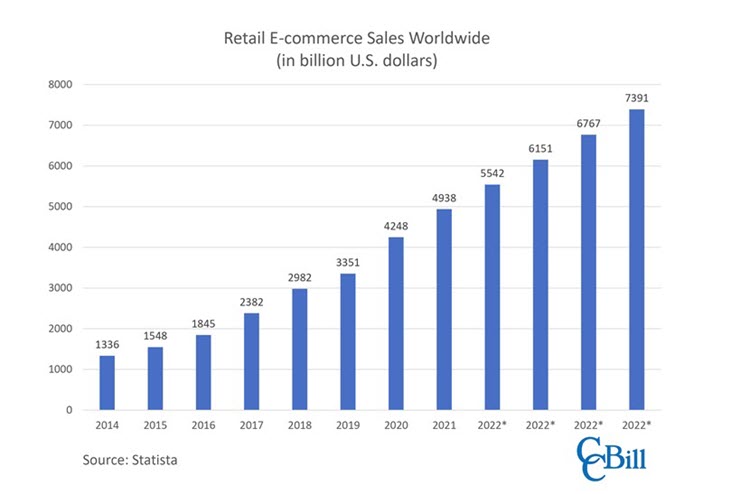 Business-to-Business (B2B)
B2B ecommerce refers to the online sale of goods and services between businesses. B2B is more complicated than B2C, with a longer buying cycle and a more personalized product and price for every customer. It also has a higher barrier to entry, with a large upfront investment needed.
Additionally, the B2B buyer expects the same level of service as their B2C counterpart, and anything less will drive them away. Building an ecommerce website on WordPress is one way of delivering a great customer experience without spending a fortune.
Valued at $14.9 trillion in 2020, the B2B ecommerce market is worth five times more than the B2C market. The Asia Pacific region leads the way with a market share of almost 80%, well ahead of North America and Europe.
| B2B | B2C |
| --- | --- |
| Single buyer | Multiple Decision Makers |
| Fixed consumer price | Customer specific price |
| Low frequency purchase | Reoccurring purchase |
| Single visit | Long lasting partnership |
| Emotional and impulse buying | Buying is a part of the job |
The emergence of new technologies and ecommerce innovations has changed how merchants form their business relationships. Find out how a comprehensive omnichannel marketing strategy can elevate your customers' buying experience to a new level.
Consumer to Business (C2B)
With C2B ecommerce, the customer provides the business with a service or product. This reversal of roles is done through affiliate and influencer marketing, freelancing, and user testing. C2B can be a complete business model or supplement an already successful business. Many consumer-to-business transactions take place on a third-party website, some of which require a service fee to access.
C2B marketing is a cost-effective way for a company to expand its reach and consumer base. However, relying on it is risky. The success of C2B marketing is almost entirely dependent on client marketing efficiency, which the business has little influence over.
C2B has the smallest estimated market size of the four ecommerce types. The exact figures are hard to pin down due to the private and individual nature of the transactions.
Shutterstock, a platform that sells freelance photographer content.
A food blogger who promotes an affiliate link to a restaurant's culinary items.
A tech blogger who promotes a company to their audience in exchange for ad revenue.
A business that rewards customers for reviewing a product on social media.
Consumer to Consumer (C2C)
Consumer-to-consumer (C2C) ecommerce refers to an online transaction between two private users, with the goal of buying or selling goods or services. The most well-known C2C businesses are online marketplaces like eBay and Etsy and auction websites like Craigslist.
In the C2C model, a business can only provide a platform for people to communicate with one another but does not get involved in the commercial transaction itself. Subsequently, for a C2C ecommerce business to be profitable, it must define a clear monetization model.
eBay generates roughly $3 billion in revenue each year from advertising. Additionally, every transaction on E-Bay is subject to a commission that ranges from 0% up to 5%.
Uber connects car owners with those who require transportation. Drivers must pay money to get listed on Uber's database and access information about who needs a ride. Uber's revenue increased by 57% to $17.5 billion in 2021.
Ecommerce Business Revenue Models
A revenue model is a general plan for creating revenue. It considers various income-generating strategies, sources, and the target customer. Depending on your product, starting capital, and expertise, any model can be profitable.
The revenue models listed below will help with deciding on the right approach for you:
Dropshipping
Dropshipping is a method that removes the requirement for a business to keep stock on hand. Instead, the store sells items and then sends the sales order to a third-party vendor (i.e., supplier), who ships the item to the customer.
Even though it seems too good to be true, dropshipping is a low-risk business model with a good profit margin with the right suppliers. But be warned, the dropshipping market is highly competitive. Many companies provide the same goods at a similar cost, making effective ecommerce marketing vital to success.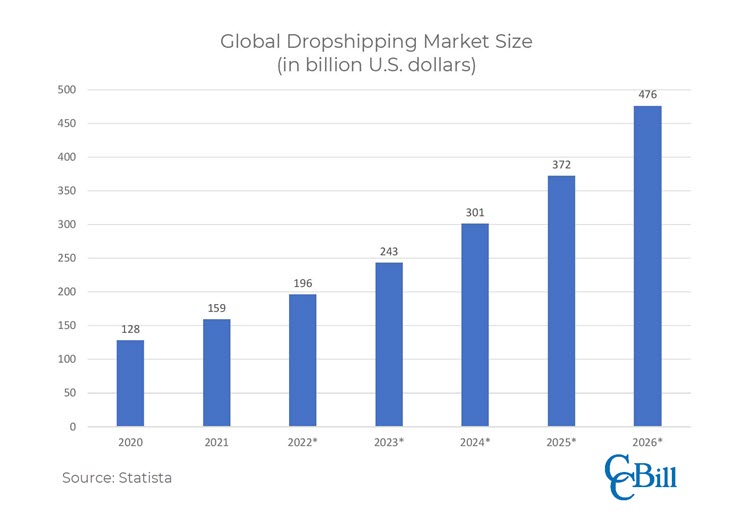 Subscription
Subscriptions are a revenue model in which a company provides ongoing services for monthly payments. Successful subscription-based businesses deliver greater value for money with increased flexibility and personalization than traditional buy-and-own options.
One significant advantage of the subscription model is that it allows businesses to develop more robust and longer-lasting ties with their customers. Subscription-based businesses generate profit from retaining customers for as long as possible and rely on a high customer-lifetime value over time.
A drawback of the subscription business model is that customers are often hesitant to commit. They are unsure if the product will be useful to them in the long run or may be concerned about being locked into a difficult-to-get-out-of contract. Subscription businesses use freemium models and trial offers to entice users to commit.
The global subscription ecommerce market was worth $72 billion in 2021 and is expected to grow to $904 billion by 2026, with a 65% compound annual growth rate.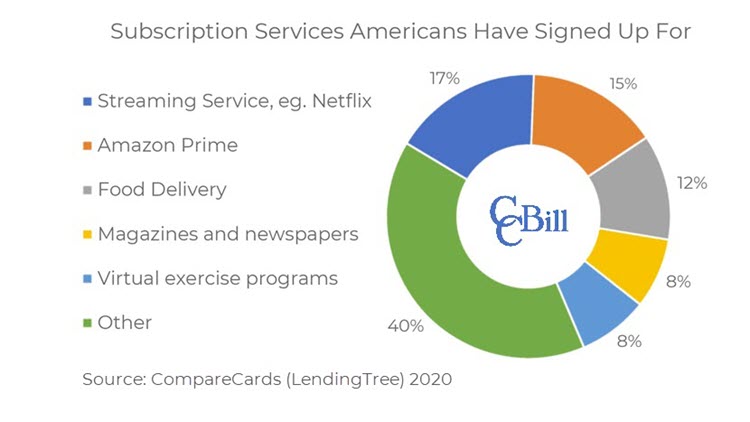 Subscription payment processing is not something all payment processors can support. For more than 20 years, CCBill has been helping subscription businesses process payments online. Check out our all-in-one billing solutions platform, with subscription tools and billing automation in one package.
Wholesaling
Wholesalers sell items in bulk at a discount to other companies, acting as a middleman between the manufacturer and the distributor or retailer. Wholesale ecommerce is typically a B2B model.
Wholesaling has a higher barrier to entry than any other revenue model, requiring a lot of capital to keep stock on hand to supply retailers. The upside of wholesaling is that you don't have to do much marketing. It's up to the retailer to sell the product, while wholesalers are responsible for supplying.
As more traditional B2B enterprises migrate their activities online, online wholesale ecommerce has exploded in popularity over the previous 20 years. According to Statista, the volume of B2B wholesaling in the United States increased from $2.7 trillion in 2006 to $7 trillion in 2019.
White Labeling
White-labeled products are generic products that are mass-produced and then personalized with a logo or brand name.
White labeling is not the same as private labeling, which is when a manufacturer develops an exclusive product for a single retailer. Besides physical goods, software can also be white labeled. Most white-labeled software is sold as Software as a Service (SaaS) and leased for a monthly fee.
When a corporation can capitalize on its brand and market awareness, white labeling can be a profitable enterprise, allowing them to sell the product for more than the manufacturer could. The most significant disadvantage of white-labeled products is that they offer few customization options. If customers find a flaw in the product, updating the product is under the control of the manufacturer.
Takeaway
If you are planning to start a business, rest assured that the 'great acceleration' of ecommerce in 2020 was not a fluke. During the COVID-19 pandemic, ecommerce growth exploded and signaled a new age of digital shopping.
Showing no signs of stopping, this trend is strongly linked to the ongoing improvement of online access, particularly in "mobile-first" communities. Some reports suggest that ecommerce might overtake physical retail as soon as 2024.
So, start your ecommerce journey right now!