Have you ever stopped to think about your own experience as an online shopper? Do you prefer certain ecommerce websites more than others, and why is that? You'll discover quickly that it is the design and layout of the online store that determines the difference between a buyer and a visitor. User-friendly website design for 
ecommerce
 is essential to converting visitors into buyers. Ideally, the design of the website should render the purchase process as easy, comfortable and seamless. No matter how good your online advertising is, you may lose valuable customers if your website is not optimized for sales.
Factors of Good Ecommerce Website Design
To makes sure your website meets the needs of your buyers, you'll want to consider the layout, look and pricing of your products, navigation, responsiveness and to top all this off, the checkout experience. To do this, once you are done with the development of your website, you can have a friend or business partner look it over to make sure that it is ready to go live.
Product Images and Descriptions
Perhaps the biggest turn-off for online shoppers is when they can't get a clear view of the products they wish to purchase. Though you can't offer the same brick and mortar product experience, you can still help solve this difficulty, by equipping your online store with high-quality product images and videos. This is bound to help you improve your ecommerce website design and convert new visitors into customers.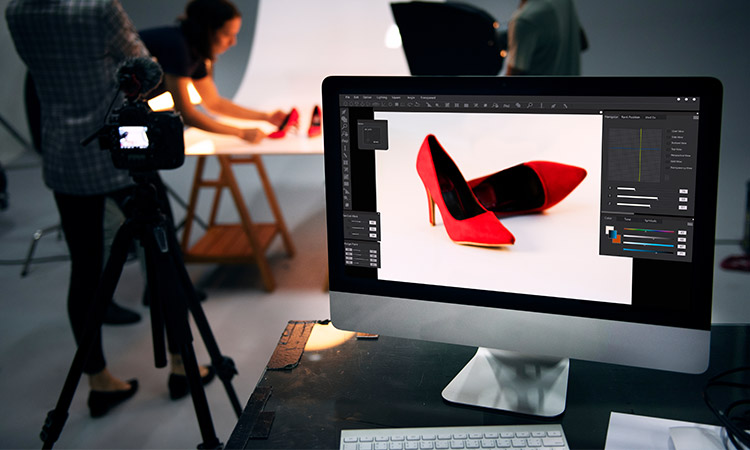 A key to this is to offer your store visitors high-resolution photos. Any blurriness or pixelation may turn away prospective buyers, leaving the confusion that your product is low quality. Consider creating photo galleries for each product to allow users to click through images and watch videos to see multiple product angles. Pop-up boxes are also a popular feature, as they allow visitors to zoom in to see the fine details of the product. If possible, use images of people who use or interact with your items. Clothing is much more attractive when a person wears it, instead of just showing a 2-D of the garment. After all, when you can see them on a living person, certain products are easier to sell.
Navigation, Filtering, and Search
From product images to contact forms, every single detail of your website could potentially contribute to a user's decision to make a purchase. That's why you should keep the user in mind when it comes to your ecommerce web design with every single decision you make. User experience is key to converting visitors into customers and transforming one-time customers into repeat clients. Filtering is a popular feature that is widely used on ecommerce sites. It serves the purpose of helping customers narrow down and find the product they are looking for. Think about the filters you can set on big websites such as Amazon or AliExpress for a product search, such as the category, material, or product brand.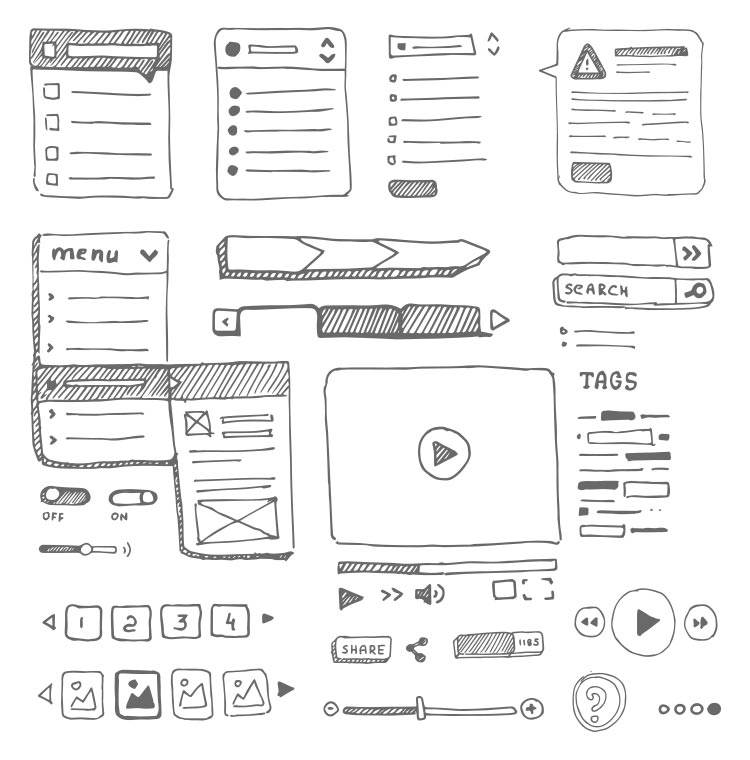 If you want an online store that will convert your visitors, it's almost a necessity to have product filtering. Not only because it facilitates on-site navigation and speeds up the search, but also because online customers are accustomed to using this tool on large ecommerce sites. It is a requirement. Finally, the navigation menu is an important part of the ease with which your visitors will navigate through your website. The key challenge for ecommerce website navigation is defining proper product categories and applying those taxonomies in the navigation menu. Well organized menu structure makes it easy for users to navigate your website pages to find what they're looking for. As a UX standard, the main menu should appear across all pages, preferably at the top of the page.
Support for all Devices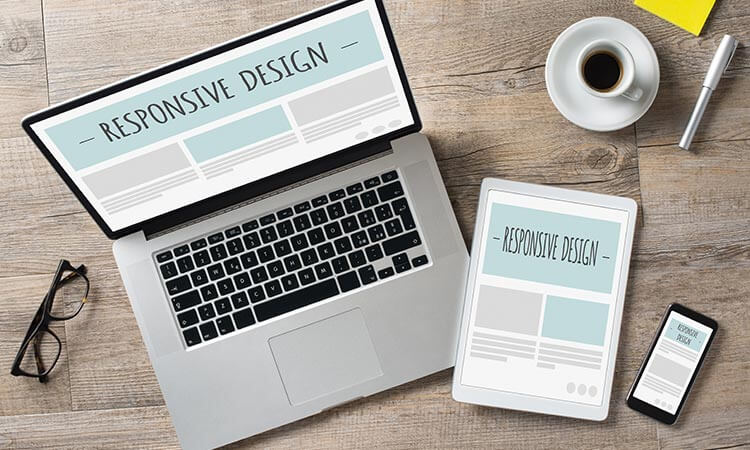 Increasingly, websites are being accessed over mobile devices. Not only does this apply to mobile devices, but tablets as well. Merchants who haven't optimized their website for mobile are missing out on valuable sales. A responsive layout makes it possible for your website to adapt to any type of screen or operating system, so you don't have to worry about making a separate mobile version of your site for every device. Just make sure to cover all major viewports. For example, layouts for tablet devices should not be the same as for mobile phones which have a narrower screen. The best way to make sure of this is to check the way your website looks from different devices and operating systems. Good device support is not just having a responsive website. It also means that your website is loading quickly on any device. This is important so your visitors do not bounce away before they see your products. Page speed is also a ranking factor for search engines. Google is emphasizing this aspect by providing tools such as 
Lighthouse
, 
PageSpeed Insights
 and the 
Speed report in their Google Search Console
. A good starting point for learning more about SEO is 
High-Performance Browser Networking
, a free book by Ilya Grigorik, a Web performance engineer at Google and Co-chair of W3C web performance WG. Simply put, the effort you put in to have good UX has a direct impact on your sales and customer satisfaction.
Note: One of the things often overlooked in website design is the favicon. Make sure you implement it properly and test it across different browsers and devices. Learn more about the implementation by refering to How to Add a Favicon to Your Website with HTML.
Checkout Experience
Your user's checkout experience is as important as your website's landing page. When setting up correctly, you will be able to overcome cart abandonment problems and improve conversion rates. Seamless checkout experience requires many adjustments, but it's all about removing barriers and making the buying process as easy as possible. If your checkout is too complicated for your customers to grasp, they will abandon the cart.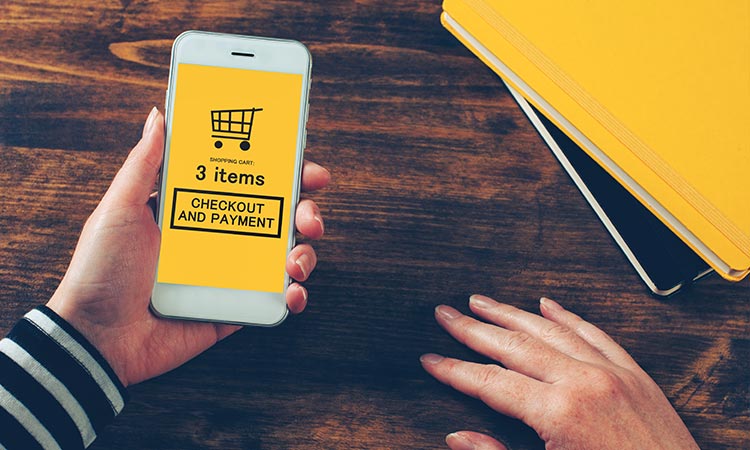 To make sure your checkout experience is up to par, you should consider the following:
Security
– This is perhaps the most important aspect of an ecommerce website experience due to growing issues with fraud. As a merchant, it is up to you to make sure that during the checkout process buyers feel comfortable and safe. If they do not, then they will leave your website before they even consider buying a thing. Additionally, you can post the logos for any third-party security systems you employ to keep your website safe. Sharing with your end-user that you are making an investment in the security of their valuable payment data can go a long way in building trust with your buyers.
Multiple Payment Options
– Your buyers want to be able to buy your products using the payment method that is easiest for them. This might not be the same for every customer. That is why the availability of different payment choices further reduces 
shopping cart
 abandonment. Make sure all major credit cards and famous digital payment services can be approved.
Clear Calls to Action
– Make sure you make direct and concise calls for action. A call to action, also known as a CTA is a clear, short, and visible statement presented as a link or a button that make it easier for the user to notice them. Help them identify their next move. Present CTA buttons that stand out by saying "Add to Cart" and "Check Out."
Flexibility
– Empower your buyers to move around freely within the checkout process and on the product pages. Make it easy, flexible, and intuitive to switch information on the checkout page.
Product Descriptions and Images
– Include thumbnails so that customers know that they have chosen the correct item. They may never come back if they are forced to hit the back button to remember what they added
Best Ecommerce Website Design
Find ways to be unforgettable and distinguish your company from your competitors through architecture, creative sales ideas, advertising, and apps. If you're not differentiated from others, you're just going to compete on the quality of your items, which visitors may not understand if they leave your site before they buy.
Rebecca Atwood
Rebecca Atwood
 is the brand and entrepreneur behind this beautifully designed website for ethically made interior design articles.
What we loved:
What makes this website stand out is its fast loading time and its elegant and classy look. The website gets the best mark for user-friendliness at first glance. However, this is not the real reason. The real reason is the Instagram-ish "Shop Now" hover-over on the products sold on the website: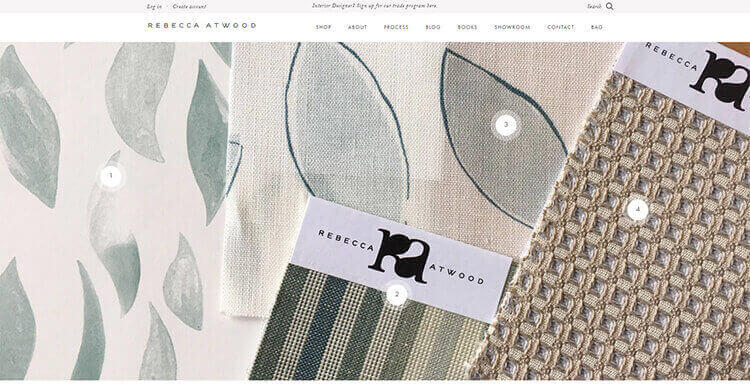 Product Images
– Images of products can be found on the homepage, with an easy click to buy a hover option. Once you click on a product type like pillows, you get the full assortment, elegantly displayed, with pricing cleverly displayed only once you hover over a pillow. Doing the same thing will provide you with another design of the same product. Clicking on the product will take you to a page where you can see pricing, a full description including size and where you can easily add the item to your shopping cart. Images are such high quality, that you can almost feel the fabric.
Navigation
– We give the navigation an A+. The menu bar stays on the top of the page, independent of your location on the website. It has clear information for each part of the website, so finding what you're looking for is not hard. Every step has been carefully planned and going back from page to page is simple. When clicking on the product you would like to buy, you are given all the information you need on one page. Cleverly inserted in the product category is a filter menu for other product categories and their subcategories.
Responsiveness
– Everything mentioned above is the same on all mobile devices. Users get the same look and feel on mobile as they do on the website itself. Truly impressive.
Checkout Experience
– Products are beautifully displayed, with pricing, descriptions, and designs. Once you choose the product you'd like to purchase, you are offered the quantity you would like and the price. Next, you are given the option to add to the registry and continue shopping or add to the bag. Adding to the bag will take you to a page with the item, giving you the option of adding special instructions about your item. You can then update your bag or check out. The checkout page is in the same design as the website with a little navigation menu to show the buyer where they are in the buying process. From cart to information, shipping and payment, everything is beautifully designed and functional.
Mulberry
When considering making a fashion website that will stand out, 
Mulberry
inspires. Their website catches the user's attention the moment you land on their homepage. From videos to image zoom-in and vivid colors, everything is shown in the scroll of the webpage. As opposed to other webpages that scroll for miles, Mulberry is simple, yet attractive.
What we loved:
A fashion girl's dream – Mulberry conveniently styles your potential bag d with an outfit you could wear. Hovering over an image of a bag, you'll be provided with a suggestion of an outfit to go along with it.

Online shopping, especially when buying a bag is not as simple as it looks. Not to worry though, Mulberry thinks about all your shopping needs. If the high-quality images are not enough to almost give you a feel of the fabric, the images will additionally show you the inside of the bag too! No need to wonder how many compartments your bag will offer.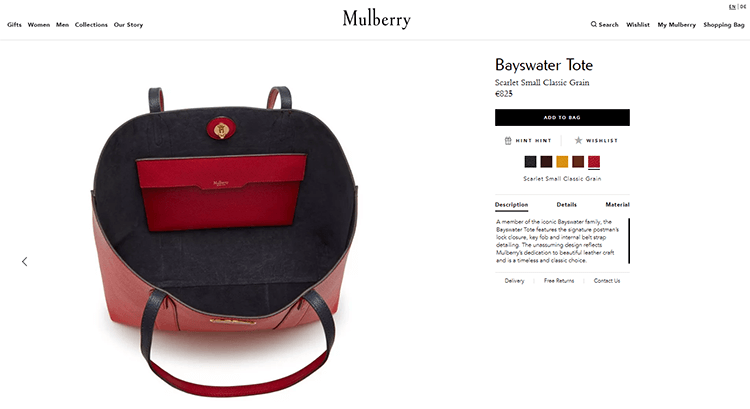 Product Images
– Images are displayed in high-quality full color. Products have images from different angles, and some even have outfits and models to show how a bag or product will look like in real life. Hovering over images allows for a zoomed-in view, so you don't have to click on it to see it closeup. Finally, the product view can be altered from six to twelve products at a time. Product name and price are displayed right away, so you don't have to click on the product to find out. Products also contain a description, details, and material. 
Navigation
– Page loading time is quick, and the website is very user-friendly. The pictures and text are all large and CTA's are clear to see. Sections are clearly outlined in the menu bar at the top and follow through your browsing experience. From options to sort products by filters to choosing how many products are displayed at a time helps the shopper get a better view and layout of the product offer. Helpful CTA's fill each product page like adding a product to a "wish list", sending a "hint" to a friend, checking out "delivery" or "free returns", and finally the option of "contacting" the seller.
Responsiveness
– From scrolling through the homepage to getting a closer look at the product everything is quick and smooth. Almost like the desktop version, the mobile version of the website is just as responsive and easy to navigate. Images are clear and you can zoom in to get a better view. CTA's are also clear and clickable.
Checkout Experience
– If we look past the fact that the moment you click to buy you receive a request for your email, their check out is quick and easily navigable. They immediately display their security options on the checkout page, along with all the payment options they accept and the consumer support they provide. Basically, you get all the checkout information before you decide to go further with the checkout.
Beacon Relief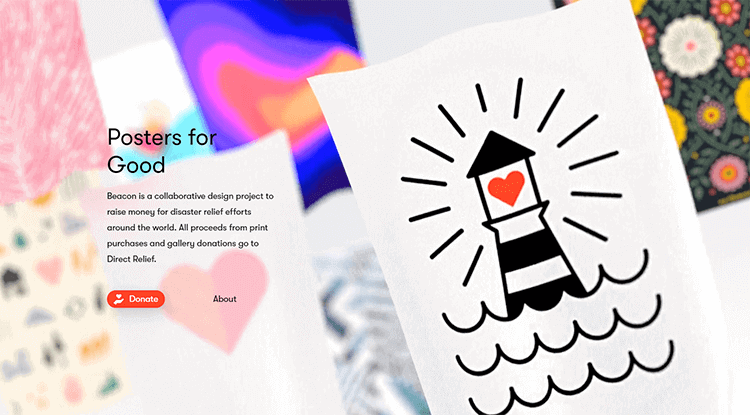 When we think about interactive design, 
Beacon Relief
 sounds like a good start. Noticeable moving background images bring this website to life. The website is highly interactive with an almost children's book-like feel to it. The website was made to raise disaster relief, so their use of many "donate" buttons is effective and noticeable. 
What we loved about it:
 It's simple, big and interactive. Everything you need to see is clear, there are no distractions for the actual products. Plus, there is a cart button floating around no matter where you scroll.
Product Images
– Products are displayed in large images and are pleasingly colorful, almost real life-size. The image quality is exceptional with name and price discretely colored slightly differently from the background, so as not to take away attention from the products themselves. Hovering over a product gives you options to "add to cart" or even share it on social media. The price and name are then prominently shown, but you are still not taken to another page until you click on the actual product. Each product has its own page, with the name, price, and description, as well as an, add to cart button.
Navigation
– The website does not have a menu. It's simple to use and has just the right CTA on each page. On the homepage, you can scroll through their products, but you are first faced with a "Donate" CTA. Products appear as you scroll, allowing you to hover and add them directly to the cart without the need to leave the home page. Once you add an item to the cart, it follows you as you scroll. Finally, you are taken directly to the "My Cart" page with a click, where you can finish your shopping experience. The website is not diverse but is very practical.
Responsiveness
– The webpage is just as responsive on the mobile, and coincidentally more attractive. Large colorful images and clean CTA's allow for a smooth experience on any device.
Checkout Experience
– The checkout is as simple and practical as the website itself, with the notice that some of the profits go to relief. The checkout page corresponds to the design of the website itself and has a navigation menu for the checkout process.
Packwire
Packwire
 is a custom packaging website, with a unique design. It stands out with a scroll that unlocks the details about the packaging.
What we loved about it:
The scrolling. The moment you enter the website, you are greeted with a message "Create your custom box" and as you scroll you are provided with an interactive view of the products and clear CTAs.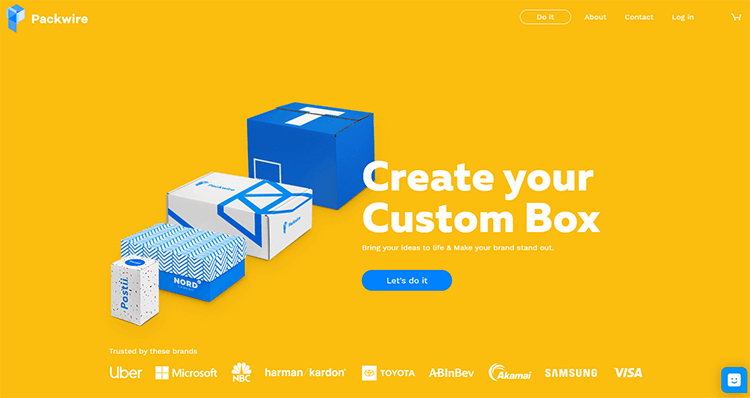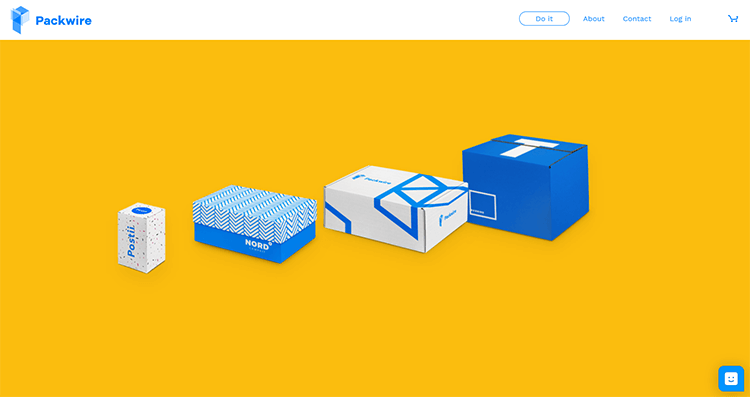 Product Images
– You are given a choice of packaging from the home page. The products are simply displayed to showcase the look of the packaging. Their coloring remains blue and yellow through the webpage. This website is particularly impressive because not only can you design your own box, but you can do it in 3D. You decide what you buy and what it looks like.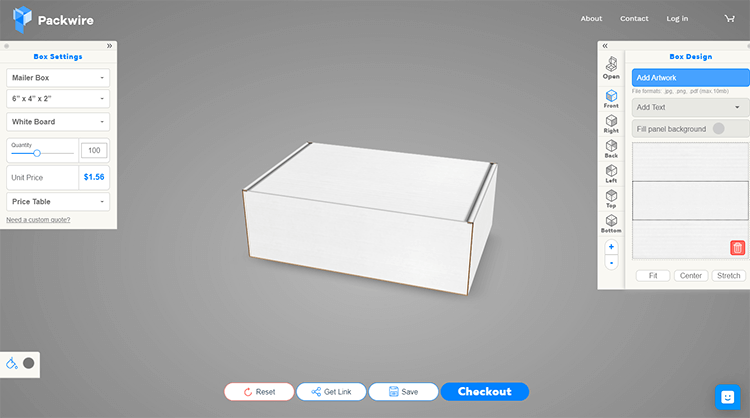 Navigation
– The boxes and packaging are displayed on the front page, as you scroll you are given a step by step guide on how to place your order. Scrolling back to the top you can choose the packaging you want, design it in the 3D environment, save or share it, and finally have it checked out. Very simple and explained in detail on the front page.
Responsiveness
– Some of the features from desktop viewport are not available in the viewport for mobile devices, but this keeps it simple, still allowing you to easily flow through the website. What's great is the option to still edit your product in 3D on mobile, as well.
Checkout Experience
– To check out, you must create your account. You can do this with Facebook, Google or Amazon, or you can simply create your username right at the spot.
Native Union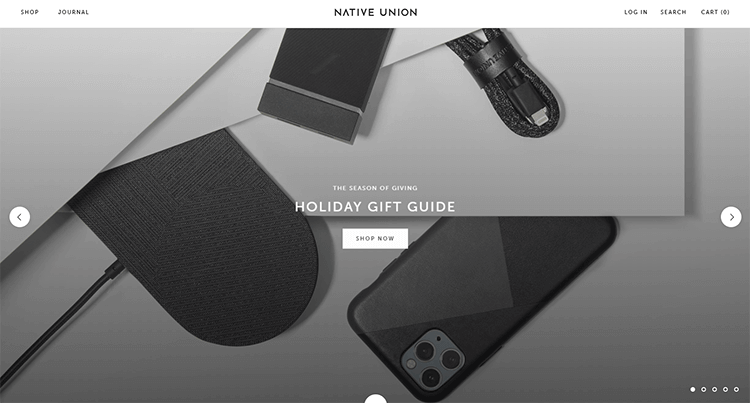 Smooth is the word to describe this website design. 
Native Union
 makes shopping simple and transparent. What made it stand out is the clean look of the products displayed and has an elegant look. No matter how much you scroll, there is always a back to the top button to help you get to the top of the page.
What we loved about it:
Pricing. The pricing is displayed in the local currency of each shopper, so they don't have to worry about the exchange rate or calculate it on their own before deciding whether they can buy the product.
Product Images
– Directly displayed on the front page you'll find the current best sellers and the new releases. Each product is displayed with a high-resolution image with the option of changing the product color on the spot without having to be taken to another page. The product name and price are clearly stated under the image. This website design also includes reviews for products, so you know what other shoppers had to say about the product you wanted to buy.
Navigation
– Navigation is simple with the menu tab showing the tab "shop". You can navigate directly to the product category you prefer and browse through the products with a filter specifically designed for each product category. Although the loading time is a bit slow, the product images are astounding with the possibility of zooming the images to almost twice the product size to get a better look at the product.
Responsiveness
– The mobile version of the website functions and looks even more attractive than the desktop version.
Checkout Experience
– A smooth "Add to Cart" button opens a pop up to keep you shopping for other products while displaying the products that have been added to the cart. The checkout is simple and has a navigation menu to help the user along the checkout process.
Couple.co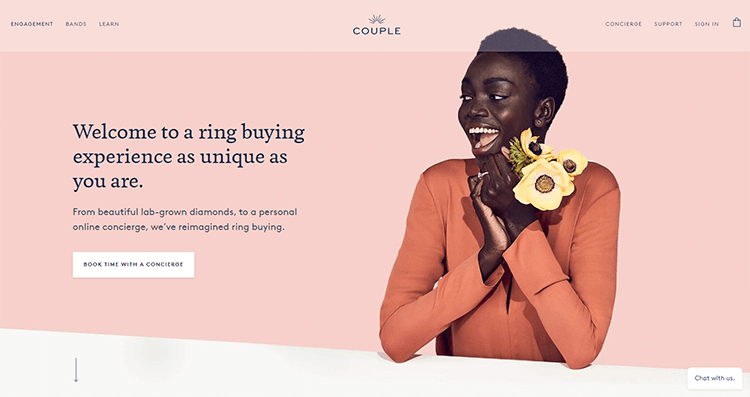 Couple.co
 is all about rings. Therefore, this website design makes sure you don't miss the point. This isn't the only aspect that draws one's attention once you enter the website. The clear "chat with us" and "consultation with a concierge" CTA is what makes this website design different from the rest.
What we loved about it:
Consumer focus. It's all about you, the shopper. You came to their website to buy a ring and they'll make it easy for you to decide what's right for you. They offer consumer support right at the homepage and even have a "book time with a concierge" to help make your doubts disappear.
Product Images
– The whole website is devoted to the consumer, from the top of the page to the very end. But the product itself is not available for you until you scroll the page. This is where they help you "mentally prepare" for the product. They help you understand how to pick it and then provide you with samples to view. Once you click on the product there is more information about the ring before you are given an option to choose from. Images are large and shiny with close-ups of rings, so you don't have to zoom or click on them. You can even engrave the product to your liking.
Navigation
– Lots of clicking to get to the actual product after all this is an "experience", but the website is fun and interesting to click and scroll through. Every button is clearly marked and helps lead you to the final checkout option.
Responsiveness
– Just like the desktop version the mobile version loses none of the charms. It's as responsive and flattering as the real thing. 
Checkout Experience
– Buying a ring is not simple online, there are many factors to take into consideration before you check out. That's why Couple.co makes sure you address size, engravement and every other factor that goes into buying a ring before you finally say the "I Buy".
Simply Chocolate
Just as the name states, this Danish website is all about chocolate. The 
Simply Chocolate
website design is one of the most attractive and interactive to date, with moving background images and larger than life chocolate candy bars that open as you scroll.
What we loved about it:
The opening your chocolate experience developed as you scroll.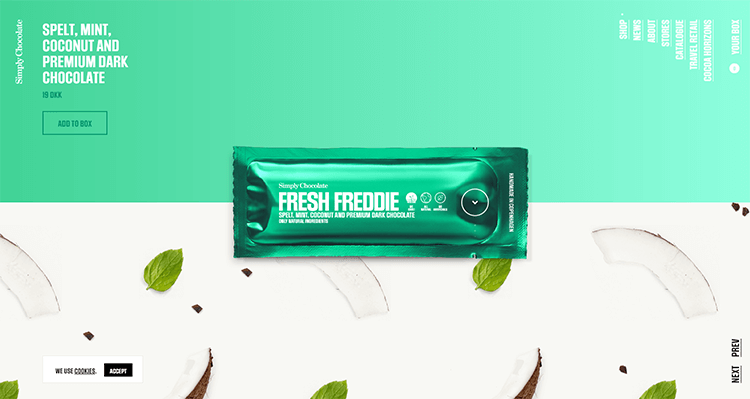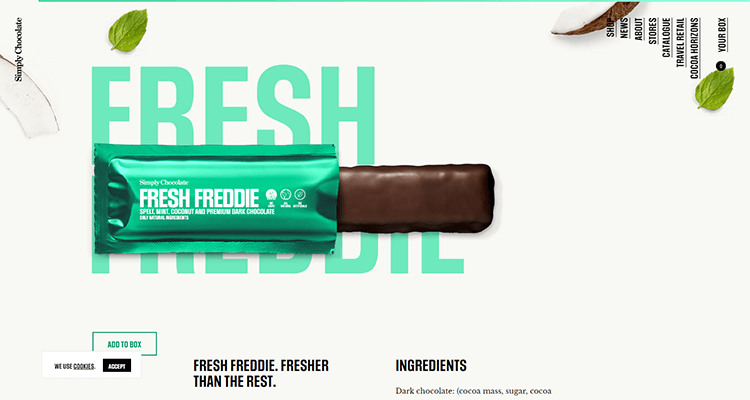 Product Images
– The images of the chocolates are large and descriptive. From the look of the chocolate outside the wrapper to the inside view of each bar's ingredients, and the pricing, the whole look and feel of the website is designed to suit the product and to make your mouth water.
Navigation
– The simple description of the navigation would have to be entertaining. They made the shopping experience fun and interactive. You can open your chocolate on the website and get the first glance. The actual menu bar is tucked away on the right side, to prevent you from getting distracted while shopping. The whole website is simple and easy to navigate.
Responsiveness
– The interactive experience is not any different on mobile, the same delightful feeling of opening a chocolate bar is practiced scrolling down the homepage of this carefully designed website.
Checkout Experience
– The checkout is a simple pop out that shows your chosen product, the price, and total along with accepted payment options. It's always a plus to build a user-friendly website. By creating a unique shopping experience that cannot be replicated, successful store owners can create long-term growth and success. Customizing your store creates an advantage against your competitors. The future of 
ecommerce
 will be driven by store owners who invest in their website design and its look and feel. Find ways to be unforgettable and distinguish your website from your competitors through architecture, creative sales ideas, advertising, and apps. If you're not differentiated from others, you're just going to compete on the quality of your items, which seems to be a battle down where nobody succeeds.