If you're a business owner or merchant,
automatic payments
are a good way to receive your sales settlements more quickly, while improving your cash flow. Though there are many things to consider when adding automatic payments to your ecommerce, the first step should be to find a payment processor that offers you an automatic payments option that suits your business model. Once implemented on your website, the availability of automatic payments needs to be made clear to your potential buyers to help guide them to sign up for this option. What are Automatic Payments? Automatic payments are the scheduled transfer of money to pay a recurring bill, on a predetermined and agreed upon date. Automatic payments are typically used for routine bank, brokerage, or vendor payments. Automatic payments are usually set up directly with the company providing the service, although automatic payments can also be scheduled through an online bill payment service, a creditor or financial institution. Automatic payments, such as the Automated Clearing House (ACH), take place via an electronic payment system.
Automatic Payment Definition
An automatic payment is a user-to-creditor agreement that allows the creditor to draw money to pay bills from the user's account or credit card. Automatic payments allow companies to charge customers monthly without requiring the user's input or payment data, time and time again.
How do Automatic Payments Work?
Automatic payments allow you as a merchant to automatically charge a buyer's credit card regularly, through a recurring charge. This is perfect for subscriptions, as you are billing repeatedly with the same cost each month. Automatic billing is a 
recurring payment
 made on behalf of the consumer, by a financial institution, or payment processor. A customer must save their payments source, which is usually a credit or debit card, set up as a "Card on File" within the payment processor's billing system. The consumer then grants permission to the payment processor for the recurring payment to take place, over the life of the agreement. Stored Payment data can then be used to process payments for recurring products or purchases of subscriptions automatically.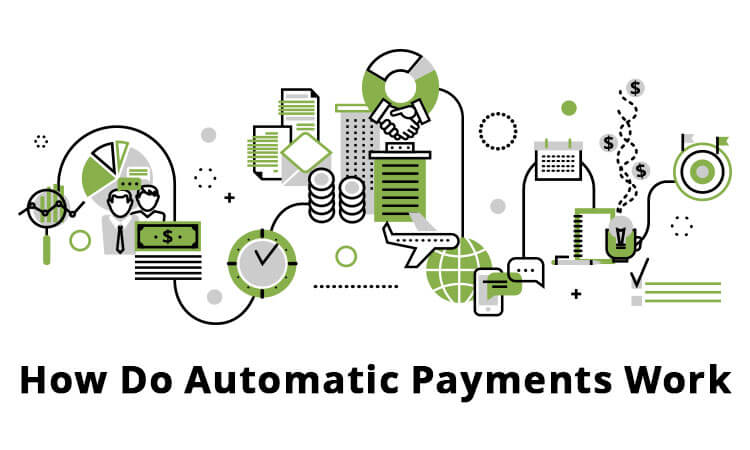 Nearly every different form of billing can be handled by a payment processing system that supports automatic payments. Some run these payments based on invoice or payment cycles, others implement and handle payments online. These are very different payment methods, so before choosing a payment processor, it is important to identify and define your billing needs.
Examples of Automatic Payments
Automatic payments for individuals are varied but include:
Memberships
Subscriptions
Mortgages
Utilities
Tuition costs
Rent and much more.
Nearly all bills can be paid automatically if both parties agree with the terms and conditions clearly provided by the provider and accepted by the consumer.
Examples of Automatic Payments in Business
Subscriptions: This may include media products such as journals, magazines or streaming services. Subscription boxes such as Dollar Shave Club or Blue Apron, or SaaS products such as Shopify or WordPress. Most subscription services feature fixed monthly recurring payments.
Memberships: There are many distinct types of membership-based companies using recurring payments to function more effectively, including gyms, coworking spaces, social clubs, and professional organizations. Like subscription services, membership payments are typically fixed monthly or annual recurring payments.
Government and municipal services: Offering recurring payments can guarantee the timely collection of items such as taxes and utility bills. These kinds of recurring payments may differ in terms of price from month to month. Specific examples include bills for gas, water and electricity, estate tax bills and payments for student loans.
One on one services: These include professional and business services, including but not limited to legal services, tutoring, childcare, cleaning, personal training, or any other type of one-on-one service typically happening at regular intervals. Recurring payments can be offered to make this transaction as seamless as possible.
Financial services: Recurring payments can play a major role in personal finance, particularly in saving and retirement planning. For example, many 401(k) and IRA plans will allow you to regularly arrange recurring contributions. You can also arrange repeated loan payments to ensure that you never go into default.
On the receivables end, 
automatic bill payments
 give reliable cash flow to small companies and enable them to invest less time in the processing of invoices and payments. Here are some of the companies that can make the most out of auto-pay:
Freelance employees
Daycare companies
IT professionals
Lawyers and law firms
General contractors
What to Consider when Setting up Automatic Payments for your Business
The functionality of 
automated billing software
 differs from payment processor to payment processor. While some are basic and provide only the most elementary features, others are more flexible and allow you to personalize virtually every aspect of your subscription service.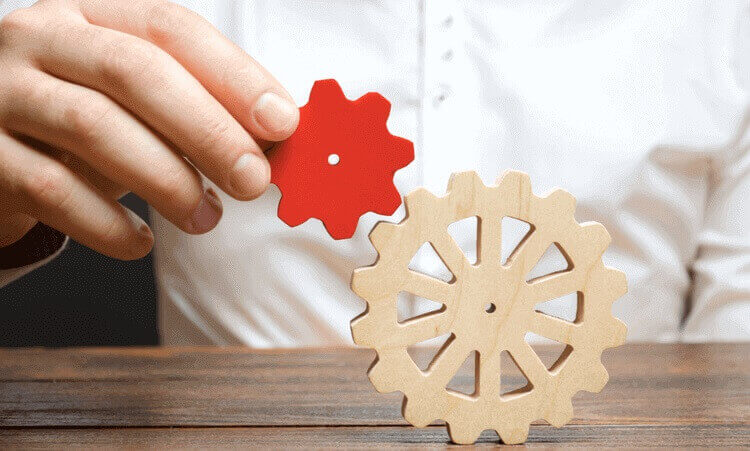 When choosing an automated billing system, here are the most important features to search for:
Active Reporting
Look for a payment processor that has detailed and interactive reporting that offers you insights into all aspects of your business, in real-time, and on-demand. You always want to know where your business is and how your cash flow is doing.
Global Billing
If you're looking to get automatic payments from global consumers, you'll need responsive, geo-targeted smart forms, multiple currency options and regional pricing capabilities to ensure you are speaking the same language as your customers, regardless of their location and so you can take payments anywhere.
Live Billing Support
When you're asking a customer to sign up for automatic payments, you have to promise to protect them in return. It's important to look for a payment processor that can keep your clients happy by providing billing support options that meet the needs of your business. Ideally around-the-clock, live billing support that can save you costly resources.
Payment Options
Make it easy for your customers to pay for your services and sign up for automatic payments. Whether your customers are using credit cards, debit cards, gift cards, and electronic checks or localized billing options, it's your job or better yet, the job of your payment processor to make sure your customers can pay the way they want and with confidence.
Upgrade Options
Drive additional sales quickly and securely by allowing your most loyal customers to purchase new services or upgrade their existing service with just a click. See if your payment process provides one-click upgrade tools so that customer does not need to re-enter their payment information when they decide to purchase more of your business.
Members Management
Stay connected with your members' mindsets, by making sure you have access to explorable usage and tracking reporting. Better understanding their preferences can assist with future pricing, packaging and upsell opportunities. Independent of your business size, managing multiple systems to track monthly billing, send out invoices and monitor incoming payments can be costly, not to mention, burdensome. Choosing the right payment processor can help 
automate your payments
, secure and maintain your ongoing customer and account retention, help your customers avoid late payments, and ultimately reduce your recurring cash flow worries – for months to come.