What is CCBill Pay?
CCBill Pay is an online service which enables consumers to store up to 25 payment options. When making transactions through a FlexForm, consumers can choose to complete a purchase with CCBill Pay. All your customers need to do is log in to their account and confirm the purchase, thus making the buying process safer, quicker, and easier.
How does CCBill Pay work?
CCBill Pay is offered on every FlexForm at checkout along with every other payment method, and it works perfectly on every device. The initial release of CCBill Pay only supported payment cards as the payment method. We are now proud to announce that CCBill Pay supports ACH Online Checks as an additional payment option. English is the only supported language in the current version of CCBill Pay.
Your consumers can create a CCBill Pay account anytime they are making a transaction via CCBill's FlexForms. However, CCBill Pay will NOT be displayed as a payment option if the consumer doesn't select English on the FlexForm.
Once their account has been activated, consumers can add up to 25 payment methods.
Every time they make a transaction from a FlexForm, they will have the opportunity to pay with CCBill Pay. All they have to do is enter their account credentials and confirm the purchase.
Who provides support for CCBill Pay consumers?
CCBill's Consumer Support department will provide full support (24/7/365) to CCBill Pay consumers.
How can my consumers get help with CCBill Pay accounts?
Your consumers will be able to get help from CCBill at every step of the way, using the method most convenient to them.
What benefits do consumers get from CCBill Pay?
Consumers get a quicker, easier, and safer payment method in addition to detailed insight into the subscriptions they have purchased and complete control over their transactions and stored payment options.
Is CCBill Pay safe for consumers?
Just like with our regular payment methods, CCBill works hard to protect the security of your consumers. We have been a trusted online payment processor since 1998 and CCBill Pay is a product of our expertise and experience.

Customer information is stored on secure servers and encrypted using secure socket layer (SSL) technology. CCBill Pay accounts are constantly monitored and consumers are notified if any changes take place.
In which countries is CCBill Pay available?
CCBill Pay is available worldwide.
Are there any fees associated to offering CCBill Pay?
There are no additional fees associated to CCBill Pay.
Is the service suitable for multiple currencies?
All currencies available with FlexForms are available with CCBill Pay as well.
| Available Currencies | Available Currencies |
| --- | --- |
| USD | EUR |
| GBP | CAD |
| AUD | JPY |
What type of payment methods can be stored in CCBill Pay?
During the initial release of CCBill Pay, payment cards were the only supported payment method. However, we have added ACH Online Checks with account validation as an additional payment option. You can expect a wider range of payment methods with a future release of CCBill Pay.
Is it safe to offer ACH as a payment method with CCBill Pay?
ACH transactions processed using CCBill Pay are the transactions coming from accounts where users need to verify their email and payment information. Since these consumers have to confirm they have the ownership of the bank account, every subsequent ACH transaction they make with CCBill Pay is of the lowest possible risk for Merchants. Accepting ACH as a payment method through CCBill is not only safe but also easy for consumers to complete. This increases checkout conversions for our Merchants while dropping failure and chargeback rates.
How do consumers verify their bank accounts?
Once a consumer saves their bank account information through a FlexForm or CCBill Pay admin, they receive an email to verify their new payment method. CCBill makes two (2) small deposits to their bank account. Consumers need to enter the two amounts (in cents) in the CCBill Pay to verify they are the owners of the bank account in question.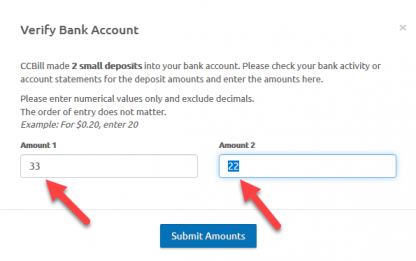 How long does it take to see a deposit on the bank account?
Consumers will immediately see the deposits on their bank account statements. This may vary from bank to bank, but should not take longer than a few moments.
Is there a notification when a consumer validates their bank account information?
Yes, if a consumer enters valid amounts in the Verify Bank Account prompt, the system shows This Account is Verified next to the bank account in question. CCBill also sends an email as a follow-up notification for this action.
Is there a time limit for ACH account verification?
Consumers have four (4) business days to verify the bank account information using the deposits CCBill made to their accounts.
Are there any reminders if consumers forget to verify their ACH account?
There are three (3) email notifications as follow-up reminders. When consumers log into CCBill Pay Admin and go to the Payment Options section, the system also warns them with the message This Account is Not Verified.
In addition to that, if consumers try to use an unverified ACH account on a FlexForm as a payment method, they will get a notification that the account is not verified.
Can I only accept ACH transactions from verified bank accounts?
Yes. If you decide to accept ACH as a payment method, this is going to be possible only through validated CCBill Pay accounts with verified bank accounts.
Is the initial ACH transaction going to fail if the bank account is not verified?
If consumers go through adding a bank account to CCBill Pay as they are checking out, the initial transaction is not going to fail if the bank account is not verified immediately.
Even if for some reason a consumer cannot verify their account at that moment, they are able to complete the purchase. The system is verifying that information so that future transactions are processed through a verified ACH account.
Does CCBill pull back the deposits used for ACH account verification?
Yes, we do. After a certain amount of time, the two amounts will be withdrawn from the consumer's account.
Can consumers create a new CCBill Pay account using the unverified ACH bank account information from another CCBill Pay account?
No, consumers cannot use an unverified bank account information to open another CCBill Pay account. The CCBill Pay system does not allow these consumers to process any other ACH transactions using the bank accounts they have not verified.
What happens if a consumer enters a wrong routing number?
The system automatically recognizes the originating bank for the routing number in question and shows the bank name below the field. This way, consumers can see in real time if the routing number is correct and make any adjustments if necessary.
How many ACH accounts can consumers add per CCBill Pay account?
The maximum of three (3) ACH accounts can be added per CCBill Pay Account.
Can consumers change from ACH to another payment method for active subscriptions?
At the moment, consumers cannot change from ACH to another payment method for active subscriptions tied to that ACH account. We are working to implement this feature in the upcoming releases of CCBill Pay.
What benefits do I get from CCBill Pay?
CCBill Pay was designed to benefit your business in many ways:
Increased Revenue. Empowering people to make quicker and easier purchases has been proven to raise revenue, as consumers are more likely to make the purchase.
Lower Abandon Rates. The reduction in the number of steps to payment completion will result in fewer consumers leaving your form before payment is complete.
Empowered Customers. Your consumers have more control over their subscriptions and payment methods, letting them feel more in control of their finances.
Fewer Rebill Failures. Consumers have full access to their payment methods and subscriptions, and can change payment methods associated with subscriptions on the fly, so things like expired cards and low balances don't affect your business.
Improved Mobile Experience. Making purchases over a mobile device has been made quicker and easier with CCBill Pay.
All of these improvements will enhance revenue growth and will increase brand awareness.
Where can consumers find documentation for CCBill Pay?
Consumer documentation for CCBill Pay can be found in CCBill's Consumer Knowledge Base, and consumers will be linked to the Consumer Wiki from within their CCBill Pay account.
Can I link to consumer documentation from my website?
You may direct all of your consumers to our consumer documentation if they have any inquires or concerns regarding CCBill Pay.
Will CCBill Pay work with Legacy Forms?
CCBill Pay works exclusively with FlexForms and it is NOT supported by CCBill's Legacy forms.
So, what is FlexForms?
FlexForms is a result of CCBill's continuous effort to create a completely new form system, one that offers merchants and consumers more features and options. Evolve your business with FlexForms by using its many features to create custom cascades, route traffic, conduct testing in order to raise your conversion rates, and reap the benefits of reaching a larger group of buyers.

Read more about FlexForms and Smart Checkout.
Can I opt-out of CCBill Pay?
Merchants will not be able to opt-out of CCBill Pay. CCBill Pay will be presented to consumers, just like any other payment method.

If you have any concerns or inquiries, contact Merchant Support.
What do I need to do in order to implement CCBill Pay?
Current FlexForms Users:

CCBill Pay has been implemented within every FlexForm. Everything is up and running, so there is no need for you to make implementation plans.

Users who haven't switched to FlexForms:

Merchants need to make the transition onto FlexForms in order to enable CCBill Pay. On how to create and implement FlexForms on your site, refer to the FlexForms Overview.
Will I have less control over my forms with CCBill Pay?
You will still have complete control over your forms in the CCBill Admin Portal, and you are completely free to organize your payment flows, insert images, set the layout, and create custom themes.
What if I have a custom FlexForm?
Custom forms are unaffected except for the addition of the links for CCBill Pay. If you have any concerns or need help with custom forms, contact Merchant Support.
Has anything changed in the payment process with CCBill Pay?
Nothing has changed. The complete payment process has remained the same, but the overall consumer experience has been improved. Additionally, nothing has changed concerning the way you receive your earnings.
CCBill Pay Email Template
Consumers who pay through CCBill Pay will receive emails with the updated CCBill Pay email template instead of the existing CCBill template. (The only exception being Subscription Canceled emails.) Merchant configured emails and settings will not be impacted.
How can I identify CCBill Pay transactions in my merchant report?
Detailed reports on the number of your transactions conducted through CCBill Pay will be provided with the release of an update for CCBill Pay.
Will I have fewer features with CCBill Pay?
Every feature available to you now is available with CCBill Pay. It does not remove any of your options, it simply offers a more convenient buying experience for your consumers.
Are consumers required to use CCBill Pay?
They do not have to create a CCBill Pay account or make transactions via CCBill Pay. Consumers can opt for any other available payment method offered on your FlexForm by selecting the ''Pay as Guest'' option.
I have a question that's not listed in the FAQs…
If you have a question that's not listed in the FAQs you can contact Merchant Support for further clarification. Our Support Team members are ready to assist you 24 hours a day, 7 days a week.