What is Google™ AdWords?
Google™ AdWords is an advertising service provided by Google™ for businesses that wish to advertise their product/service on Google and its advertising network. The AdWords program enables businesses to set a budget for advertising, and only pay when people click on the ads. The ad service is mostly focused on keywords.
Besides offering advertising services, with Google AdWords you can also track the conversion rate of your ads and forms.
How to Set Up Google™ AdWords Conversion Tracking?
Log in to your Google™ AdWords account. If you do not already have an AdWords account, you'll need to create one.
Go to Tools > Conversions, and click +Conversion.
You'll now see options for the different kinds of conversion sources you can track. Select Website.
Enter a name that will help you recognize it later, when it shows up in your reports.
Value. Select The value of this conversion action may vary option.
Count. Select All.
Select a conversion category.
Click Save and continue.
Review your settings. If you need to make any changes, click Edit settings.
At the bottom of the gray box with your tag, select Save instructions and tag.
Click Done.
Now all you need to do is copy the var google_conversion_id value from the provided Google conversion tag and paste it in to FlexForms. In the image below it's 978638497.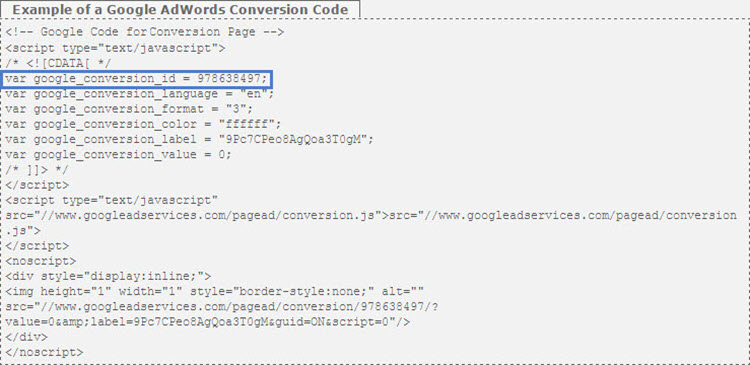 Setting Up Conversion Tracking for FlexForms
To integrate AdWords with FlexForms:
Sign in to the Admin Portal.
Click on FlexForms Systems, which should be on the left side of the mega menu bar.
Click on the Forms Library link in the upper right corner of your screen.
Select a form from your library.
Click on the All Settings tab to open a list of all settings.
Click on the Approval Message link.
Enter your Google Conversion ID in the field.
Click Save Property to commit the modifications.
That's it! You'll start seeing conversions in your account within a day after people make purchases.